Lt. Harshit gets dream posting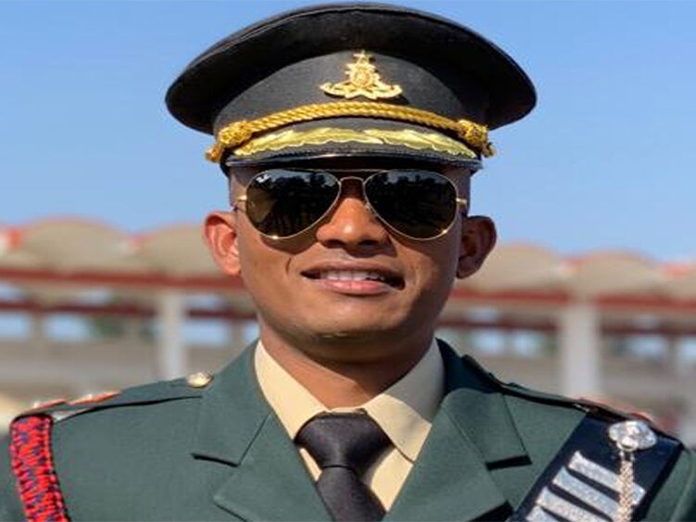 Highlights
At a mere 22 years, Ragimanu Harshit, a military officer from Tirupati, nurtures ambitious plans to fight for the nation He has bagged his dream posting at Shillong, considered a strategically importance location in terms of nations defence
Tirupati: At a mere 22 years, Ragimanu Harshit, a military officer from Tirupati, nurtures ambitious plans to fight for the nation. He has bagged his dream posting at Shillong, considered a strategically importance location in terms of nation's defence.
The young man has so much of grit and determination, as he has spent half his life for rigorous military training. Harshit completed his basic military training with BSc (Computers) from National Defence Academy (NDA), Pune.
The next immediate destination for him was Indian Military Academy (IMA), Dehradun, where he underwent intense training in artillery. He also did his PG diploma course in military studies, where he understood of nuances of military warfare.
The boy studied up to fifth standard at Viswam Talent School at Varadaraja Nagar in Tirupati and took extensive training for Sainik entrance under the guidance of correspondent N Viswanatha Reddy. He emerged as State topper in the entrance test held for admission into Sainik Schools and joined Korukonda Sainik School, where he underwent cadet training for seven years.
In the military services, education is considered as holding the key to success and upward mobility in the career hierarchy. It is education that distinguishes an officer from a soldier.
"A soldier needs to be physically fit, which can be achieved through rigorous exercises, but it needs mental agility and alertness to become a military officer," Harshit says. Education gives the wisdom and confidence for an officer to lead an entire team of jawans towards achieving the collective goal. "We are trained to become scholar warriors at our military academies," he stated.
A fitness freak, Harshit used to perform rigorous exercise during his course of study. As an ace football player, he also represented South India at the zonal-level Sainik school football team and also actively participated in the cross country run for 14 km. His father R Prashanth, working in a senior engineering position with the Roads and Buildings department, had reposed confidence in his son.
Prashanth always said his son would become a great military officer and bag laurels. It is precisely this confidence that made him admit his son in the Sainik School. Immense faith that his son would make it big in the armed forces and hence admitted him in the Sainik School. Harshit has been designated as a 'Lieutenant' and posted at Shillong.
As a student of military warfare, the young man knows the strategic importance of the place and the role awaiting him at his new destination. Nestled at the confluence of China, Bhutan, Bangladesh and hence prone to heavy insurgency, Shillong had been Harshit's 'challenging assignment', where he could get hands-on experience to put into practice the theoretical expertise learnt in his military warfare course.