BCs want social justice prior to EBC reservation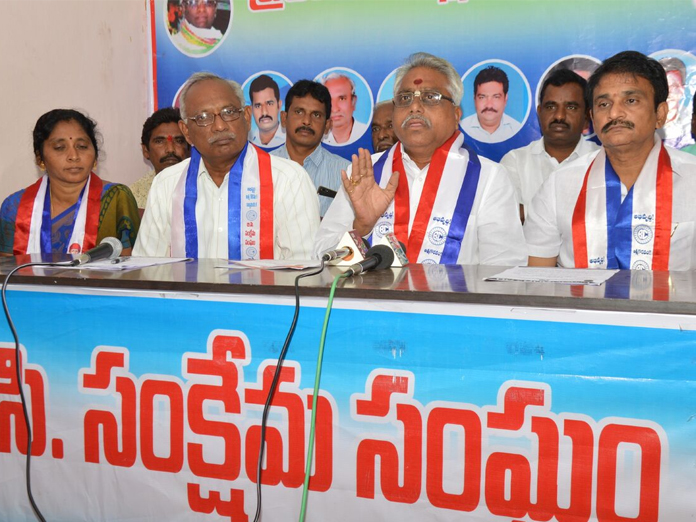 Highlights
Andhra Pradesh BC Samkshema Sangham president Kesana Shankara Rao demanded that the government to ensure that social justice was done to the backward classes in the country before implementing 10 percent reservation to upper castes on the basis of economic backwardness
Ongole: Andhra Pradesh BC Samkshema Sangham president Kesana Shankara Rao demanded that the government to ensure that social justice was done to the backward classes in the country before implementing 10 percent reservation to upper castes on the basis of economic backwardness.
Speaking to the media at Ongole, the BC leader said that they were condemning the motive of providing reservation to the upper castes against the social justice promised in the Constitution.
He pointed that the BCs didn't receive the reservation in the legislature houses even though they were oppressed for centuries.
He said that though the BCs amount to nearly 52 percent of the total population in the country, they are receiving only 27 percent of reservation and only 25 percent reservation in the state.
He alleged that the government withheld the Bill to provide reservation to BC women while the Panchayat Raj act that providing 34 percent reservation in the place of 52 percent was also not implemented.
He said that the governments were wontedly trying to damage the opportunities that are a right to the BCs in the name of reservations based on financial status.
Sankara Rao sees that the 103rd Constitution amendment proposed to provide economic based reservation in the place of social-based reservations will come as a blow not only to BCs, but also to the SCs and STs.
He announced that the BC Samkshema Sangham is going to challenge the act that is damaging the spirit of the Constitution and social justice in the court of law and also fight in the ground level public domain.
He called for the support from the fellow BCs, SCs, STs, and minorities to support one another and fight against in the political parties run by the upper castes in the next elections.