Centre sanctioned 10 lakh houses but State govt built only 2 lakh houses, says BJP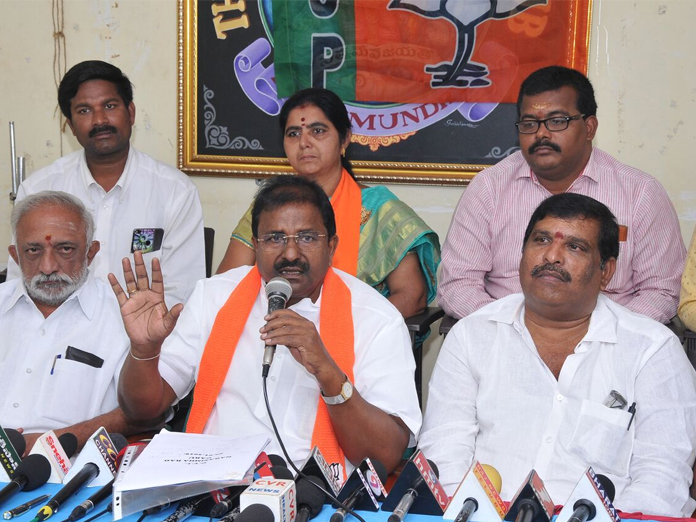 Highlights
MLC Somu Virraju alleged that though BJP led NDA government was giving crores of rupees to Andhra Pradesh from 2014 onwards through several departments in various ways, Chief Minister N Chandrababu Naidu was trying to gain political mileage by criticizing Prime Minister Narendra Modi which should be condemned by all
Rajamahendravaram: MLC Somu Virraju alleged that though BJP led NDA government was giving crores of rupees to Andhra Pradesh from 2014 onwards through several departments in various ways, Chief Minister N Chandrababu Naidu was trying to gain political mileage by criticizing Prime Minister Narendra Modi which should be condemned by all.

Speaking to the media at press club here on Tuesday, he said the Central government had given an amount of Rs 50,000 crore exclusively for NREG (Rs 10,000 every year) and the funds were misused.
Moreover, the Central government sanctioned as many as 10 lakh houses to the state but the state government was not able to pay a subsidy amount and constructed only 2 lakh houses, he lamented.

In addition to this, the Central government gave an amount of Rs 650 crore for Kasturba Gandhi Schools in the State including provision of meals to the students.
However, the government did not release the amount, he alleged.
"It shows the inefficiency of Naidu. On the contrary, he is blaming Central government for his lapses and mismanaging funds," the MLC alleged.
Stating that Minister for Roads and Buildings Ch Ayyanna Patrudu had thanked Union Minister Gadkari for giving crores of funds for roads and other works in the state, the MLC concluded that without Prime Minister Narendra Modi, there was no Naidu.
He said that Naidu was feeling insecure as National Investigative Agency (NIA) was investigating the case relating to the attempt on the life of YSRCP leader YS Jaganmohan Reddy.
Naidu earlier said that the case comes the purview of Union government as it happened on the premises of airport and the state government was not concerned about it.
Following this, the Central government ordered for NIA investigation as per the directions of High Court over which Naidu was making an issue now, the MLC bemaoned.
The people of the State would teach a befetting lesson to Naidu in the ensuing Assembly and general elections, he added.