Amaravati Crafts Mela attracts crowds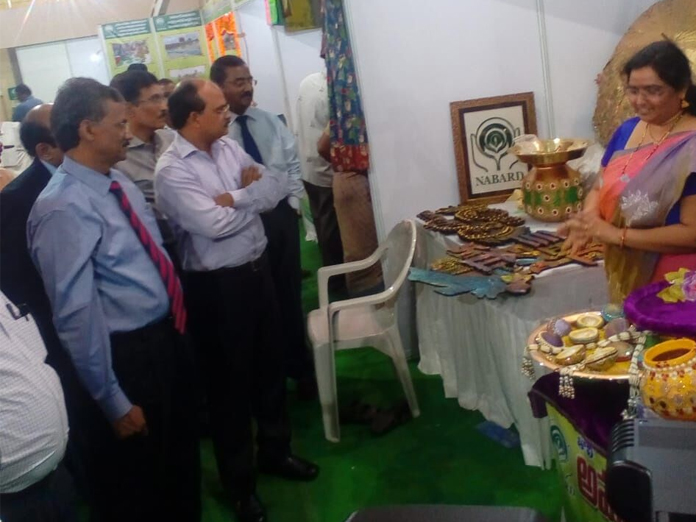 Highlights
The first Amaravati Crafts Mela, organised exclusively by National Bank of Agriculture and Rural Development NABARD, had become very popular and is attracting people in large numbers
Vijayawada: The first Amaravati Crafts Mela, organised exclusively by National Bank of Agriculture and Rural Development (NABARD), had become very popular and is attracting people in large numbers.
The five-day craft mela, organised at the auditorium of the Maris Stella College was inaugurated on February 1. As many as 57 stalls were set up and exhibitors from Andhra Pradesh, Telangana, Karnataka and other parts of the country participated in the mela.
The exhibitors from various places displayed products with quality and diversity like household decors, crafted and decorative articles, handicrafts, handlooms and handmade products by Self Help Groups of Andhra Pradesh and various other states.
Kodapalli toys, woven sarees, millets and tribal products, attractive wood carvings from Chittoor and other famous products from different States to spread the culture and tradition through this craft mela.
Speaking to 'The Hans India' here on Sunday, Minaakshi Art and Craft Welfare Society chairman K Meenakshi said that the crafts mela is a good platform to sell their produce directly to the customers without middle man.
She said that this is the first time NABARD has directly organised this mela after state bifurcation.
She said that NABARD was supporting the SHG women by providing training on crafts with skilled trainers and later giving loans to have own set up and creating self-employment to women. She expressed her heartfelt thanks to NABARD and the PD for organising the mela.
NABARD craft mela manager Nagesh said that their main mission was to promote sustainable and equitable agricultural and rural development through participative financial and non-financial interventions, innovation, technology and industrial development from securing prosperity.
They would organise such mela in the days to come to create marketing for their products and provide everything free, he added.