TDP to observe black day on Modi's visit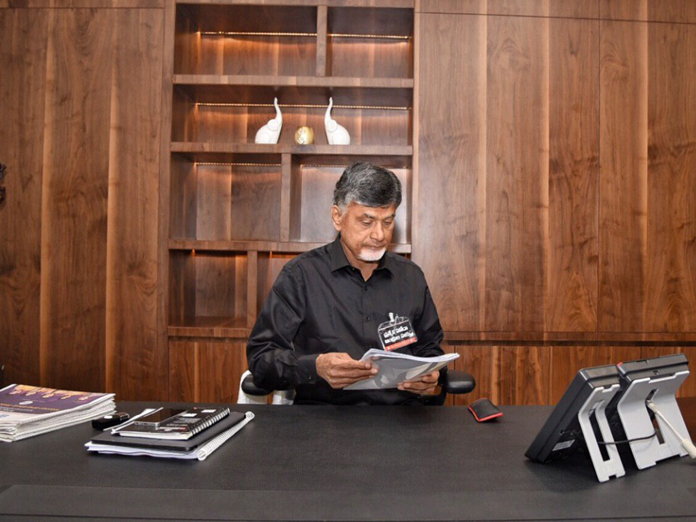 Highlights
TDP has decided to stage a strong protest by observing as Black Day on Sunday against the BJP on the occasion of Prime Minister Narendra Modis visit to AP It is worth to mention that Modi is coming to the state for the first time after he attended Amaravati foundation ceremony in 2015
TDP to observe black day on Modi's visit
Will fly black and yellow balloons, stage rallies across the State
All leaders will wear black shirts as a protest
Amaravati: TDP has decided to stage a strong protest by observing as "Black Day" on Sunday against the BJP on the occasion of Prime Minister Narendra Modi's visit to AP. It is worth to mention that Modi is coming to the state for the first time after he attended Amaravati foundation ceremony in 2015.
Modi scheduled to attend a public meeting being organized by BJP at Guntur in Andhra Pradesh.
Reacting on the visit of Modi to the state, TDP president N Chandrababu Naidu stated that Saturday would be a "It is a bad day for AP. We observe it as black day".
Speaking with the party leaders over teleconference on Saturday from his residence at Undavalli in Guntur, Chandrababu Naidu directed his party leaders and cadre to wear black shirts, fly black and yellow balloons and organize rallies across the state.
Modi did not fulfill any promises made by himself or assurances mentioned in the AP Reorganization Act or the promises given by the then Prime Minister Manmohan Singh in Rajya Sabha while passing the Act, in true spirit, Naidu explained. He further criticized that, "Modi is coming to state to insult further our public. His visit will be like adding insult to the injury. Our state is already suffering due to the failure of central government in implementing the APRA".
"Modi is coming to see the damage that he has done to the state", Naidu criticized.
Lambasting on the YSRCP President YS Jagan Mohan Reddy, he said that Jagan mortgaged State interest at the foot of Modi to gain personal and political favours. "Jagan never speaks a word against the injustice done by Modi. This itself is a proof that both of them engaged in conspiracy against AP", Naidu maintained.
"Prime Minister directly involved in the Rafale scandal, but he would not even dare to give clarity to the nation on it. Instead, Modi has been levelling corruption charges on others", he added.
He further said that the Modi has been destroying all the institutions, killing the leaderships in the states.
Chandrababu Naidu said that this protest will be against three Modis including Narendra Modi, Jagan and TRS President K Chandrasekhar Rao.
Interested in blogging for thehansindia.com? We will be happy to have you on board as a blogger.