'Equality, empowerment needed for Dalit women'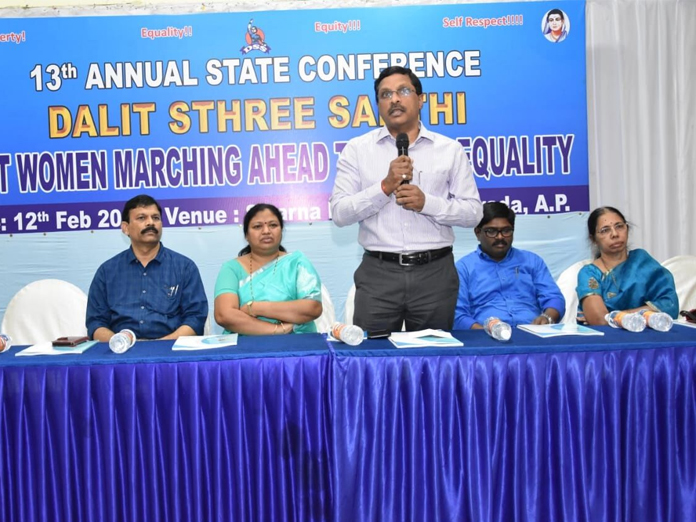 Highlights
There is hardly any change in human behaviour towards fellow humans even in 21st century, said B Rajasekhar, principal secretary of the Agriculture department while addressing 13th annual conference of Dalit Sthree Sakthi DSS here on Tuesday
Vijayawada: There is hardly any change in human behaviour towards fellow humans even in 21st century, said B Rajasekhar, principal secretary of the Agriculture department while addressing 13th annual conference of Dalit Sthree Sakthi (DSS) here on Tuesday.
"It is really pathetic that animals were being given more importance than human," he said referring to the cow vigilantism.
He said that Dalit women are still facing violence, exploitation of both sexual and economic. He complimented DSS for striving hard for the upliftment of Dalit women. He also released the annual report of DSS.
K Sunita, vice-chairperson and MD of the Tobacco Board, said that Dalit women should have mental power and courage and develop financially. "They should launch an economic forum in that direction," she said.
Earlier, Gaddam Jhansi, national convener of DSS, elaborated the efforts of the organisation in its 13 years long struggle.
She said that the organisation has prepared the bill to eradicate discrimination in educational institutions and submitted the same to the education departments of the two Telugu-speaking States. The DSS has also launched massive campaign to achieve gender equality in the society.
Daniel Vijay Prakash, National Programme Manager of DSS, Usha Kumari, Additional Secretary of Christian Minorities department, Yesuratnam, Managing Director of Christian Minorities department, Prof (Retd) Jayasri of Acharya Nagarjuna Univeristy, Dr Siddhoji Rao, Prof Subrahmanyam, Employees Association leaders AV Kiran and Sivakumar and several women leaders were present.