40 colony residents bear the brunt of RoB works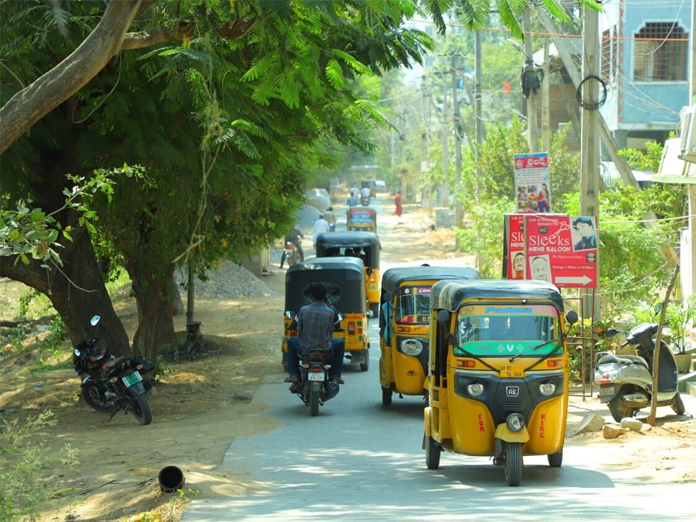 Highlights
Residents of LS Nagar staged a dharna and obstructed the construction of Road over Bridge RoB works for some time here on Saturday, demanding an alternate service road to the commuters
Construction of RoB taken up without showing alternative service road to commuters
Thousands of vehicles pass through narrow bylanes of colonies
Frequent road accidents in the last 3 months
Tirupati: Residents of LS Nagar staged a dharna and obstructed the construction of Road over Bridge (RoB) works for some time here on Saturday, demanding an alternate service road to the commuters.
Three months ago, the National Highway Authority of India (NHAI) had taken up the task of laying 4-lane RoB near the gate of the Sri Venkateswara Veterinary University (SVVU).
The private engineering company which was entrusted the task of RoB construction had closed the existing road without giving a notice. For the last three months, the company did not show an alternative service road to commuters.
In the absence of a service road, commuters, who have been travelling between Chandragiri and Tirupati city for personal works, are passing through narrow roads of dwelling localities.
Several road accidents are taking place every day in LS Nagar, Vidya Nagar, Nalanda Nagar and Telugu Thalli statue near Thummalagunta. According to LS Nagar residents, thousands of vehicles are travelling at a high speed in narrow bylanes of 50 colonies. Colony residents brought the issue to the noticed of NHAI deputy engineer (Roads & Buildings) M Sathya Murthy.
But there was no response from the NHAI officials. The NHAI and Indian Railways have jointly taken up construction of RoB on Anantapur-Chennai highway at a cost of Rs 166 crore. The works of RoB were launched without showing alternative traffic diversion plan.
K Papaiah, a resident of LS Nagar, speaking to The Hans India, said residents belonging to 50 colonies were panic stricken with a fear of road mishaps. He expressed anguish over the Corporation and NHAI officials and Tirupati MLA M Suguna for not responding over the issue despite bringing to their notice.