Scale of dragon, tooth of wolf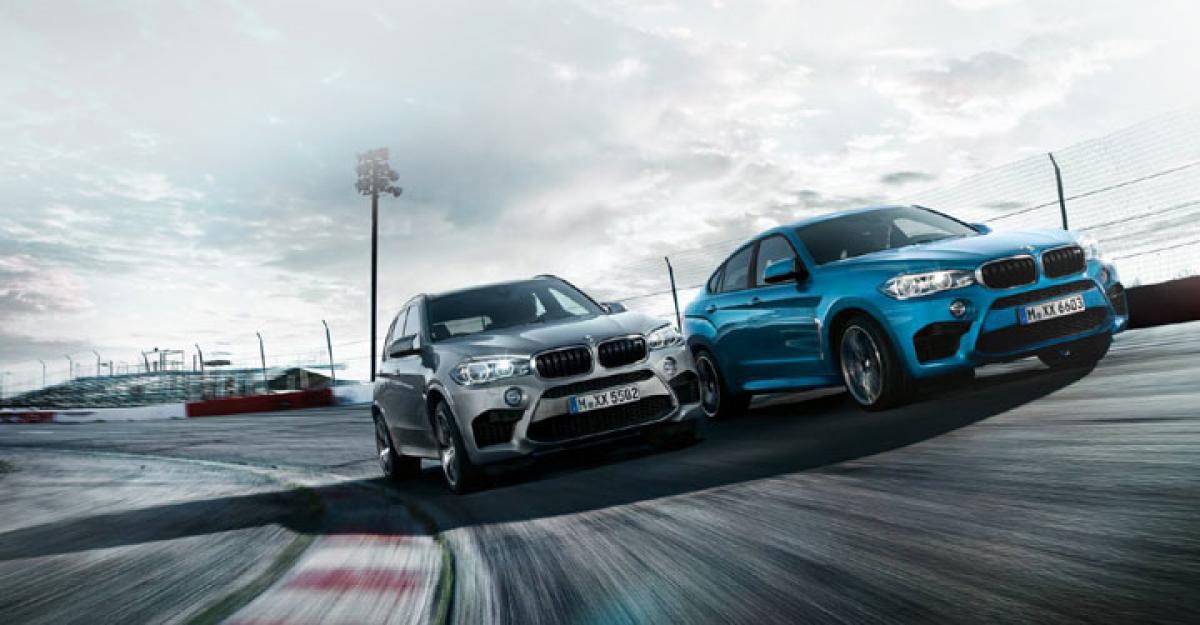 Highlights
Large barge SUVs, land yachts if you will, occupies a special place in the male psyche. For some of us, they're the ultimate fantasy cars.
Press the starter button, floor it, and you realise it's very right. A low and throaty rumble explodes into a staccato pop pop pop, not unlike aircraft fire.

Cars are complicated these days, more automaton than automobile, smoothed out and reined in. But the new M twins hand you a stick of dynamite and a match and tells you to go nuts
Large barge SUVs, land yachts if you will, occupies a special place in the male psyche. For some of us, they're the ultimate fantasy cars.

Many imagine barrelling down a highway in them, towering over low-slung sedans, parking them in front of farmhouses where guests can't miss them.

They're the wheels the alpha males in the expendables drive. These beasts are not urban runabouts. And now imagine something as big as these outrunning a Porsche 911.

Oh boy! That's a serious territorial issue. For the new twins to the M family— BMW X5 M and X6 M are no sports cars. These are heavy SUVs that weigh as mountains, yet can reach the speed limit faster than a 911– 4.2 seconds if you don't mind – and slice through corners with the tippy-toe precision of a ballerina. A 2.2-tonne ballerina.

The twins are unlike any BMWs we have driven in India. They are like Wanda and Pietro from Avengers. Their abilities? X5 has got increased metabolism and improved thermal homeostasis. The thing of X6 is, mental manipulation. ["In English"]. X5 M is fast and X6 M is weird.

The former is a family bus with the performance of a supercar. Too irresistible; with a race car dynamism that is nothing like an SUV, and an experience that can only be found at the wheel.

While, the X6 M is supposed to "not make any sense". It's a genre that bends "sports activity vehicle" and is a blow to conventionality—some might say common sense—but BMW responds by pointing to 250,000 total X6 sales since its debut in 2008. And how can you not love a car that drives and looks like this?

We hammered them both through Motor Race Track in Chennai, top to bottom and in-between, relentlessly. If there are flaws in the way they drive or shortcomings in the way they pound those Newton metres to the road, we didn't find them.

With their striking use of forms, the BMW X5 M and the BMW X6 M are clearly flag sporting ambitions.

Design
The M-specificdesign characteristics visually emphasise the sporty driving experience. The kidney grille with double slats, large three-part air inlet in the front apron and M twin tailpipes give an impressive look to the vehicles.

The proportions of the all-new BMW X5 M signal massive power and extreme handling abilities while the flowing lines of the all-new BMW X6 M underline its extravagant coupe concept and athleticism.

Inspired by motor racing, the interior follows hallmark BMW driver-oriented design of the cockpit. The new multifunctional M leather steering with integrated aluminum gearshift paddles, leather-trimmed BMW Individual instrument panel,

center console with knee pads, M–specific gear selector lever, driving dynamics buttons and sill finishers with model lettering are standard offerings that deliver a true feeling of driving on a racetrack. Fine grain Merino leather upholstery with contrasting seams and embossed M logo on the backrests showcase flawless workmanship.

Heart
The M TwinPower Turbocharged V8 petrol engine in the all-new BMW X5 M and the all-new BMW X6 M impresses with outstanding responsiveness and agile power delivery at any speed with astonishing efficiency.

An output of 423 kW / 575 hp produces a maximum torque of 750 Nm at 2200-5000 rpm and accelerates the cars from 0-100 km / hr in just 4.2 seconds to a top speed of 250 km/h (electronically limited).

The new eight-speed M Steptronic transmission with Drivelogic stands out with its exceptional precision and impressive fast-shifting ability. At any time, in any gear, the transmission collaborates perfectly with the engine enabling it to develop its full power and efficiency.

Safety
The twins also offer safety technologies that provide optimal support in any situation with eight airbags, Dynamic Stability Control (DSC) including Dynamic Traction Control (DTC), Cornering Brake Control (CBC), Hill Descent Control (HDC), Anti-lock Braking System (ABS), Active Protection with Alertness Assistant, Side-Impact protection, Electronic vehicle immobilizer and crash sensors.

Price:
The BMW X5 M will cost you Rs 1.55 crore, while the X6 M is priced at Rs 1.6 Cr (exshowroom.)

Verdict
These are pure raw muscles, like Arnie and Stallone rubbed against a granite. Yet can be as fast as Usain Bolt. It's nothing short of a scientific marvel that BMW engineers have managed to transform fossil fuel into such rapid propulsion of such a large lump of metal, glass and rubber.

At this point, people may well ask why the world needs such insane machines. The answer, of course, is "because money."

By:Augustin Kurian