Cars In Demand: Maruti Vitara Brezza, Tata Nexon Top Segment Sales In August 2018
Highlights
The Maruti Suzuki Vitara Brezza is undoubtedly the most popular sub4m SUV in India as it has consistently been topping the sales chart ever since its launch This is when its still not available with a petrol engine, and well, Maruti Suzuki doesnt have any plan to introduce one in the near future either In fact, the overall demand for sub4m SUVs, and the market share too has been consistent f
Barring the top slot, where the Brezza sits pretty, all other ranks are hotly contested in this segment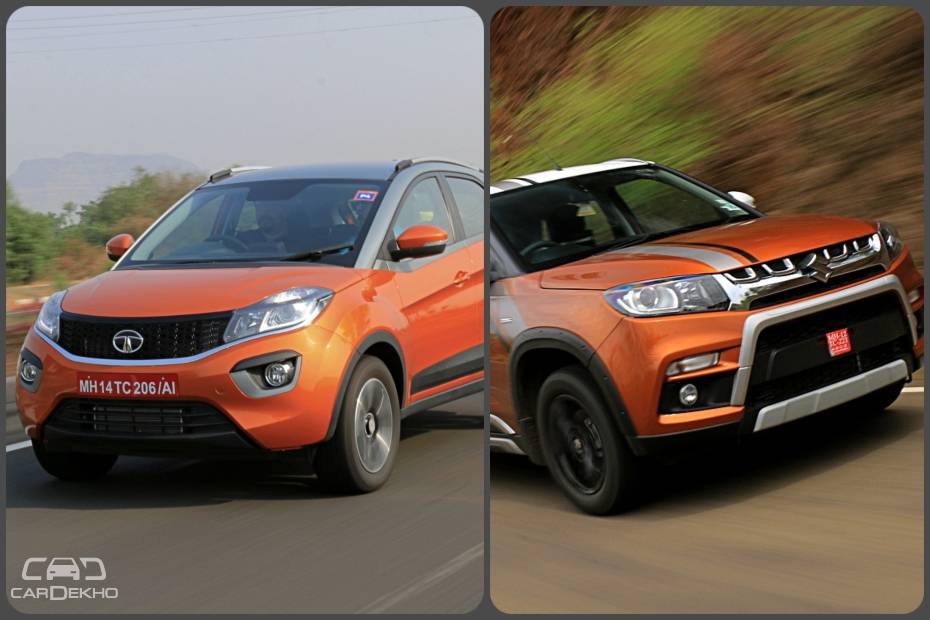 The Maruti Suzuki Vitara Brezza is undoubtedly the most popular sub-4m SUV in India as it has consistently been topping the sales chart ever since its launch. This is when it's still not available with a petrol engine, and well, Maruti Suzuki doesn't have any plan to introduce one in the near future either. In fact, the overall demand for sub-4m SUVs, and the market share too has been consistent for the past two months.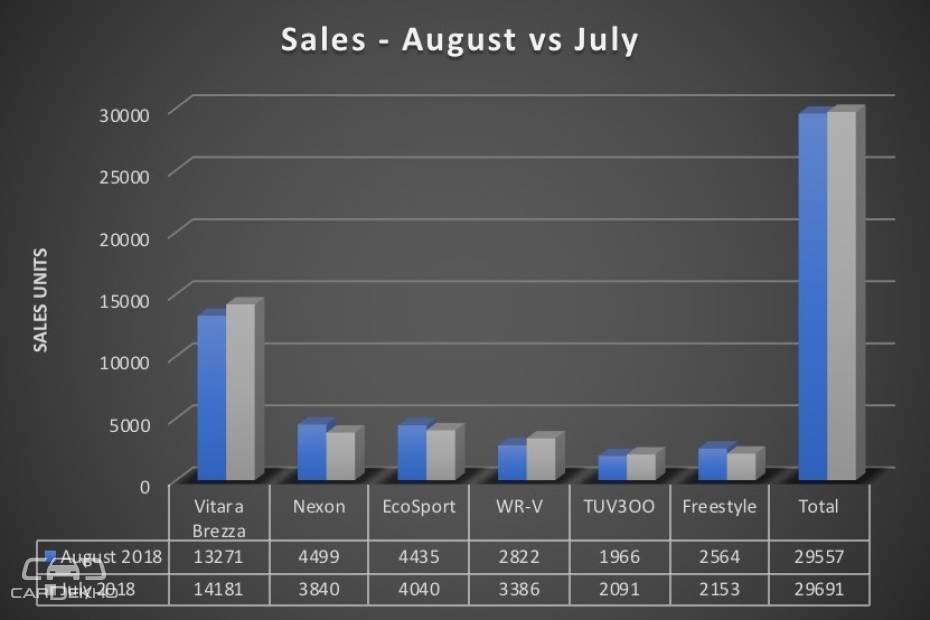 In fact, this segment is possibly one of the most hotly contested one. The Nexon and the EcoSport continue to battle it out for the second spot, with the Nexon outdoing the EcoSport in August, albeit with a margin of just 64 units. However, the EcoSport was on top in July 2018 but the gap was still narrow, at 200 units.
The WR-V was the fourth most sought-after sub-4m SUV in August, but the Freestyle seems to be catching up. While the WR-V makes a strong case for itself for still being the most affordable product in this space with a sunroof, the Freestyle has to be one of the most value-for-money packages; it certainly is the most loaded when it comes to safety tech on board. The WR-V barely managed to clinch the fourth spot in August by a margin of just under 300 units.
Market Share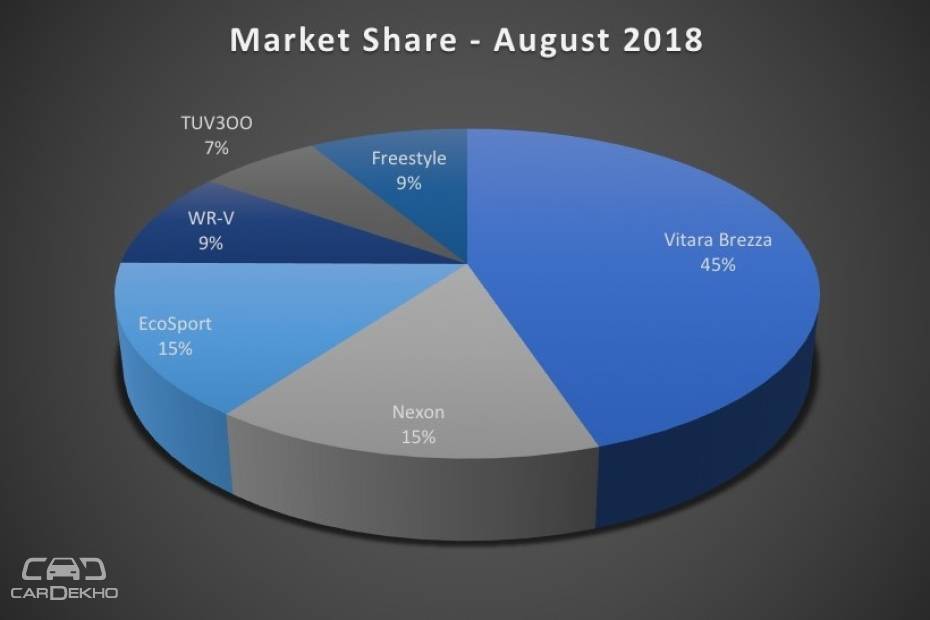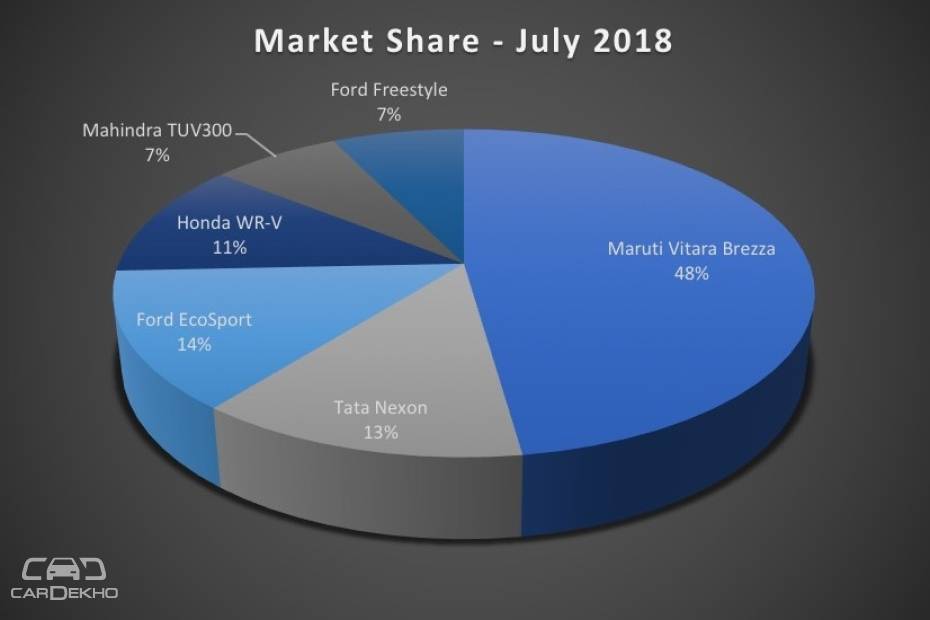 Trend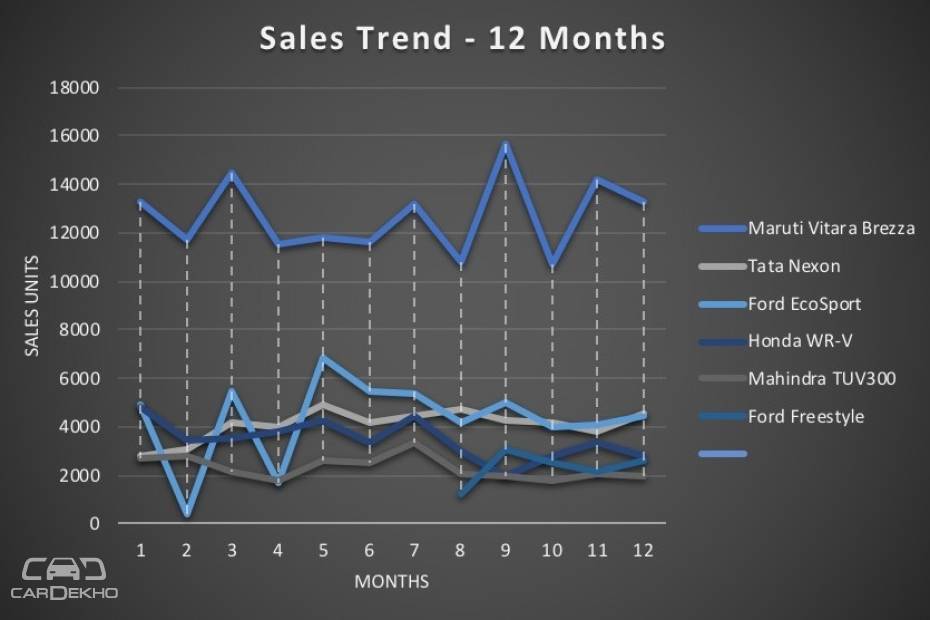 Takeaways
1. Slow but steady Nexon - The Tata Nexon seems to have seen the most consistent demand, which is good in more ways than one. Most importantly, it means that it's there for a long innings, which should result in healthy demand even in the used car market in the future.
2. Brezza petrol not coming soon - Demand in the first two months aside, sales of the Brezza have been up and down (in the stratosphere, of course). The demand for the diesel Brezza is so high that it makes up for all the production that Maruti has set aside for the sub-4m SUV. This leaves little chance that a petrol engine will be added to its portfolio anytime soon.
3. Can Hyundai make the most of the situation?
Hyundai is gearing up to launch a sub-4m SUV in 2019. And we can expect it to be the first product in the segment that can beat the Brezza on the popularity chart. Hyundai has confirmed that its sub-4m SUV will be powered by a petrol engine and we expect an automatic transmission too, so it already has an edge over the Maruti. Seems like the top spot is not going to go unchallenged for a long time now.
Read More on : Nexon AMT