T31 is great, but not enough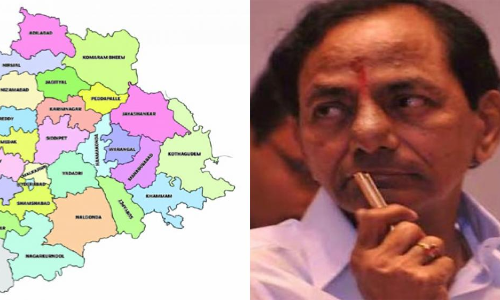 Highlights
The face of Telangana will change from today. After adding 21 new districts to its map, Telangana will have 31 districts, with far reaching political and geographical consequences. Though it's a bold and big decision, this is not surprising as Chief Minister K Chandrashekar Rao as the president of Telangana Rashtra Samithi (TRS) had long ago promised to increase the number of districts of Telangan
The face of Telangana will change from today. After adding 21 new districts to its map, Telangana will have 31 districts, with far reaching political and geographical consequences. Though it's a bold and big decision, this is not surprising as Chief Minister K Chandrashekar Rao as the president of Telangana Rashtra Samithi (TRS) had long ago promised to increase the number of districts of Telangana.
Expectedly, the decision is widely welcomed as aspirations of people from many remote and underserved areas have been fulfilled and the new districts will help those areas hog limelight and development. There were long-pending demands for split of some big districts like Adilabad and Mahbubnagar. But the CM has decided to go for a comprehensive revamp of districts.
As a result, he went in for drastic redrawing of districts, revenue divisions and even mandals, for the sake of better administration and better governance. Thanks to a detailed exercise by the Chief Minister, every previous district has been divided into at least three new ones, except of course, Hyderabad which is a metropolitan zone. Warangal is divided into maximum five districts.
Obviously, the new districts will yield new jobs – both politically and administratively. New political leadership will emerge from new districts and they will definitely fight for solving their local issues. Every political party will have a district unit president, secretary and some office-bearers, catering to different power groups within them. New leadership will come up.
Government will go for massive recruitment to meet its emerging needs in the coming years. This will help solve some unemployment problem in the State. Private sector too will get some job vacancies in view of their expansion in the newly-created districts. Real estate will pick up in new district headquarters and roads and infrastructure will get a boost, too.
But this is not enough. If we take a look at the past experience of creation of mandal setup, replacing the erstwhile taluq system by then Chief Minister NT Rama Rao in 1987, we can draw some lessons on what needs to be done about these new districts. As part of his vow to decentralise the governance and political power, the late NTR split each old taluq into three to four mandals.
However, it took well over 10 years to 15 years to create proper infrastructure and facilities in all mandal headquarters. Some remote and interior mandal headquarters did not get proper accessible roads till 2002-03. We heard stories of how some mandal presidents and senior officers used to live in faraway district headquarters or nearby cities, for want of facilities in their respective headquarters.
The same mistakes should not be allowed to happen now. The CM should take care to provide proper infrastructure in all new districts so that they can be on par with the old ones. Besides buildings and furniture, the government should focus on e-governance and digital platforms so that people from new districts will not lag behind on any front.
All the officials and the staff posted to these new districts should stay at their respective headquarters. Otherwise, the people in the new districts will suffer. There is a possibility of the staff and officials posted in the new district headquarters either staying at the old centres or cities on the pretext of lack of accommodation at the new district headquarters. Sooner this practice ends the better it will be.
We already know how some present District Collectors too travel from Hyderabad to surrounding district headquarters. We see many employees doing "up and down" from the city to their place of posting. If it is the same, then the purpose of new districts will be served only marginally. Yes, the idea of creation of new districts is wonderful. It will be great, if the new districts meat and muscle at the earliest.
By: Rama Krishna Sangem