Affordable housing gets twin boosts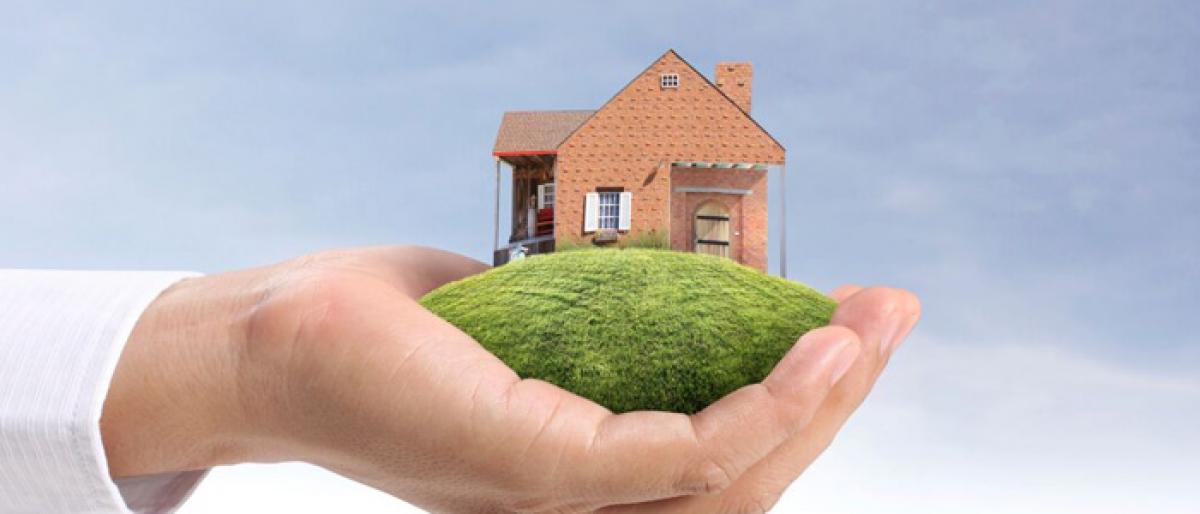 Highlights
Affordable housing has received twin boosts recently. Earlier this week, the Union Ministry of Housing and Urban Affairs raised the carpet area of the houses in the middle-income group (MIG) category eligible for interest subsidy. This step came close on the heels of the Reserve Bank of India (RBI) raising housing loan limits under priority sector lending (PSL), bringing cheers to those who are lo
​Hyderabad: Affordable housing has received twin boosts recently. Earlier this week, the Union Ministry of Housing and Urban Affairs raised the carpet area of the houses in the middle-income group (MIG) category eligible for interest subsidy. This step came close on the heels of the Reserve Bank of India (RBI) raising housing loan limits under priority sector lending (PSL), bringing cheers to those who are looking to own a house of their own.
Under the new norms, the carpet area under the MIG I category has been increased to 160 square metres from the existing 120 sq m. In MIG II category, it has been increased from 150 sq m to 200 sq m, thus extending interest subsidy under the Credit Linked Subsidy Scheme (CLSS) to more houses. The move was announced with retrospective effect from January 1, 2017 when CLSS came in existence. Under the scheme which will be valid till March 2019, loans on MIG I category get four per cent interest subvention while it's three per cent for MIG II.
"The MIG segment to which these carpet sizes would cater to is the biggest in the country, therefore, real estate activity is bound to experience a revival. It is a tremendously impactful decision by the government for the real estate sector, which shall further contribute in bringing down the estimated shortage of housing in the country," said Rajeev Talwar, Chairman, National Real Estate Development Council (NAREDCO).
On the other hand, RBI in its last policy review increased PSL eligibility for home loans from Rs 28 to Rs 35 lakh in metropolitan cities and from Rs 20 lakh to Rs 25 lakh in other cities. This initiative was aimed at improving synergy between the PSL guidelines for housing loans with the Pradhan Mantri Awas Yojana (PMAY), an initiative of the central government to provide 'Housing for All by 2022'.
"Such steps will obviously benefit end users as well as developers. With increase in carpet area of MIG category, loans on apartments priced up to Rs 60 lakh will also get interest subsidy, which will drive the demand to some extent, P Dasarath Reddy of Sri Sai Sterling Homes Private Limited and former president of TREDA, told The Hans India.
He however said that there is no clear demarcation for affordable housing as a category and the criteria varies from city to city. "We can't call Rs 60 lakh apartment in Hyderabad affordable ", he pointed out.
However, people looking for houses in MIG category will have a wider choice to choose from. According to a study by realty portal Magicbricks, as much as 20 per cent of residential stock in Hyderabad will be fall under PMAY-Urban category now. It is similar in Chennai and Bengaluru while the Greater Noida is the biggest beneficiary with properties under this increasing to 55 per cent from 31 per cent.
"It is encouraging to see that the Housing Ministry has increased the carpet area after due representation from the industry and home buyers from smaller towns because of which now they would be eligible to get the interest benefit. It is a win-win situation for both MIG home buyers and developers as the former is going to largely benefit from this development while the developers can clear off their inventories," said Rahul Shah, CEO, Sumer Group.
Anshuman Magazine, Chairman, India and South East Asia, CBRE, says the twin steps will further propel construction activity in the affordable housing sector.