Ambani 'bahu' makes debut at Reliance Industries AGM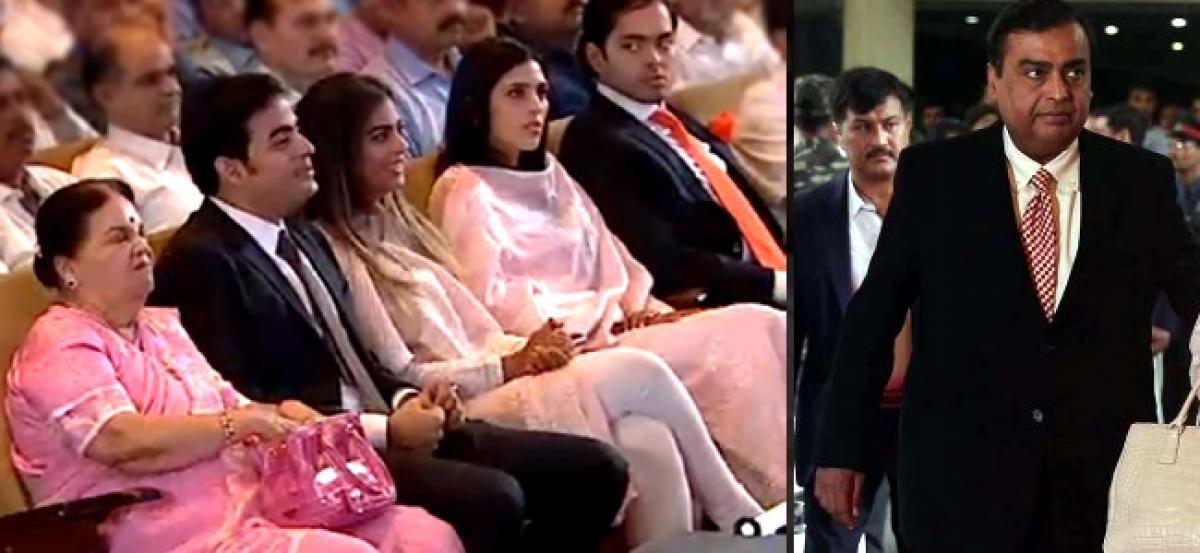 Highlights
Shloka Mehta, the tobe daughterinlaw of richest Indian Mukesh Ambani, today made a debut at the annual shareholder meeting of Reliance Industries, one of the most keenly watched affairs in corporate India
Mumbai: Shloka Mehta, the to-be daughter-in-law of richest Indian Mukesh Ambani, today made a debut at the annual shareholder meeting of Reliance Industries, one of the most keenly watched affairs in corporate India.
Mehta, 27, who just last week got engaged to Ambani's elder son Akash at a star-studded party, sat in the front row between her fiancee's younger brother Anant and his grandmother Kokilaben Ambani.
She watched as Akash and his twin sister Isha demonstrated the company's latest offering, high-speed fiber broadband, and second-generation JioPhone.
Ambani arrived for the 41st Annual General Meeting (AGM) with his wife Nita and Anant. Akash and Isha followed in a separate car.
The Ambani family owns 47.48 per cent of the country's largest corporate entity.
The AGM, however, was a restrained or transactional affair, with product launches, demos and future outlook being presented by Ambani, the chairman and managing director.
Compared to the last AGM, where shrill cries on Jio, the company's newly launched mobile offering continued throughout, the entire affair was very subdued today, even when Ambani scions Akash and Isha presented new products and features on Jio.
Shloka made an exit with Isha midway when the shareholder questions were still on. The questions never ended and had to be cut short due to time constraints.
Akash and Shloka are to get married in December, the same month when Isha is to wed Anand Piramal. Anand, son of Ajay Piramal and Swati Piramal, was not present at the AGM.
Shloka is the youngest daughter of diamond magnate Russell Mehta, who heads rosy Blue Diamonds. This was her first outing with the Ambani family after last week's pre-engagement and engagement parties that were attended by top celebrities including film stars, sportspersons, and politicians.
At the AGM, many shareholders raised concerns on the low dividend payout and devised creative strategies, including the need to distribute 'sweets' on happy occasions, hinting at the impending weddings of Akash and Isha.
In his short reply, the dividend payout concerns were the only topic which got touched by Ambani.
He said the company understands the need to increase the shareholder returns and satisfaction and assured that it will be looked into as a priority.
Other questions included whether the company will list the retail and telecom ventures, and concerns on the payments bank rollout, spectrum purchase from Anil Ambani's Reliance Communications, and impact of movements in dollar and crude prices.
Mukesh Ambani assured he has noted down all the questions, concerns and suggestions, and will individually address those to the shareholders.
Explicit mentions of Prime Minister Narendra Modi and his flagship schemes like Digital India were also missing in the AGM speech, which comes months ahead of general elections.
At the last AGM, Ambani had made multiple mentions to Modi's Digital India vision, seeking to underline how it resonates with RIL's vision.
There were announcements on healthcare which is in line with the Ayushman Bharat initiative, connectivity (Digital India) and connected homes (Smart Cities Mission), where an alignment with the government schemes was possible.
The Reliance Industries scrip closed 2.53 per cent down at Rs 965 a piece on BSE, as opposed to a 0.20 per cent correction on the benchmark.
Interested in blogging for thehansindia.com? We will be happy to have you on board as a blogger.