TIME CyberMedia concludes its 3rd International Healthcare Awards, 2018 & conference in New Delhi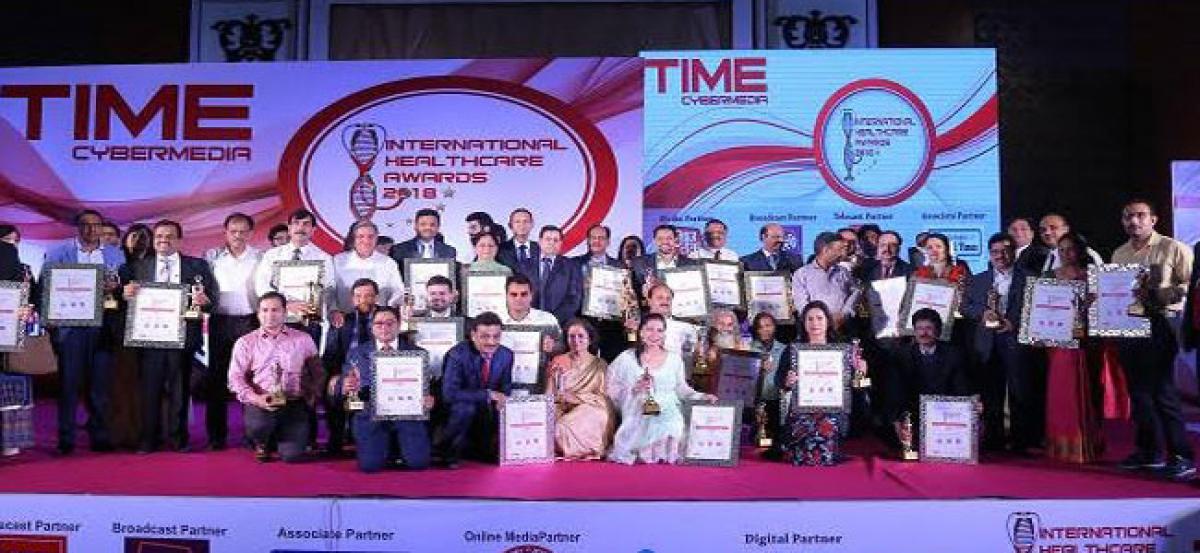 Highlights
TIME CyberMedia, a Delhi based Market Research Company, is well known for innovative and accustomed services to the business needs
New Delhi : TIME CyberMedia, a Delhi based Market Research Company, is well known for innovative and accustomed services to the business needs.
With the continued efforts towards the social responsibility and awareness among the society TIME CyberMedia organizes the conference on the various segments such as Education, Healthcare, etc. In continuation of the same efforts, TIME CyberMedia partnered with the renowned INDIA TODAY (Telecast Partner), Aaj Tak International (Media Partner) and Dilli Aaj Tak (Broadcast Partner) for the 3rd International Healthcare Awards, 2018 & Conference be carried out.
Graced by the enthralling presence of the renowned Oncologist Padmshree Dr. J. K. Singh, Dr. Yoganand Shashtri, Former Speaker, Delhi Legislative Assembly, Shri Chetan Sharma, Former Cricketer and Member of DDCA along with Shri Basant Kumar, Ret.
IAS & Shri Surender Mahrolia jee, Political Activist the exclusive program for Elite individuals and Institutions from Healthcare fraternity ranging from Aruveda to Modern Scientific Medicine professionals has observed the overwhelming response from the participants.
During the conference, speakers from the different medical fields and background shared their views on the National Health Policy 2017 in contrast to the Vision 2020. In order to raise the awareness other Topic such as communicable diseases, hygiene, correlation between lifestyle and Disease we discussed.
Among the participants Dr. Tajinder Kataria from Medanta Cancer Institute, Gurugram, Dr. Sarman Singh from All India Institute of Medical Sciences (AIIMS), Bhopal, Dr. Rajendra Patankar from Nanavati Super Specialty Hospital, Mumbai highlighted their presence with open discussion on the conference subject "National Health Policy" & expressed their views on the life expectancy and high mortality rate in the Indian healthcare context. Dr. Naveen Aggrawal, Suleman Al Habib Hospital, Dubai could not come in the ceremony due to his professional commitments.
Another session was for the recognition of the exemplary contributors in the Healthcare as a fraternity and as a service to the nation. In this session 55 Healthcare professionals who have contributed directly to the healthcare sector.
The exacting and daunting feat of zeroing-in on the winners was achieved by TIME CyberMedia, with the support from its associates and partners, after an elaborate and meticulous selection process which included inviting nominations from potential nominees, substantial research & surveys, collation of feedback & opinions, screening based on pre-determined judging parameters and subsequently choosing the winners through an independent jury panel.
The significant parameters which were considered for selecting the winners included Qualification & Professional Experience, Infrastructure & Facilities, Market Presence & Competition, Growth & Profitability, Quality & Operational Excellence, Financial & Business Acumen, Innovation & Novelty in Services, Ingenuity and Imagination, Sustainability & Environmental Awareness, Job & Impact Potential, Client/Customer & Industry Feedback, Use of Technology & Trends, Efforts for Risk & Setback Mitigation, Previous Awards & Achievements etc.
The 3rd International Healthcare Awards, 2018 & Conference, an initiative of TIME CyberMedia, in partnership with INDIA TODAY (Telecast Partner), Aaj Tak International (Media Partner) and Dilli Aaj Tak (Broadcast Partner) & News of Bihar (Online Media Partner) was instituted to recognize and felicitate the achievements and the work done by individuals and organizations in maintaining excellent healthcare services with commendable commitment, exemplary approach and innovative vision which is an inspiration in itself.
A summary of the awardees at the 3rd International Healthcare Awards, 2018 & conference is as below.
In the Ayush Category; Bhagwati Ayurved Pvt. Ltd, Travancore Ayurveda, Dr. Rishi Sharma, Patanjali Yoga Research Centre & Charitable Trust, DGC Naturopathy & Yog Centre, Centre for PILES and Fistula, Dr. Mahesh Pagadala, Dr. Sonal Chugh, Dr. Srinivas Kornepati & Dr. Ram Prakash Sharma were felicitated. Form the Orthopedic section contribution from Sai Sanjeevini Hospital & Dr. Deepak Kumar Arora was recognized on the program. Simultaneously under the Physiotherapy Mr. Deepak Raj Garg (Moradabad), Dr. Amresh Jamwal (Jammu), Dr. Rajesh Dhankar (Rewari, Haryana) were awarded. The research by the company has found the specialty in Neurology at Max Neuro Hospital (Pune), Utage Institute of Child Neuro, Epilepsy and Rehabilitation (Hyderabad) worthy of recognition is category.
The Oncology specialists from Basavatarakam Indo American Cancer Hospital & Research Institute (Telangana), Medanta Cancer Institute (Gurugram) along the Dr. Amole Ubale (Aurangabad, Maharashtra) were special mention on the program.
Similarly, Cardiology Dr. Dhar's Heart Clinic (Hyderabad), Dr. Pramod Kumar Dhar (Hyderabad), Dr. Vivek Singla (Punjab), Dr. G. P. Ratnaparkhi (Mumbai), Dr. Gaurav Singhal (Ghaziabad) were awarded. From Medicine; Dr. Best Pharmaceuticals Pvt. Ltd., Dr. Neeraj Kumar Singh Nutrition & Cosmetology; Dr. Karuna M. S., Dr. Richa's Unique Clinic, Dr. Naiya Bansal's Skin And Laser Clinic, Vibrations Fitness Studio, Ms. Indira Manchanda from Gastroenterology Dr. Sanjay Gupta, Dr. Sushant Kumar Sethi from Multispecialty; CIMS Hospital Pvt. Ltd., Jaswant Rai Speciality Hospital, M. B. Multi-Specialty Hospital, Ford Hospital & Research Center Pvt. Limited, Nanavati Super Speciality Hospital in Medical Equipment & Consumables section; Labat Asia Pvt. Ltd., Biophore India Pharmaceuticals Pvt. Ltd.
For Surgery Dr. S Sura from IVF & Internal Medicine Siddhi Life (SM) Assisted Reproduction Technology (ART), Dr. Piyush Dixit, Dr. Naveen Aggarwal, Dr. Nalini Gupta, Dr. Monica Agarwal, Pranaam Hospitals Pvt. Ltd.
From Dentistry Dr. Priyank Mathur, Forever Smiles Dental Clinic, Dr. Kashi's Ashwathi Super Speciality Dental Clinic and Healthcare Excellence Dr. Sudhir Bhola, Mr. Drawesh Kumar Jha, Dr. Jitendra Kumar Kushwaha, Best Medical Superintendent in Mumbai.
Dr. Yoganand Shastri advocated for the need of quality healthcare services be made available to all and in this regard he also added the healthcare education and awareness to the general public.
Mr. Surender Mahrolia, Consultant, Time CyberMedia conveyed best wishes to the entire team for Carrying out the Event and articulated the vote of thanks to the participants.
Pooja Thakur, Vice President, TIME CyberMedia expressed her gratitude for the amiable presence of speakers and guests.
She also presented the memento the Chief Guest at the function and interacted with media, "the event is the small token of appreciation to each winner for their continuous dedication to the mankind and the society as a whole with best practices and ethics.
These recognitions are to support morally and further strengthen and their ability to drive their objective through turbulent times, apply the best of the professional modules to manage and keep their missions afloat.
We as an organization are committed to provide the best of platform to celebrate and highlight the excellence to most deserving talent.
All the entries are stringently evaluated against internationally recognized standard on an industry-wide global scale."
Interested in blogging for thehansindia.com? We will be happy to have you on board as a blogger.