Anmol Industries Limited launches Swachh Bharat - Anmol Bharat school campaign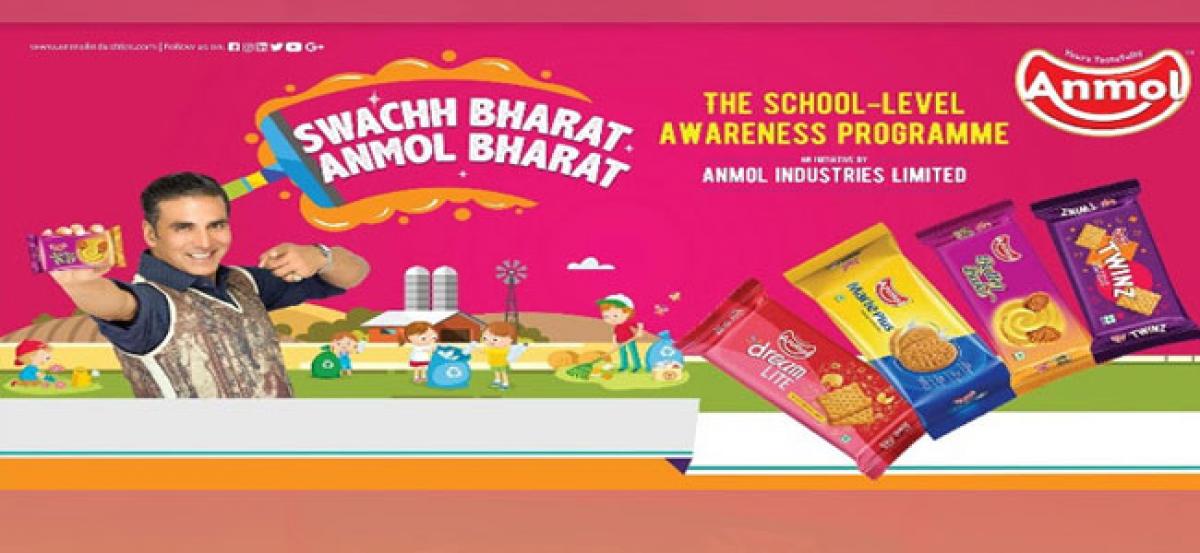 Highlights
Staying true to its principle of promise less, deliver more, national bakery brand Anmol Industries Limited, aims at contributing to PM Narendra Modis initiative of Swachh Bharat Abhiyan
New Delhi: Staying true to its principle of "promise less, deliver more", national bakery brand Anmol Industries Limited, aims at contributing to PM Narendra Modi's initiative of Swachh Bharat Abhiyan. Their goal is to make India cleaner and healthier, by inculcating among schoolchildren the habit of maintaining cleanliness, through fun activities. The same has been christened as Swachh Bharat - Anmol Bharat School campaign.
Why Swachh Bharat - Anmol Bharat?
Anmol, being a socially responsible brand, aims at creating public awareness with respect to the benefits of cleanliness. This allows children a choice of making an informed decision towards a better tomorrow.
The Swachh Bharat - Anmol Bharat campaign will comprise the distribution of creative handouts, duly depicting the healthy habits. The handout includes a write-up on the cause and vision behind the Swachh Bharat Abhiyan spearheaded by Prime Minister Narendra Modi. It brings to light the initiative taken up by Anmol Industries Limited, to instill the importance of cleanliness, hygiene and waste management. The handout includes a 'fun facts' section highlighting various environment-related trivia.
Interestingly, the Swachh Bharat - Anmol Bharat handouts, which are to be distributed in schools have a DIY (Do It Yourself) section. Here, the children will be taught to create a dustbin, using the ancient art of paper folding called Origami. The handout also has a 'Join the Dots' section. The children will be elated to know that they could win exciting prizes by participating in a Lucky Draw. They will have to fill their details in the form attached, attach a wrapper of Anmol Twinz biscuits to it and drop the same in their school drop box. The handout is written in both English and Bengali to cater to all children irrespective of linguistic background.
Action plan
According to highly placed Anmol Industries sources, the campaign will begin with permissions from school principals for a two-day campaign, along with posters announcers.
The campaign will start with the free distribution of Swachh Bharat - Anmol Bharat Booklet. Post distribution, the students will be apprised of the Swachh Bharat Abhiyan and sampling will be done. The children will be given an overview of the company and its products. On the final day, a quiz competition will be held. The results of the lucky draw too will be disclosed followed by a prize distribution ceremony.
Strategic Face-lift
Anmol, whose product portfolio includes biscuits, cookies, and cakes, is focusing on Modern Trade aspect of its business as well. It plans thronging supermarkets, institutional sales and digital space simultaneously building upon the Rs. 1,100+ crore trades recorded in the last fiscal.
Anmol plans to establish its footprint in exotic flavors, besides simultaneously venturing into premium cookies segment. As many as 10 new variants of biscuits, cakes, cookies and pourable variety category of jar biscuits are to be launched in the near future.
Interested in blogging for thehansindia.com? We will be happy to have you on board as a blogger.