Rajnath Singh inaugurates 12-day long Paryatan Parv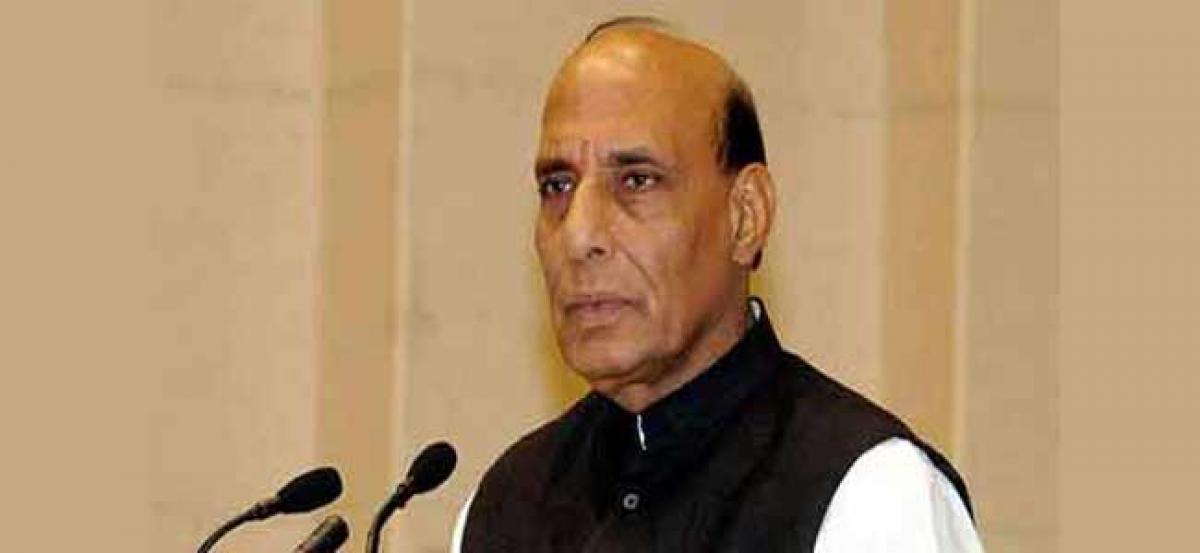 Highlights
The Paryatan Parv 2018 was inaugurated by Union Home Minister Rajnath Singh at Rajpath Lawns in New Delhi on September 16 in presence of Minister of State IC for Tourism KJ Alphons, announced Rashmi Verma, Union Tourism Secretary
New Delhi : The Paryatan Parv 2018 was inaugurated by Union Home Minister Rajnath Singh at Rajpath Lawns in New Delhi on September 16 in presence of Minister of State (IC) for Tourism K.J. Alphons, announced Rashmi Verma, Union Tourism Secretary.
The Ministry of Tourism, Government of India, in collaboration with other Central Ministries, State Governments and Stakeholders is organizing the second edition of "Paryatan Parv", a nation-wide celebration of Tourism from September 16 to 27.
Meanwhile, Union Minister for Railways Piyush Goyal formally inaugurated the 'first-ever' India Tourism Mart (ITM) on September 17 in New Delhi. The Tourism Ministry organized the India Tourism Mart (ITM) from September 16 to 18 in partnership with the Federation of Associations in Indian Tourism and Hospitality (FAITH) and with the support of State /UT Governments.
Verma said that ITM will be an annual event hereafter in line with other International Tourism Marts and the Ministry will be releasing a calendar of ITM schedule for next 5 years so to ensure wider participation.
She added that the previous events like Paryatan Parv have helped in the strong growth of Tourism sector which was visible in the 18 per cent growth of Domestic Tourist Visits in 2017. The secretary also added that more than 3100 events are being organized in collaboration with other Central Ministries and States during this year's Paryatan Parv ranging from Yoga demonstrations, Cultural evenings, Photography competitions, Food/Cuisine stalls etc.
Paryatan Parv 2018 is being organized with the objective of drawing focus on the benefits of tourism, showcasing the cultural diversity of the country and reinforcing the principle of "Tourism for All". The three components of Paryatan Parv are:
• Dekho Apna Desh: To encourage Indians to visit their own country.
There are several activities to be organised across the Country like Photography contest covering tourism attractions and experiences, promotion on Social Media, Tourism related Quiz, Essay, Debate and Painting Competitions for Students. General public engagement for the event will be promoted through the MyGov platform.
• Tourism for All: Tourism Events at sites across all States in the country are being organised. The activities at these sites will include illumination in and around the Sites, Cultural Programmes of Dance, Music, Theatre, Story Telling, Sensitisation Programmes for Stakeholders around the Sites, Tourism Exhibitions, Showcasing Culture, Cuisine and Handicrafts / Handlooms, Guided Heritage Walks, etc.
• Tourism and Governance: Interactive Sessions and Workshops with Stakeholders on varied themes will be organised across the Country
The highlights of the event in Rajpath Lawns, New Delhi are:
• 18 Theme Pavilions of States
• Food Court with 54 Food Stalls
• Kitchen Studio by IHM
• Crafts Bazaar with 76 Handicraft & Handloom Stalls
• Cultural Performances by States / UTs and North Zone Cultural Centre
• Yoga Demo, Training and Therapy by Morarji Desai National Institute of Yoga, Ministry of Ayush
• Exhibition on the theme "Saaf Niyat Sahi Vikas" by Ministry of Information and Broadcasting
• Other Interactive Activities to keep visitors engaged
Other Participating Central Ministries / Departments and agencies include:
Ministry of Ayush, Ministry of Information and Broadcasting, Ministry of Railways, Ministry of Skill Development and Entrepreneurship, Ministry of Youth Affairs and Sports (Nehru Yuva Kendras), Ministry of Consumer Affairs, Ministry of Textiles (DC - Handicrafts, DC - Handlooms), Ministry of Tribal Affairs (TRIFED), Department of Higher Education Department of School Education & Literacy, ITDC - AIHTM, IHM - PUSA, DIHM, NASVI (National Association of Street Vendors of India) and Mother Dairy.
All India Activities
• Activities across 32 States / UTs
Andaman and Nicobar, Andhra Pradesh, Arunachal Pradesh, Assam, Bihar, Chhattisgarh, Delhi, Goa, Gujarat, Haryana, Himachal Pradesh, Jammu & Kashmir, Jharkhand, Karnataka, Kerala, Madhya Pradesh, Maharashtra, Manipur, Meghalaya, Mizoram, Nagaland, Odisha, Puducherry, Punjab, Rajasthan, Sikkim, Tamil Nadu, Telangana, Tripura, Uttar Pradesh, Uttarakhand, West Bengal.
• Over 3150 activities and events during the 12-day event
Awareness and Sensitization Programmes, Workshops and Seminars, Cleanliness Drives, Competitions, Cultural Programmes, Tourism and Handicraft Exhibitions, Food Festivals, Yoga Demos, Tourism Runs and Rallies, Heritage Walks, Adventure Activities, Tree Plantation Drives, Illumination of Monuments and Railway Stations, Focus on Role of Youth in Tourism, Vocational and Skill Training Programmes, Excursion Tours for Students, Nukkad-Natak on Tourism & Cleanliness Themes, Promotion of Environment Friendly Measures, etc.
In addition, the mega event will see active participation by Cultural Associations and Organisations, Travel & Hospitality Industry, Institutes of Hotel Management, Indian Institutes of Tourism & Travel Management, Service Providers, Students and Youth and the Local Population.
India Tourism Mart 2018
The Tourism Ministry, in partnership with the Federation of Associations in Indian Tourism and Hospitality (FAITH) and with the support of State /UT Governments, organized the ITM 2018 from 16th to 18th September, 2018 at the Ashok Hotel , New Delhi. It was the first time that the Tourism industry stakeholders came together for such a large scale event and with Ministry's support. FAITH is the apex organization of all the important trade and hospitality associations of the country with all the 10 major Tourist organizations like FHRAI, HAI, IATO being involved in this mega event and India Convention Promotion Board (ICPB) is coordinating the whole event. This is a Business to Business Event. The objective of the event was to create an annual Global Tourism Mart for India in line with major international travel marts being held in countries across the world. The Mart provided a platform for all stakeholders in the tourism and hospitality industries to interact and transact business opportunities.
The ITM 2018 saw participation of around 225 hosted international buyers and Media personnel across the world such as North America, West Europe, East Asia, Latin America, CIS countries etc. The international delegates from overseas markets interacted with Indian seller delegates and the buyers, including current buyers who are already selling India as well as potential buyers who are not selling India at present but have shown interest in the country. The event was organized to provide an opportunity to the buyers to see the world class tourism facilities available in our country such as Airports, Hotels, Tourist destinations, upcoming facilities, MICE facilities, possibility in the field of adventure tourism and other niche products.
Around 225 stalls were provided to the sellers to enable them to interact with the buyers. These included pavilion for States & Union Territories to showcase their unique tourism destinations and products. The B2B meetings between buyer and seller delegates were held on 17th and 18th September, 2018. The FAITH and State Governments offered pre and post event FAM trips (Familiarization trips) for the buyer delegates from overseas.
Interested in blogging for thehansindia.com? We will be happy to have you on board as a blogger.