Madhavan's Saala Khadoos full review, rating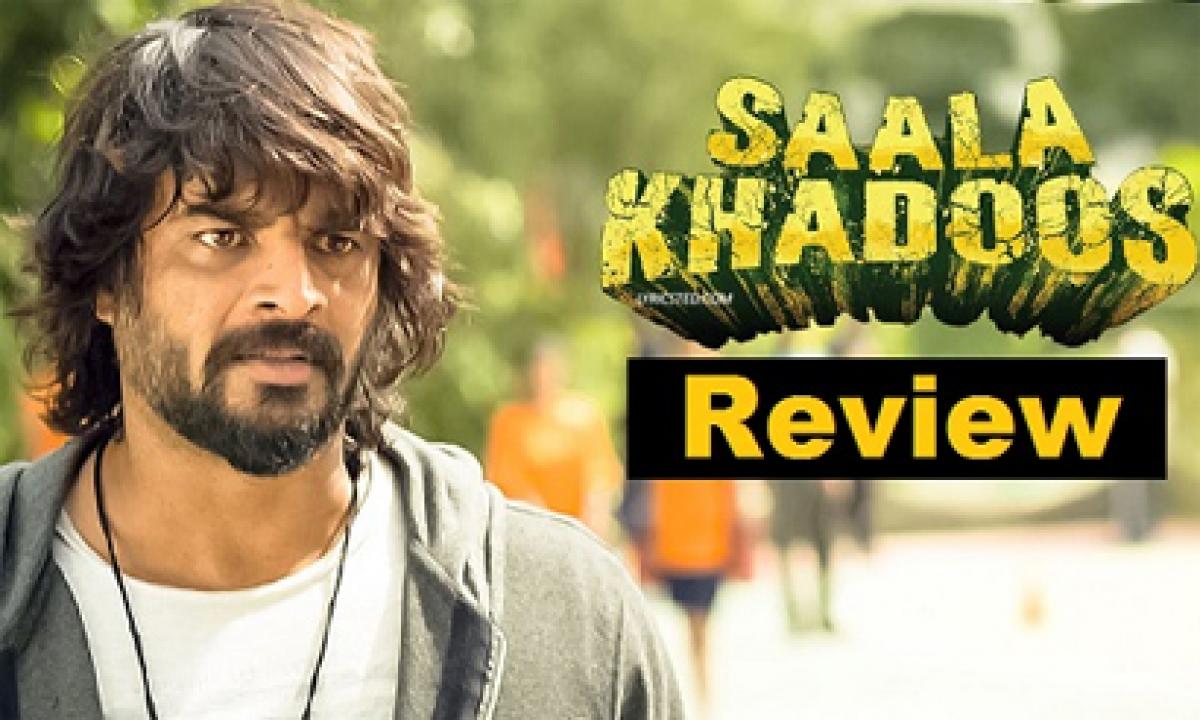 Highlights
Saala Khadoos is an inspirational sports drama, based on some true incidents. The film revolves around the theme of exalting women to join and shine as sports stars.

Film: "Saala Khadoos"; Cast: R. Madhavan, Zakir Hussain, Ritika Singh, Mumtaz Sorcar and Nassar; Director: Sudha Kongara
"Saala Khadoos" is an inspirational sports drama, based on some true incidents. The film revolves around the theme of exalting women to join and shine as sports stars.
Adi Tomar (R. Madhavan), an embittered boxing coach, whose boxing career is ruined owing to a devious plan executed by his then coach, Dev Khatri (Zakir Hussain), has lost all hope, till he spots a poor local girl Madhi (Ritika Singh) in Chennai who sells fish but is keen on boxing. He then trains her to represent India.
Through the lives of Madhi and her sister Laxmi aka Lux (Mumtaz Sorcar), the film highlights issues like politics in sports, girls being discouraged to take up sports by their families and the fact that girls too are equally talented and can become champions.
R. Madhavan essays the title role playing Adi Tomar, the disgruntled boxing coach full of angst against the system, to perfection. His frustration, bohemian lifestyle, passion for boxing and even the determination to make Madhi a champion boxer, are real. With his dishevelled appearance and boxer-like physique, he looks every inch the part that he plays and emotes with equal fervour.
Ritika Singh as Madhi, is the star of the film, not merely because she is the protagonist, but because she puts her heart and soul into her character. Whether it is fighting with grit in the boxing ring, dancing on the streets with gay abandon, being awe-inspired by her mentor, giving vent to her anger, or her disappointment and agony upon losing a match and letting down her 'Master', she slips into her role with convivial ease and portrays the gamut of emotions with spontaneity and restraint, as the scene demands, delivering an electrifying performance.
Mumtaz Sorcar, as Lux, Madhi's elder sister, ambitious, but not talented enough, who is blatantly envious of Madhi, is equally a delight to watch as an actor in an honest portrayal.
Zakir Hussain as the quintessential corrupt and slimy National Women's head coach, indulging in politicking too, is impressive and does justice to his character, making one sufficiently abhor his unethical ways.
Nassar as the junior coach in Chennai, who takes pride in his students and is supportive of Madhi, renders a fine performance.
The rest of the supporting cast although with limited screen time leave an impact.
A simple story, well-told, in a linear narrative, with well-etched characters and right amount of drama, "Saala Khadoos", is brutally honest. Sudha Kongara's writing and direction is praiseworthy, as she has dealt astutely with the subject with no major deviation.
The screenplay is extremely measured, well-presented and captures the essence of the subject and the relationship between Madhi and her mentor aptly.
With minimal sound design and constrained camera movement, the film offers a realistic feel.
The music is nothing to write home about by way of melody, yet the powerful lyrics by Swanand Kirkire, depict the emotions of the characters in that context flawlessly.
With a thumbs up to woman power, coupled with a strong subject and good performances, "Saala Khadoos" is bound to strike a chord with a cross section of viewers, irrespective of being sports lovers.
By Troy Ribeiro