Superflop Tera Surroor a B-grade mobster film of the 1980s in an upscale avatar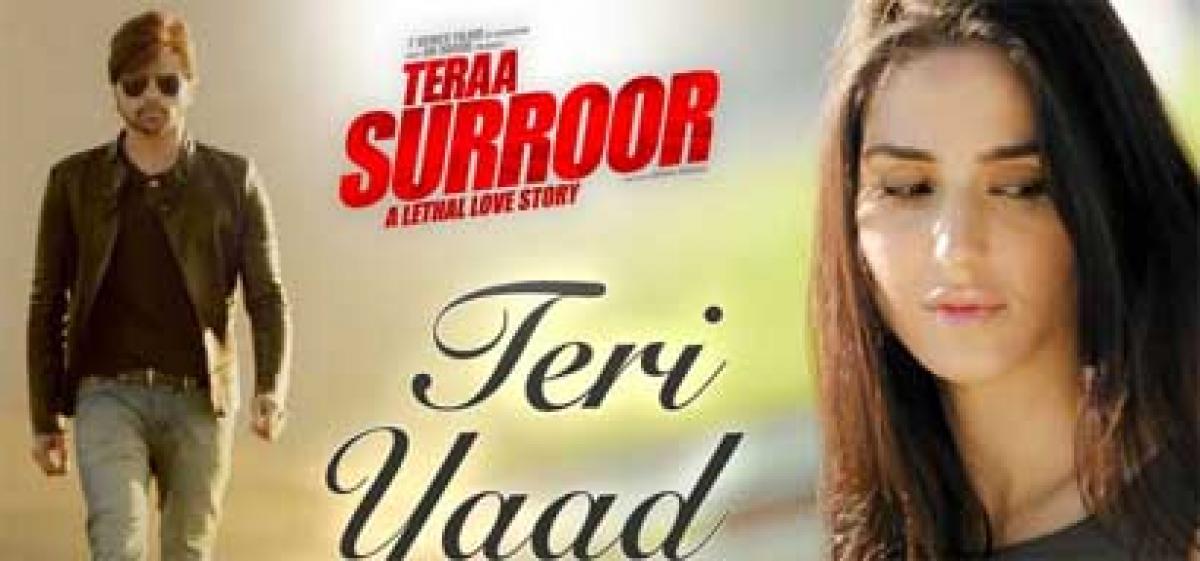 Highlights
Tera Surroor\" is a love story treated like an action thriller, meshed with music and revenge as its sub-plot. With this blend, we land up watching an abominable kitsch.
Tera Surroor" is a love story treated like an action thriller, meshed with music and revenge as its sub-plot. With this blend, we land up watching an abominable kitsch.
The amateurishly directed assassination in the first scene of the film lays the foundation for what's in store for the viewers.
With blaring music, snappy edits with tight close-ups, dramatic slow-motion frames, the film is tedious to watch.
This is the story of mobster Raghu (Himesh Reshammiya) and Tara Bronson Wadia (Farah Karimaee), a lead singer-cum-guitarist of a local band. The about-to-be married lovers have a disagreement over a personal issue and Tara decides to take a momentary break to Ireland.
There, in a convoluted manner, she is framed for being a drug courier, after the authorities seize contraband drugs from her possession. How Raghu rescues her and brings her back, forms the crux of the story.
Director Shawn Arranha truly displays his competence in handling the technical aspects of filmmaking. But taking his viewers for granted and dumbing down the story in a crafty manner, is his undoing. With a large part of the film narrated through voiceovers, the exposition is repetitive with tell-and-show sequences.
He has not paid attention to the intricacies of fine storytelling. The script and the screenplay is lazily drafted over a sketchy storyboard. Also, his characters are not well etched, especially that of Tara's.
The plot, strung together in a cracking pace over numerous songs, makes the story appear superfluous. He wraps up the main motive of the protagonists, but leaves a gaping vacuum, especially in showing the protagonist's strain in reaching his goal, making each action appear smooth and unbelievable.
Needless to say, he has not invested his energies in extracting good performances from his actors.
The film, narrated through Raghu's point of view, naturally focuses totally on Himesh Reshammiya. With; unblinking stares, dramatic modelling poses, blank or sometimes frown on his visage, he essays his role of Raghu.
Shades better than him, is the novice Farah Karimaee who portrays Tara. With a staid one-dimensional role, she has nothing much to offer in terms of histrionics.
Naseeruddin Shah as Robin Dharamraj Santino, a jailed con-man and author of the novel Bird, is a disappointment. He sleepwalks through his role and does not do any justice to his character.
Shekhar Kapur as Rajiv Kaul - the Ambassador in Ireland, Monica Dogra as his wife Elli Jordan and Tara's lawyer in Ireland, are perfunctory. Similarly, Shernaz Patel as Tara's mom too, offers nothing spectacular.
The surprise package in the film is the character Haider played by Abhishek Duhan. He is promising as an actor, for he leaves an impact with his two and half scene role.
The songs and background score do not help in elevating the film. They are in fact a hindrance to the narrative.
Overall, "Tera Surroor" is like a B-grade mobster film of the 1980s in an upscale avatar.
By Troy Ribeiro