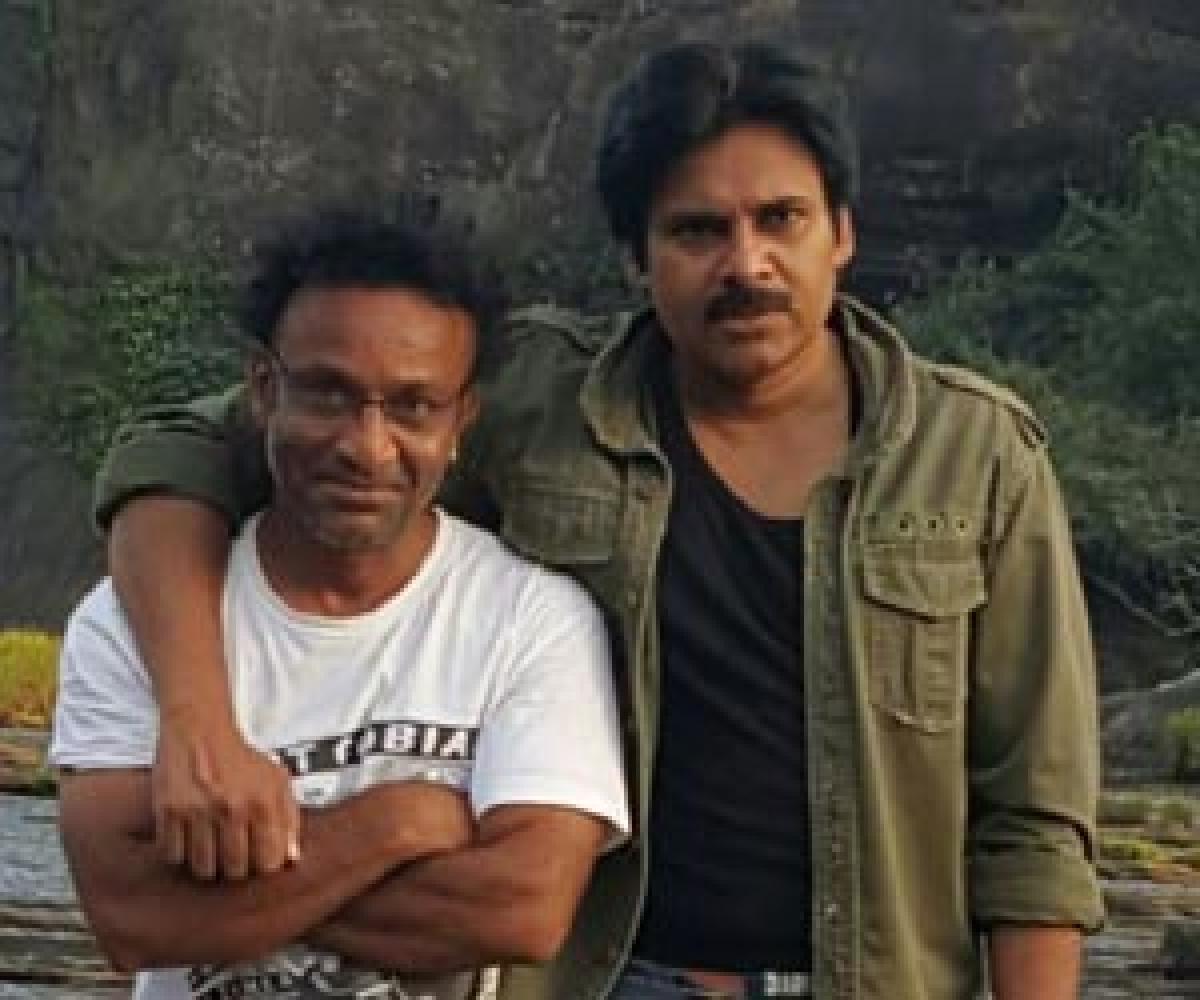 Highlights
Harish Pai might have donned the cap of creative head for Pawan Kalyan-starrer 'Sardaar Gabbar Singh', but he has a rich CV to boast off. Starting off ...
Choreographer Harish Pai talks about bagging his first opportunity, setting the trend with 'Tholi Prema', journey with Pawan Kalyan and direction plans
Harish Pai might have donned the cap of creative head for Pawan Kalyan-starrer 'Sardaar Gabbar Singh', but he has a rich CV to boast off. Starting off as a choreographer, his growth, in many ways, has a Pawan connection to it, for they both changed the way songs were conceived in Telugu industry, courtesy their seminal work 'Tholi Prema'. "Before Kalyan (Pawan) entered the industry, we were friends. It's been more than 25 years since we forged a bond," remembers the Hyderabadi gleefully in a freewheeling conversation with Talkies.
He goes on, "My neighbour was a friend of Kalyan when the latter used to reside in Chennai. And when Kalyan was shifting to Hyderabad, he asked my neighbour whether he knew anyone who could teach dance. My neighbour told about me and within no time, Kalyan met me. He used to visit my place at Secunderabad to learn dance. After travelling and training with me for three years, it was he who insisted that I should get into films. He later introduced me to Chiranjeevi garu."
A dance performance along with his troupe at the muhurat ceremony of 'Big Boss' made Chiranjeevi and the turnout to take notice of the nimble-footed performer, a die-hard fan of Michael Jackson. "Chiru was impressed and advised me to get into the industry. I told him that I didn't know anything about film choreography but he assured me of full support.
He took me to the sets of 'The Gentleman' (Hindi version) in Chennai where Prabhudeva was choreographing 'Chika paka rika boom bole' number. I was made to observe how Prabhudeva was supervising the number, for three days. I was quite fascinated by what I saw, after which I told Kalyan that I was interested (in film choreography). In fact, he promised to launch me as a choreographer," he reminisces fondly.
As Pawan's debut took time, Pai finally got his break as a choreographer, thanks largely to a strike that demanded local talent be hired for shooting purposes instead of talent from Chennai. Nagarjuna, Suresh Babu, Thammareddy Bharadwaj and Kota Sreenivas Rao among others were at the forefront of the agitation. "Someone told Nag and Co about the dancer from Hyderabad.
I've met them and gave a performance at Annapurna Studios. They took a liking to it and I bagged the opportunity to choreograph for 'Thama soma mama' from Venkatesh-starrer 'Dharma Chakram'. Later, knowing that I was from Hyderabad, Ram Gopal Varma offered me a couple of songs in 'Anaganaga Oka Roju'," he shares.
By then, Pawan had made his debut and was poised to become the next big thing in Tollywood. "Kalyan felt it's high time that we both come together," he exclaims. "I was supposed to do a number in 'Gokulamlo Seetha' but due to some miscommunication I've lost it. But for 'Tholi Prema' he got hold of me and ensured that I did all the numbers."
And then, as they say the rest is history. "We've started a new trend with 'Tholi Prema' the montage trend. We've changed the whole ball game when it comes to how a song would be shot as ours was the first film to have dabbled with montage numbers. Me, Kalyan and Karunakaran (director) sat together and decided how songs would be.
Besides conceiving songs as extension of scenes, we would also burn the midnight oil to incorporate fun and dance into them," states the reticent dancer master, adding that reactions to the songs were out of the world. "Especially the Ricky Martin spinoff number (Emaindo Emo) . it was a monster hit. 'Tholi Prema' was followed by 'Thammudu', 'Badri' and 'Gudumba Shankar'."
But Pawan, fully aware of Pai's credentials, wanted him to go big. "During 'Komaram Puli', Kalyan called me to his office and asked me to think beyond choreography. I had leaning towards direction but I didn't know how to start. With him too suggesting that I should get into direction and that he would give me a chance, there was no way I couldn't. After 'Puli' I abstained from choreographing for films, completely devoting myself to world cinema for two years. I was in regular touch with Kalyan too and in between we planned a film 'Tasva Maidan'.
It had a Hyderabad backdrop and we wanted to shoot it in guerrilla style but due to various reasons it failed to take off," he recalls, adding that he will revive it one day. "I'm also developing another line for him. I had a great time shooting for 'Sardaar Gabbar Singh'. I was involved with the action sequences too besides heading the second unit. I'm fully prepared for direction and I'm just waiting for his call. It will be a good take off if I start with Kalyan."
Admittedly, Pai, married to Rekha and a father of two daughters, is indebted to Pawan. "I can't explain in words about my journey and relationship with him. We are brothers from different mothers. Till date he has never stopped encouraging me, not withstanding my errors," signs off Pai.
Subscribed Failed...
Subscribed Successfully...