Allu Arjun's Duvvada Jagannadham movie review & rating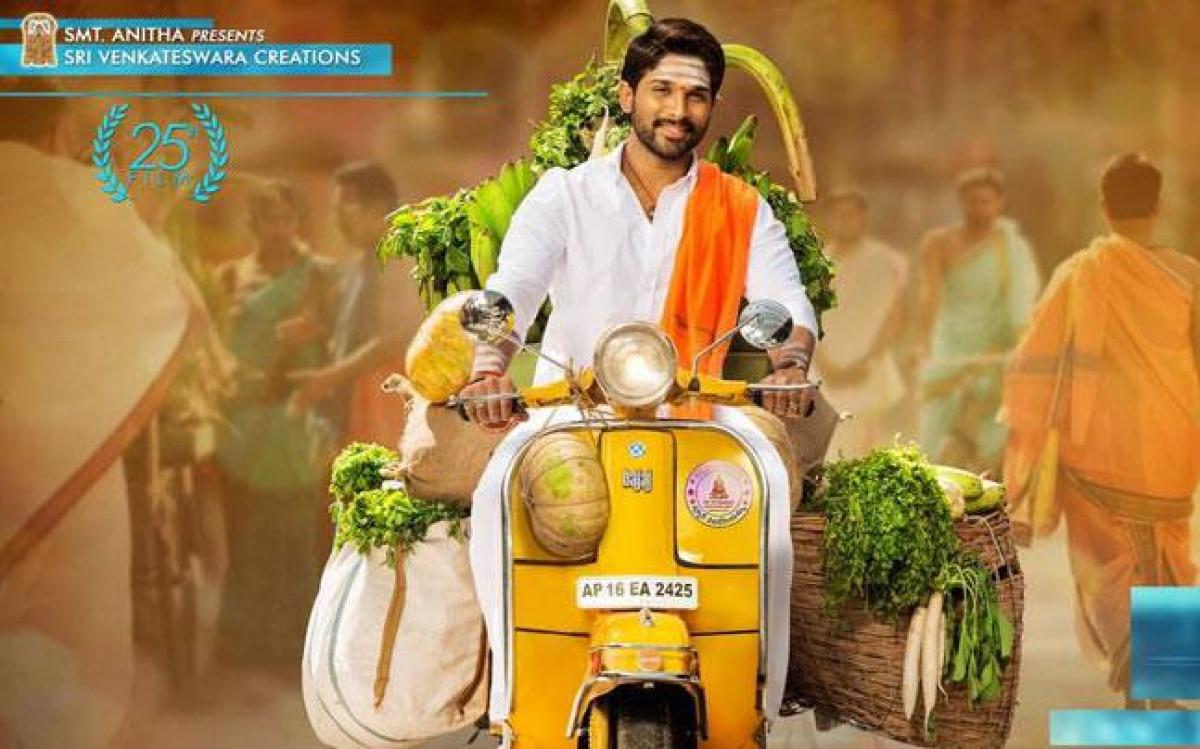 Highlights
Duvvada Jagannadham is unique, since beginning to end there are many twists. The first half is total entertainment with loads of fun particularly the Allu Arjun- Pooja Hedge love track. Allu Arjun has mesmerized the fans with his dancing and the songs are simply superb placed according to the situation in the movie. In between the movie they are many twists which will surely hold the audience\'s at
Movie: Duvvada Jagannadham
Cast and Crew: Allu Arjun, Pooja Hedge, Rao Ramesh, Tanikella Bharani and Vennela Kishore
Director: Harish Shankar
Producer: Dil Raju
Banner: Sri Venkateswara Creations
Allu Arjun and Harish Shankar's combination film Duvvada Jagannadham is set for release on 23rd June. The filmmakers of the movie have huge expectations on the film and they are two reasons, first is that it is after hat-trick hit Allu Arjun's latest film and producer Dil Raju's 25th film.
Story:
Duvvada Jagannadham (Allu Arjun) works as a cook master in one of the palaces. The events and functions happening in the palace, Duvvada Jagannadham takes care of them. In that process, unexpectedly, he meets Pooja Hedge and from there the love story starts and takes many turns in a twisted way until the end.
Also Read: Highlights in Allu Arjun's Duvvada Jagannadham
In that palace, crores of a property is named after the Brahmin community. Royaala Naidu (Rao Ramesh) eyes that property and he will try to grab the land from them.
Meanwhile, the villain also has similar plans and sends his men to India to get hold of the property. DJ fights with these people who came to India to take the land. Later, he will go to a foreign country to meet the main Villain by changing his avatar to bring some justice to their community people.
Also Read: Allu Arjun's Duvvada Jagannadham will break record of Pawan Kalyan's Gabbar Singh
However, Duvvada Jagannadham ends up being shocked after seeing the villain. Now the questions arises on who is villain? What is the relationship between Duvvada Jagannadham and the villain? How they are going to tackle the land issues forms rest of the story.
Plus Points:
Duvvada Jagannadham is unique, since beginning to end there are many twists. The first half is total entertainment with loads of fun particularly the Allu Arjun- Pooja Hedge love track. Allu Arjun has mesmerized the fans with his dancing and the songs are simply superb placed according to the situation in the movie. In between the movie they are many twists which will surely hold the audience's attention.
Also Read: Reasons to watch Allu Arjun's Duvvada Jagannadham
First half of the movie is mind-blowing and it increases the audience's curiosity to know the second part of the movie. A climax is a major highlight in the movie and Allu Arjun's chase behind the villain scene is awesome.
Performance:
Allu Arjun has impressed the audience with his dance and punch dialogues. In his Brahmin avatar, the actor has managed to entertain the audience a lot, however, it falls short when compared to Jr NTR in the similar role. Pooja Hedge and Rao Ramesh's performance is quite different from other movies and it will showcase them in a better image after Duvvada Jagannadham.