I got angry when I watched 'Lipstick Under My Burkha': Ekta Kapoor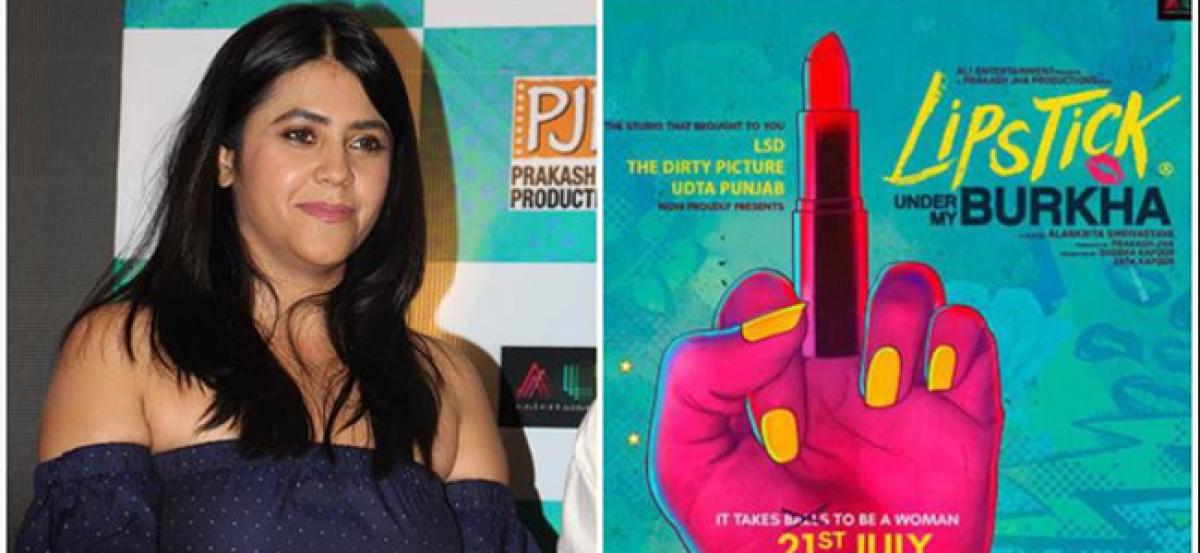 Highlights
Producer Ekta Kapoor has said she came up with a \"sassy promo\" for \"Lipstick Under My Burkha\" as she wanted the film to reach out to wider audiences rather than being confined to the art film zone.
New Delhi: Producer Ekta Kapoor has said she came up with a "sassy promo" for "Lipstick Under My Burkha" as she wanted the film to reach out to wider audiences rather than being confined to the art film zone. The movie hit a roadblock with the Central Board of Film Certification (CBFC) soon after Ekta came onboard as a distributor but it only strengthened her desire to take the movie to the masses. "The film made me angry.
I saw the film and realised we really live in a world where as women we are not allowed to do or say anything. Here was this entertaining movie that spoke about what I think. Why didn't I think of it? I loved it," Ekta, 42, told PTI in an interview. She came onboard the project when it had already hit a roadblock. Jha called her to watch the film and asked whether she would like to distribute and she immediately agreed.
"I decided to distribute this movie knowing that I might not earn profits. Then I was hoping we would get a certificate and that's when it landed into a soup with the censor board." The board was criticised for being regressive by refusing certification to 'Lipstick...' as the film was "lady- oriented". The makers approached the Film Certification Appellate Tribunal (FCAT), which directed the CBFC to certify the film with few cuts. After the film was cleared for release, Ekta's team came up with an edgy poster of the film, which depicts a woman showing her middle finger.
"I thought, will this be an 'artie' movie that 200 people will watch or a film where I'll get more and more women to see it? So, we got a sassy promo out, edgy as hell with great Hindi 'masala' music and have more women pay attention to it. I felt this was the way to go forward." As someone who has produced shows on TV before venturing into cinema, Ekta understands the duality of the audiences in India. "'Hamare khaane ke daant aur, dikhane ke daant aur hain'. What I say in front of my parents, I won't repeat the same with my friends. And we are okay with it.
"This is our society, this is how we've been brought up. But it doesn't mean I don't like discussing such topics. It means I will take up these issues in a different medium at the right time." Ekta said lipstick, as a symbol, had less to do with vanity and more to do with freedom of choice. "When you wear lipstick for vanity, it makes you look good. A lot of women say they wear lipstick when they want to feel good. I read somewhere 'there is nothing that a right shade of lipstick can't fix'.
So many acts by us are a form of rebellion." Spilling details about the first scene of the film, Ekta said one of the characters goes to a shop and steals a lipstick. "For me, that scene translates into a choice that she was not allowed to make. So she had to steal away that one thing." Directed by Alankrita Shrivastava, "Lipstick..." has a stellar cast in Ratna Pathak Shah, Konkona Sensharma, Aahana Kumra, Plabita Borthakur, Sushant Singh and Vikrant Massey. The film releases on July 28.
Interested in blogging for thehansindia.com? We will be happy to have you on board as a blogger.