Tanish's Rangu movie Review & Rating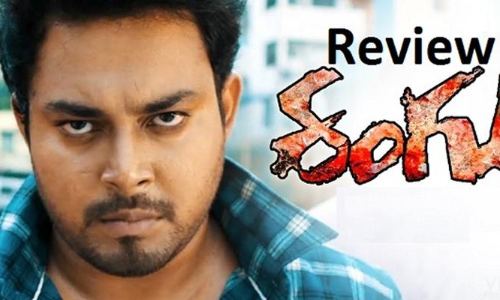 Highlights
Rangu movie Review and Rating Actor Tanish Alladi who made his foray into film industry as a child actor has made numerous efforts to get a hero image but all his stints failed badly Now, he is trying the cash on the craze he got with Big Boss and released Rangu starring himself in the lead and directed by V Karthikeya Let us go into the review
Rating: 2/5
Movie Name: Rangu
Language: Telugu
Release Date: 23 November 2018
Cast: Tanish,Priya Singh
Director: V Karthikeya
Music: Yogeshwar Sharma
Cinematography: Surrender Reddy
Genre: Action
Run Time: 156 Minutes
Actor Tanish Alladi who made his foray into film industry as a child actor has made numerous efforts to get a hero image but all his stints failed badly. Now, he is trying the cash on the craze he got with 'Big Boss' and released 'Rangu' starring himself in the lead and directed by V. Karthikeya. Let us go into the review.
Story
Pawan Kumar aka Lara (Tanish) is a clever middle-class guy who excels in studies. Due to his temperamental issues, he indulges in a fight with seniors who tried to rag him and becomes a leader for juniors. During one such fights, Lara unintentionally commits a murder and gets jailed. His life changes in prison as he gets to meet MLP (Posani Krishna Murali) and turns into a small-time settlement rowdy after coming out.
During the course of time, he gets close to Poorna (Priya Singh) and also grows big as a rowdy-sheeter. After few incidents, he chose to leave everything and opts for a bank job. But his past doesn't leave him and comes back into the crime world. How he survives in that world forms the crux of the story.
Performances
Before the release of 'Rangu', Tanish said that this film cannot be fixed in a particular genre and the character's travel in his life journey is an interesting affair. But things are completely contrary to what he said. Though Tanish acted in more that 10 films till date, he failed to deliver a good performance. He tried to act as Lara in 'Rangu' instead of living in that character. His action seems a mere imitation of other actors in few scenes and he failed badly in emotional scenes. Actor Shafi dominating him in many parts. Paruchuri Ravi gets a good role after a long time and does full justice to it. Heroine Priya Singh looked good and acted well during emotional scenes.
Analysis
Director V. Karthikeya tried to present a life story of a rowdy in a realistic manner but he made a complete mess out of it. He couldn't run the film in a flow and it wavered a lot of times. He failed to utilize potential actors like Shafi, Posani and Paruchuri and they are left with nothing to do. His effort to tell this story in a balanced manner without any controversies made the film lose its soul. Comedy scenes involving Posani too were irritating. The direction lacked clarity in many scenes.
On the technical front, the music by Yogeshwar Sharma doesn't impress and so is the cinematography by Surrender Reddy. Editing too is equally bad as the film tests your patience with its runtime. Writing by Paruchuri Brothers lacked punch and couldn't help the film. 'Rangu' was made on a limited budget and it shows onscreen.
Verdict
On the whole, 'Rangu' is a complete disappointment and Tanish's failure streak continues.
Disclaimer : This Review is An Opinion of One Person. Please Do Not Judge The Movie Based On This Review. Watch Movie in Theatre