Short & aromatic rice a big hit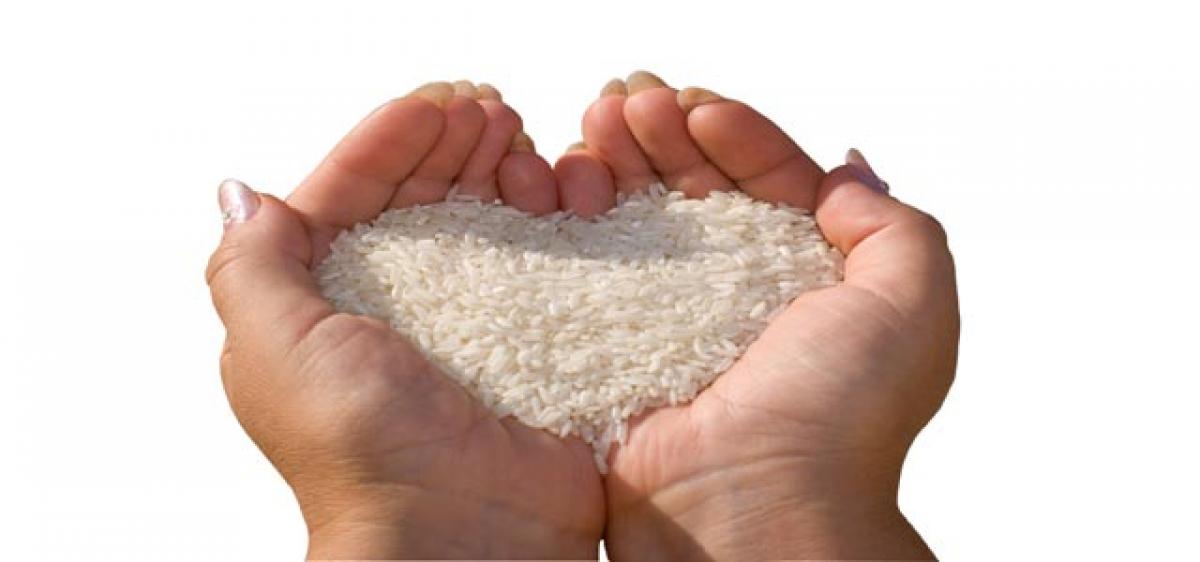 Highlights
Nellore aromatic short-grain variety, NLR 40054, is gaining much popularity due to its suitability to farming in Telugu states.
​Nellore: Nellore aromatic short-grain variety, NLR 40054, is gaining much popularity due to its suitability to farming in Telugu states. The variety has bagged the second best variety tag for the last three consecutive kharif seasons by the All India Coordinated Rice Improvement Project (AICRIP) which is being distributed to farmers for mini-kit testing currently.
In fact, Sugandha Samba (RNR2465) was the first aromatic, high-yielding, semi-dwarf, medium-duration (130–135 days), medium-slender rice variety released in Andhra Pradesh by the State Variety Release Committee in April 2010. It was developed using the pedigree method, this variety has two quality rice varieties, early samba (RNR-M7) and RNR19994, as the female and male parent, respectively.
Now, the variety NLR 40054 has been developed by local research station, is getting applauds from farming community because of its aroma, blast tolerance, sustenance capability during even drought conditions, and high yielding. Even agricultural studies also revealed best qualities of the variety.
West Bengal, Odisha, Chhattisgarh, Bihar and north-east regions are known for their aromatic varieties due to the features of very short, fine grained and highly-scented. Each one is highly priced in the locality where they are grown. These varieties were characterised by weak stem, very long growth duration, low-grain weight and poor yield. Because of these shortcomings, farmers mainly grow these varieties for their own consumption and ceremonial purposes and they do not have well developed market.
But, basmati grabbed the market with its excellent features which has high potency for foreign export. India and Pakistan are the traditional producers and exporters of the rice and in the world market it fetches three times the price than high-quality non-basmati type rice. Normally, aromatic varieties are long slender like basmati. But, NLR 40054 has a unique quality of semi-dwarf culture with nice aroma. Nellore variety is now attracting the farmers as it is also short duration variety with 130-135 days. It is suitable for early kharif and rabi in the region.
"We have sown NLR 40054 variety in 0.5 acre on July 5 for seed purpose and getting ready for harvesting now within a span of 120-125 days. Regional Agricultural Research Station (RARS) has provided us very limited quantity of the seed. The crop showed good resistance to blast, mosquitoes and other pests and we have provided negligible quantity of fertilizer and pesticides for the crop when compared to BPT variety which is also being grown in 1.5 acres.
We are expecting 20 to 25 bags of produce from crop in 0.5 acres," said G Brahmaiah from Munagala in Nalgonda district. My neighbours are envious about growth and quality of the crop and they are demanding seed from me, he said with a sense of pride. Similar was the experience of K S Naidu from Podalakur area in Nellore district.
"We are giving 2-kg of mini kits to the farmers through Agriculture department for testing purpose. They can generate seed for future crops. Studies show they are good for Telugu states where progressive farmers want to grow short and aromatic varieties with resistance to local conditions," said Dr P Ramesh Babu from RARS, Nellore.
NLR 40054 ranked fourth in the trial and recorded yield of 4,048 kg/ha. With 107 days to 50% flowering, it recorded yield gain of 10.66 pc over the best check. It recorded higher grain yield than the best check in different states. Studies revealed the lowest plant height was also recorded in NLR 40054 with 91.23 cm. More number of filled grains was found in the variety with 205 numbers. Whereas NLR 40054 (14.35 cm), BPT 5204 (14.55 cm), NLR 40045 (15 cm) and NLR 30491 (15.19 cm) recorded lowest root length these can be consider as susceptible ones to drought conditions.
By P V Prasad