9.5 tonnes of red sanders seized in Tamil Nadu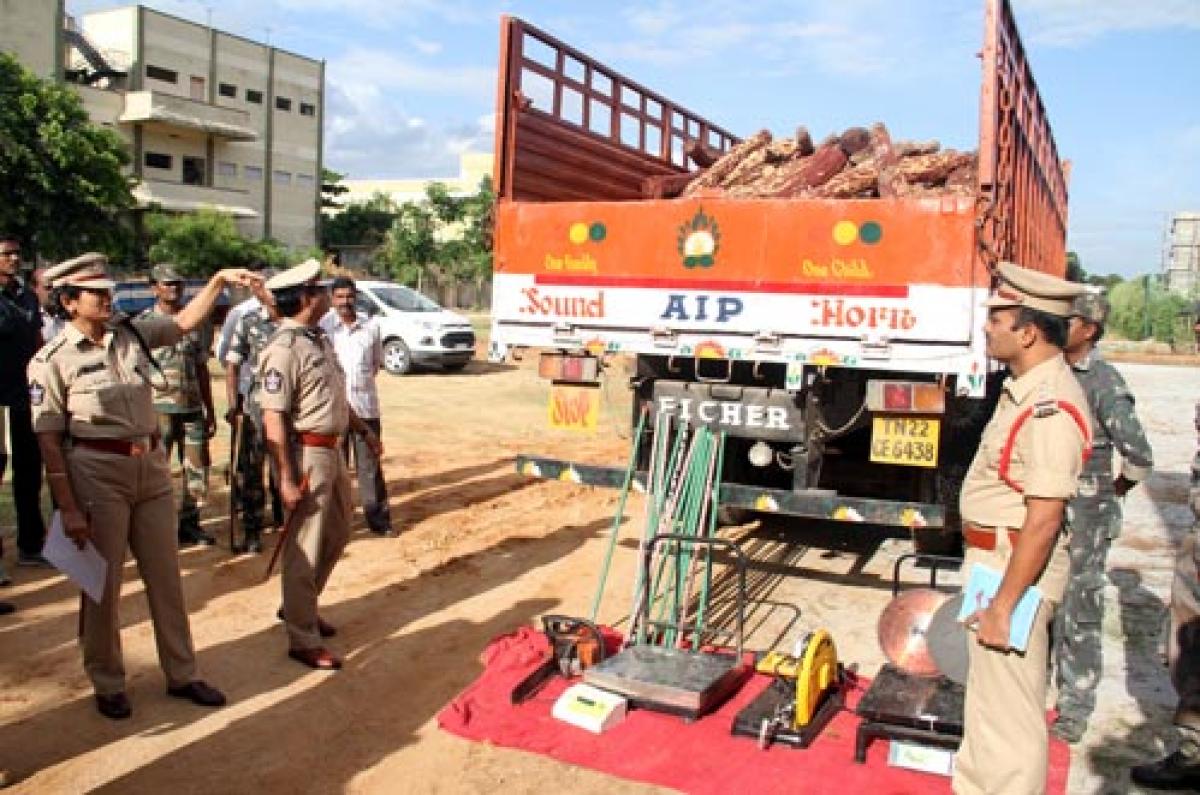 Highlights
The seizure of such a huge quantity of 395 red sanders logs weighing 9,586 kg (9.5 tonnes) along with one Eicher lorry, two weighing machines, two chainsaw woodcutting machines from the godown outside the State was the result of meticulous operation by Tirupati Urban police led by SP R Jayalakshmi, following the investigation based on the information of the arrested smugglers. The red sanders logs
Tirupati: In a major operation, Tirupati Urban police seized a huge quantity of 9.5 metric tonnes of red sanders logs from a godown located at Ponduru village in Sriperumbudur taluk of Kanchipuram district in Tamil Nadu on Wednesday.
The seizure of such a huge quantity of 395 red sanders logs weighing 9,586 kg (9.5 tonnes) along with one Eicher lorry, two weighing machines, two chainsaw woodcutting machines from the godown outside the State was the result of meticulous operation by Tirupati Urban police led by SP R Jayalakshmi, following the investigation based on the information of the arrested smugglers. The red sanders logs and lorry were produced before the media here on Thursday.
Briefing the media on the major operation here on Thursday, Tirupati Urban SP said the interrogation of the smugglers who were arrested on August 19 under Chandragiri police station limits, ultimately led the Urban police to the huge seizure of red sanders logs.
Rajamohan of Tirupattur, Tamil Nadu was arrested along with his associates Jagannadham and Balan of Tamil Nadu when they were illegally transporting eight red sanders logs in Tavera vehicle. Police recovered Rs 1,08,050 from them while two more Kirubakaran alias Kiruba of Chennai and some other involved in the smuggling, managed to flee the spot.
Rajamohan was involved in as many as 40 cases of red sanders smuggling in Chittoor and Tirupati Urban Police districts, the SP said, adding that Tirupati Urban police arrested Kiruba, four days later in Chennai and was later taken into police custody for interrogation.
During the interrogation, he spilled the beans. He informed that he along with another smuggler Selvaraj and his associates hidden the red sanders logs smuggled from Chittoor forests and also a lorry in a godown in a village near Sriperumbudur.
A special team of Tirupati Urban raided the godown at Automative Corridor in Poduru village on August 31. Police in the presence of mediators opened the godown only to find the huge quantity of red sanders logs, the SP explained.