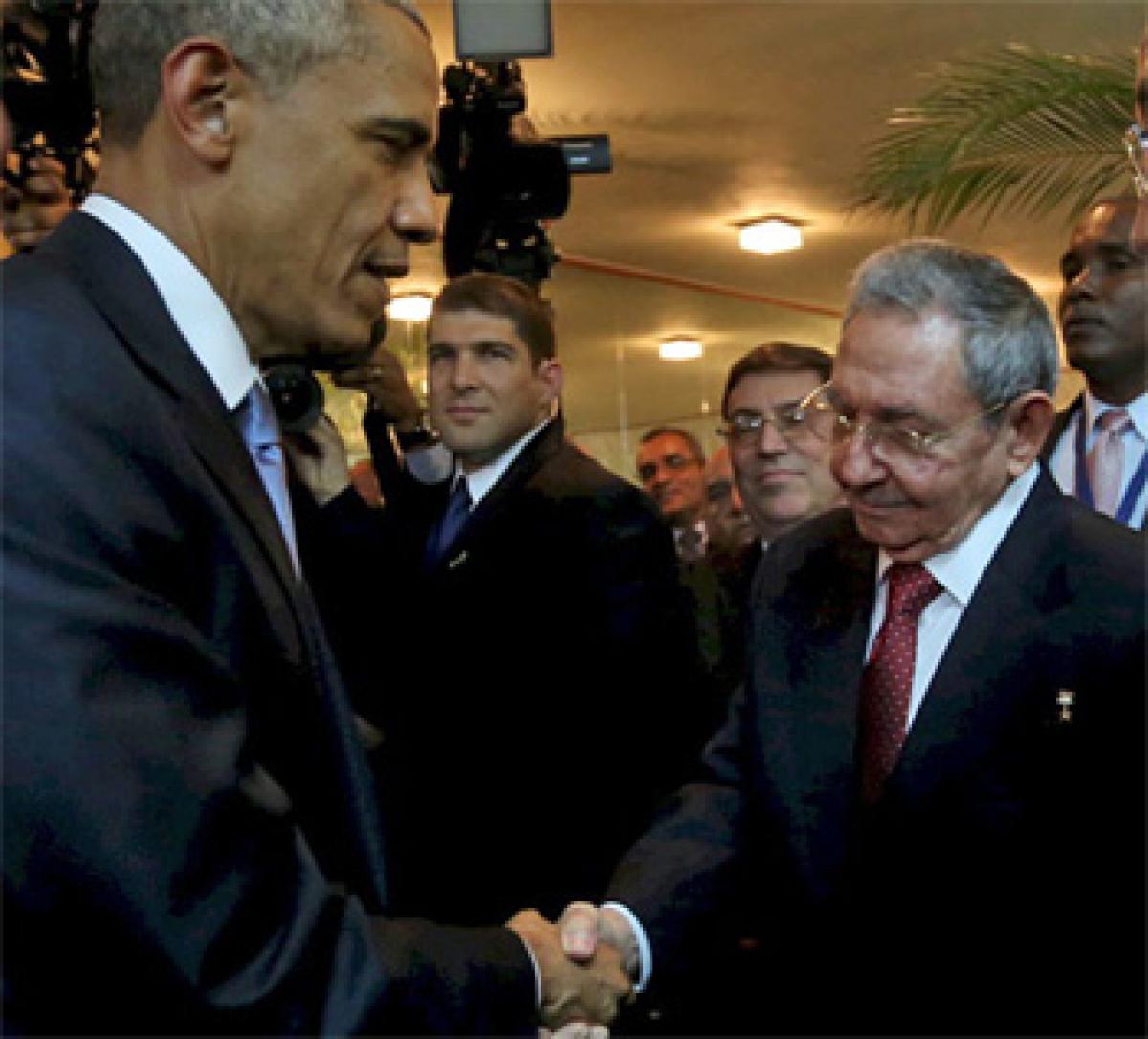 Highlights
The post Cold War world saw a new epoch in the making as the United States President lands on the Cuban soil first time in nearly nine decades. The successive US Presidents could not so far digest the existence of a communist nation in its backyard. President Obama deserves all praise for his path-breaking diplomatic initiative despite strong opposition from the conservative sections of American s
The post Cold War world saw a new epoch in the making as the United States President lands on the Cuban soil first time in nearly nine decades. The successive US Presidents could not so far digest the existence of a communist nation in its backyard. President Obama deserves all praise for his path-breaking diplomatic initiative despite strong opposition from the conservative sections of American society and polity.
Though the two nations persist with serious differences over the domestic, regional and international issues, the opening up of new diplomatic avenues would be a historic opportunity for both the countries, separated by decades of belligerence and acrimony, to script a new destiny.
It's a significant recognition that the pluralistic world should tolerate diverse political and economic systems determined by the peoples' will rather than by external aggressors. This rapprochement between US and Cuba was simply unthinkable till recently. Therefore, the deep differences rocking the bilateral efforts to welcome the dawn of new era need not deter the leadership.
The United States wants the opening up of Cuban command economy. But, the Cuban leader has reaffirmed his government's commitment to the ideology that guided Cuba all these decades. The Chinese experience suggests that synergy and symbiosis is not an impossible task.
The more controversial thing would be the US lobbying for what the Washington calls more political freedom and what Havana dismisses as anti-communist political dissent. The thorny issue would be the Cuban plea for lifting all the economic sanctions that crippled the tiny island nation. Cuba demands the return of Guantanamo Bay naval base to it before the two nations enjoy normal relations.
America is yet to see a political consensus on the question of ending the economic embargo of Cuba. The Republican leadership in Congress rejected Obama's plea for repealing the embargo. Thus, it's a long way to go before camaraderie blossoms between the two neighbours. Yet, history cannot be written overnight. But the epoch has begun.
The US companies are already objecting to the sanctions on the ground that they are losing out to other countries in the Cuban market. Market forces are keen on bridging the political and ideological distance. Six decades of American blockade failed to effect a regime change in Cuba. Barring few right wing politicians, the futility of embargo is increasingly realised across American political spectrum. This gave credence to Obama's attempt to realise his Cuban policy.
However, the embargo inflicted severe suffering on the Cuban people. Estimates suggest that Cuba lost more than one trillion dollars due to economic blockade authored by the US. In a post Cold War world that does not offer any external succour, Cuba has to realise the imperative of normalising relations with the world's major power. Understanding the inevitability is the genius. This genius dawned on both the nations to herald an unimaginable chapter in the contemporary world order.