Gujarat headwinds not insurmountable for Modi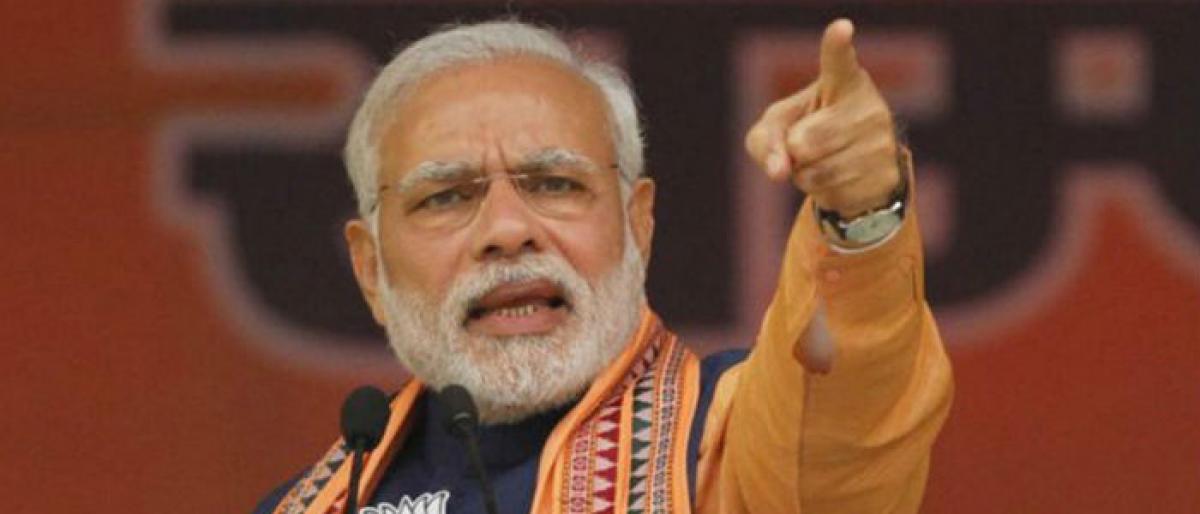 Highlights
No State Assembly elections could be more prestigious for Narendra Modi than Gujarat. That he has to prove his popularity in his (as also his mascot Amit Shah) backyard is paramount in the political calculations of Modi, who has ruled the State for over 12 years on the trot. It is apparent that he is going the extra mile to ensure that Gujarat, which is going to polls next month, will remain a BJP
No State Assembly elections could be more prestigious for Narendra Modi than Gujarat. That he has to prove his popularity in his (as also his mascot Amit Shah) backyard is paramount in the political calculations of Modi, who has ruled the State for over 12 years on the trot. It is apparent that he is going the extra mile to ensure that Gujarat, which is going to polls next month, will remain a BJP bastion so that his own individual clout would not take a beating at any level.
Against such a critical backdrop, it is not surprising that the run-up to the Assembly elections is presenting a peculiar political scenario. For one, it stems from the anger against BJP, particularly because of GST, note ban and inept functioning of the two Chief Ministers, Anandiben Patel and Vijay Rupani. The setting has come as a godsend opportunity for the Congress that remained on the side lines for over to two decades. The situation has been such that it is back in the reckoning in Gujarat, an unthinkable proposition till a couple of years back. There are fears one too many that like Tamil Nadu, Gujarat was lost to the Congress forever.
Having remained in the political wilderness for 27 years, the Congress now aspires to dislodge the BJP and establish its rule once again, which it had to abdicate in March 1990. But then the million dollar question is will the anger against the BJP translate into victory for Congress? For all the positives, the prospects seem far-fetched and too ambitious. The D-Day is drawing closer, but is yet to zero in on winnable candidates. Moreover, it has not created any tangible wave in its favour. Hope for Congress is coming from Rahul Gandhi, who has gained much traction on social media and has honed his skills in public speeches and perfecting tongue-in-cheek tweets.
But there is nothing to cheer about his leadership skills. Though Rahul has been going round the State, the party has so far not been able to spot a Chief Ministerial candidate. Incidentally, the fate of Congress party appears headed for doomsday even in Himachal Pradesh, where three-time Lok Sabha member Anurag Thakur is waiting to go for the kill.
If only the Congress had some good candidates and effective strategists, things would have been different. The Patels are angry; there is the Hardik Patel effect and the traders who form an important segment of voters are unhappy with the problems created by Modi's GST experiment. So are ASHA workers, who take forward the National Rural Health Mission as silent but effective soldiers. Though Rahul Gandhi has been meeting them and launched an offensive, he could not seize situational advantage as just a day before election dates were announced for Gujarat, the State government announced a 50 per cent raise for ASHA workers. The difference this time is that though BJP looks a winner, all over again, none has forecast a Congress comeback in Gujarat.
Subscribed Failed...
Subscribed Successfully...