Microsoft recruits students from GITAM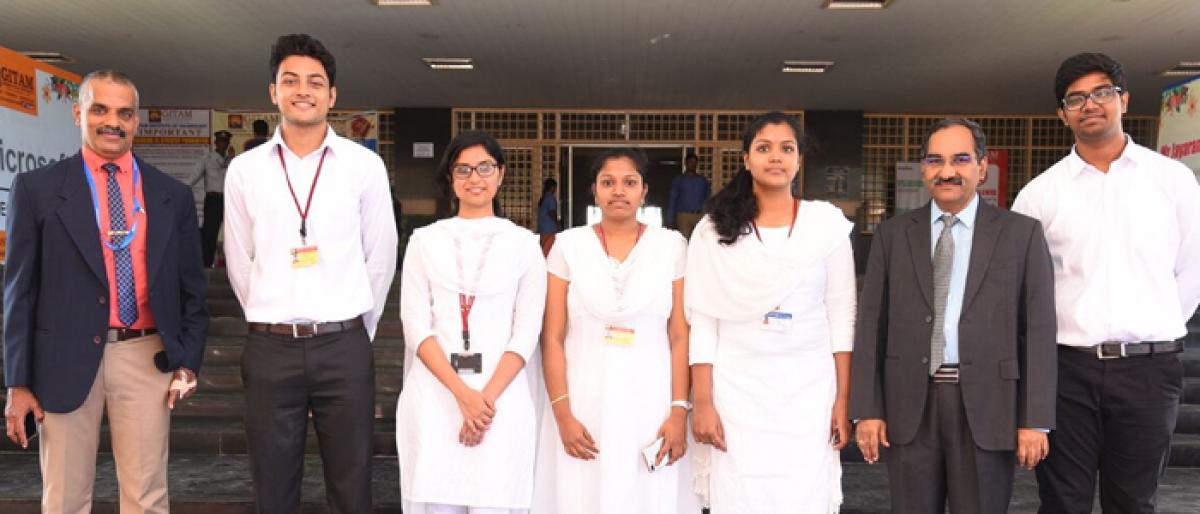 Highlights
IT Major Microsoft has chosen Five students from GITAM Institute of Technology for the roles of Associate Consultant, Premier Field Engineer and Project Manager with a package of 1025 lakhs Microsoft India University recruiting team visited the campus and shortlisted the students through an Online Test a series of interviews
​Visakhapatnam: IT Major Microsoft has chosen Five students from GITAM Institute of Technology for the roles of Associate Consultant, Premier Field Engineer and Project Manager with a package of 10.25 lakhs. Microsoft India University recruiting team visited the campus and shortlisted the students through an Online Test & a series of interviews. The engineering final year CSE students M.Surya Sindhu, R.Salini, B.Ashrith, P.Eswara Krishna Praneetha and Reno Francis were selected by the recruiters.
In addition, Susarla Surya from Computer Science Dept who was selected for Internship by Microsoft in Third Year of Engineering has been given full time placement as part of Pre-Placement Offer (PPO).
Girl students in Microsoft WISE
Microsoft in its efforts towards engaging GITAM student community through its academic initiatives has introduced Microsoft WISE (Women In Software Engineering) Program in GITAM. Two batches of girl students from III Year were carefully chosen for remote projects. The selected students were guided by GITAM Faculty and mentored by Microsoft professionals.
The WISE programme comprises a mentoring group of volunteers from Microsoft who intends to create an experiential learning for female students to sharpen their professional skills. The idea originated from a group of women engineers working at the Microsoft India who wanted to help women engineering students shape out successful careers in technology.
It allows participants to enhance their knowledge in the area of their technological interest. It equips select women graduates with the latest industry tools, modern programming practices and helps them to secure positions at top software companies in the country. The above selected students would be given training in soft skills to boost their self-confidence, dealing with societal pressures, success mantras, life skills, busting the usual myths using the growth mindset to embrace new opportunities.
GITAM Deemed to be University Vice-Chancellor Prof. M S Prasada Rao, Pro Vice-Chancellor Prof. K Sivarama Krishna, Registrar Prof. M Potharaju, Institute of Technology Principal Prof. K Lakshmiprasad, Training and Placement Director Cr Gurumoorthy Gangadharan appreciated the students for their achievement.