German bodies to help MITS in Robotics field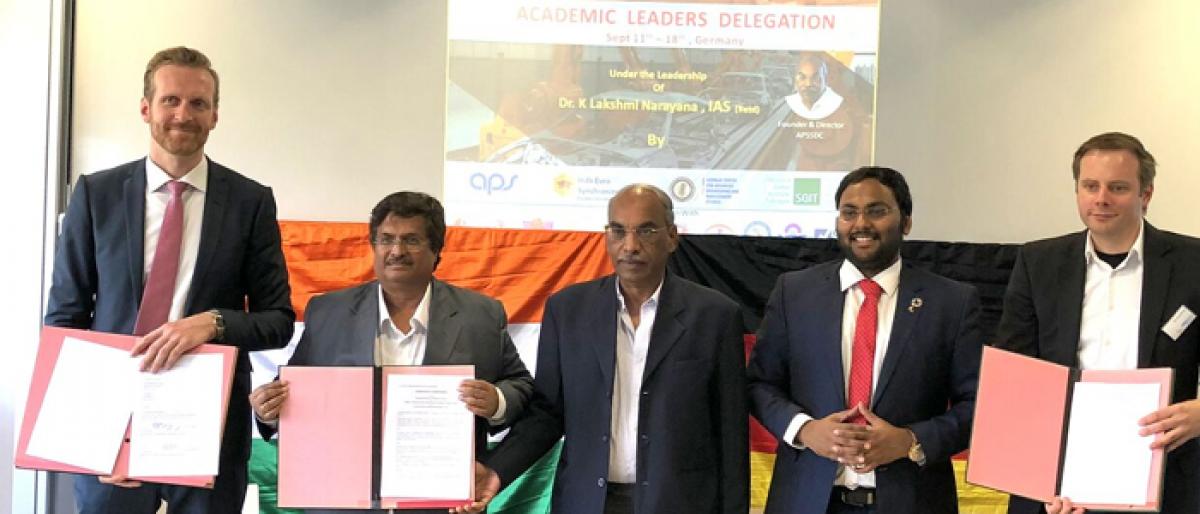 Highlights
Madanapalle Institute of Technology and Science has signed an MoU with GC German Center for Engineering and Management Studies UG Aachen and the European Center for Mechatronics and Manufacturing ECMM APS GmbH Aachen, Germany The event took place in RWTH Aachen University in Germany, where Dr N Vijaya Bhaskar Choudary, Secretary and Correspondent of MITS, Dr Till Quadflieg, Dr Christoph Gre
​Hyderabad: Madanapalle Institute of Technology and Science has signed an MoU with GC German Center for Engineering and Management Studies UG Aachen and the European Center for Mechatronics and Manufacturing (ECMM) APS GmbH Aachen, Germany. The event took place in RWTH Aachen University in Germany, where Dr. N. Vijaya Bhaskar Choudary, Secretary and Correspondent of MITS, Dr. Till Quadflieg, Dr. Christoph Greb, Managing Directors, ECMM signed the MoU.
As part of the MoU, ECMM will help in establishing the Advanced Robotics Research Center (ARC) in the college , thereby providing the college students with facilities for Research, Industrial Education and Technical Training. This was disclosed in the press meet on Tuesday by the College Secretary & Correspondent Dr. N. Vijaya Bhaskar Choudary.
The German government companies are providing a fund of 45000 Euros to establish the Advanced Robotics Research Center (ARC) in the College. This Center will facilitate knowledge transfer, training and industrial connect. ECMM will provide the faculty to train the students and faculty in the college, thereby enabling them to gain knowledge in developing Advanced Robotics, he added.
Dr. N. Vijaya Bhaskar Choudary also stated that to apply and manage international research projects with Indian and German companies or organisations and establish a common research location for transnational research projects between German and Indian partners in Andhra Pradesh, ECMM will provide a research fund for development as well as make the research fund available to the students. The deal will be very useful for students to conduct research studies in India and Germany.
The Andhra Pradesh State Skill Development Corporation (APSSDC) will also provide financial assistance to students. This is a good opportunity for others states of India and other countries to venture into our state of Andhra Pradesh and explore further research opportunities.