TiE-Grad Programme sees 3-fold rise in participation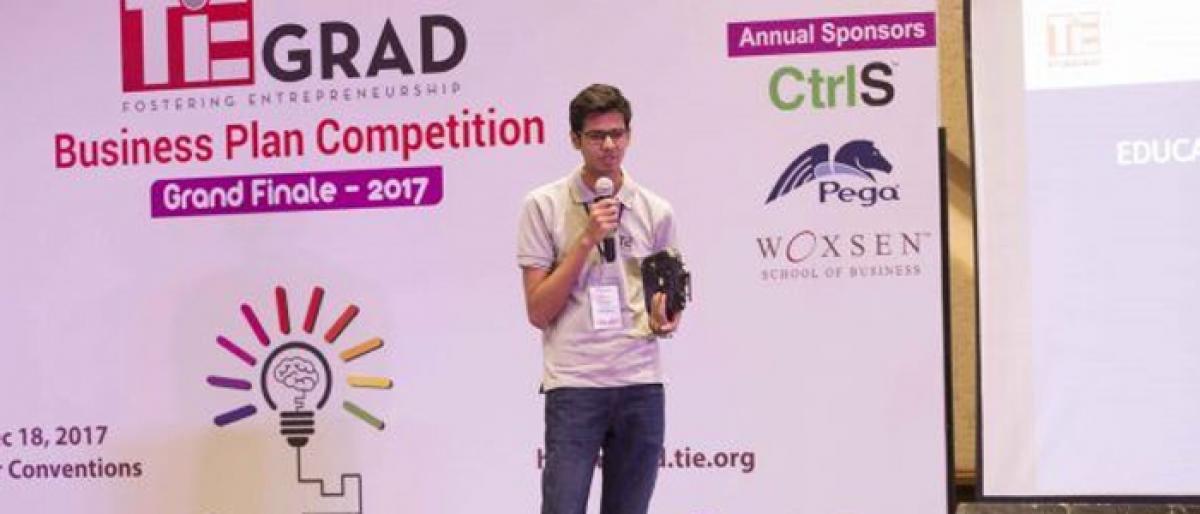 Highlights
TiEGrad Business Plan Competition, a TiE Hyderabads longterm programme has recorded a threefold increase in college grad participation from 15 teams last year to potentially 45 in total now This is a solid illustration of the evolution of mentorship programs conducted by TiE Hyderabad, fuelled by rising student demand and industry interest, TiE Hyderabad announced on Wednesday, the 2nd editio
​Hyderabad: TiE-Grad Business Plan Competition, a TiE Hyderabad's long-term programme has recorded a three-fold increase in college grad participation from 15 teams last year to potentially 45 in total now. This is a solid illustration of the evolution of mentorship programs conducted by TiE Hyderabad, fuelled by rising student demand and industry interest, TiE Hyderabad announced on Wednesday, the 2nd edition of TiE-GRAD Competition is over subscribed.
Kali Prasad Gadiraju, The President of TiE Hyderabad & Office Managing Partner of Ernst & Young says "TiE Hyderabad charter members spent lot of time building up the confidence in their mentees, face-to-face, at regular intervals. From being encouraging and supportive, and not letting them lapse into adverse state of mind."
"Our last year and 1st edition of TiE-Grad winner, Ujjawal was ambitious and we could see him envisage product development roadmap for his idea. All he needed was the right mentorship. He is among the 15 student teams who believed in TiE-Grad initiative and what it could mean to them." Kali added.
TiE Hyderabad's pairing students and mentors has gained strong success rate since its debut. Ujjawal, a BITS Pilani Hyderabad Student and the founder of WCB Robotics who represented the global level TiE-GRAD competition last year, is attracting investor's community attention from around the world, after his stellar success at RiCE University B-plan competition at Houston, Texas, USA.
Kali stated, with any new grad idea, we walk them through the process of validating the potential of their idea, how that translates to a business, and how to get started with global scale in mind. He attributes this as a leading factor for the rising demand for TiE-Grad program. This program is created by the successful entrepreneurs for the student entrepreneurs. "The students value it enormously and our mentors have repeatedly heard it from students, who participate in the program that they feel lot of worth attending our programs."
TiE Hyderabad's TiE GRAD program helps engineering & management colleges to build/scale a world-class Entrepreneurship Development Zones within their campuses through a structured program to guide and mentor students on Entrepreneurship.
9 leading colleges participated in the debut Edition of TiE-Grad competition and the winning teams, WCB (Windows Cleaning Bot) from BITS Pilani-Hyderabad, along with Law School 101 from NALSAR University, Hyderabad campus jointly shared the prize money of Rs.5 lacs.
Phani Pattamatta, Executive Director, TiE-Hyderabad said, "TiE-Grad is an awesome starting point for Grads with entrepreneurial interests. Because, TiE Hyderabad mentors build the confidence in their mentees in a structured manner, using the best techniques and frameworks. Over 20 colleges showed interest to participate in this edition of the program, and they will benefit from newly expanded scope plus an opportunity to solve real world use cases through a world class platform supported by TiE charter members."
Besides generous prize money riding on these challenges, TiE Grad rising popularity amongst education institutions, aspiring student entrepreneurs is due to the fact TiE Grad is offering a great platform for winning, learning, networking with best Entrepreneurs from our ecosystem. These programs are designed to prepare participating student into a well-rounded individual who is not just academically brilliant but also ready with experiential and life skills which make them market-ready with an entrepreneurial mindset to pursue their dream career.
TiE Hyderabad engages colleges through year-long programmes, viz. Idea Boot camps, Startup School, Immersive Learning workshops, Nominations to National & International Business Plan competitions, Hackathon Challenges and other initiatives.