WUD hosts Global Goals Jam 2.0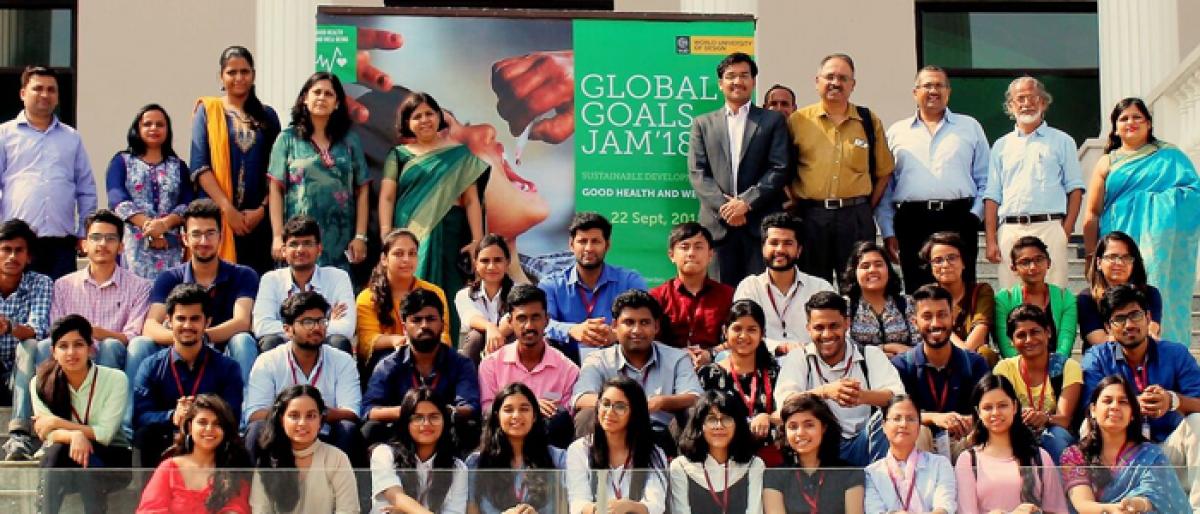 Highlights
The World University of Design WUD Indias first and only University dedicated to education in the creative domain organised a twoday exclusive Design Thinking workshop Global Goals Jam 20 GGJ recently The workshop was held in association with the Digital Society School of University of Applied Sciences, Amsterdam along and United Nations Development Programme UNDP GGJ is an internat
​New Delhi: The World University of Design (WUD) - India's first and only University dedicated to education in the creative domain organised a two-day exclusive Design Thinking workshop - Global Goals Jam 2.0 (GGJ) recently. The workshop was held in association with the Digital Society School of University of Applied Sciences, Amsterdam along and United Nations Development Programme (UNDP). GGJ is an international platform for inclusive learning where people from all around the world contribute to the 17 global goals for sustainable development of UNDP by sharing their stories, projects and visions for the future.
Fifty Six innovators from across the country, divided into 10 groups, participated in the workshop presenting their ideas and vision for the future. The topics they selected aimed to create or improve informative, preventative, diagnostic, therapeutic or assistive interventions for issues related to good health & well being. Seven ideas were shortlisted by the experts in the mentor group from AIIMS, IIT and other health-care agencies. Some of the ideas which were shortlisted are:
Smart and smooth transportation of Ambulance
How to prevent stagnant water
Reusable mask to prevent TB
Methods for preliminary diagnosis of heart related diseases
Treating problems related to manholes
The participants shared their perspective and experiences about the workshop. Discussing about the project - Smart and smooth transportation of Ambulance one of the student of Transportation Design at WUD, Abhishek Ojha said "I am here to participate as an ideator at the Global Gaols Jam and have pitched an idea in which we are proposing a space, a pathway for ambulances which could avoid an ambulance getting stuck in traffic jams and also we can use the dividers between the roads as a pathway for ambulances or any other emergency vehicle services so that traffics does not become an issue for emergency services and a valuable life can be saved."
Akash Mangla, a final year Mechanical Engineering student form IIT Delhi, also shared information about his project - Methods for preliminary diagnosis of heart related diseases and said "I am interested towards the design thinking processes and also the prototyping. The sustainable development goals that we have been assigned is the good health and well-being, so we are working on a small machine which can be used by poor and illiterate people to diagnose the problems related to the heart. The good thing about the Global Goal Jam is that there are people from different background and you are getting an opportunity to collaborate with them, and you get different perspectives and a new way to look at the problem, also to find solutions for the same."
All the projects will be shared with UNDP for evaluation and global rollout. The Workshop focused on Health and well-being and was inaugurated by chief guest Dr Swati Subodh, the Bio-scientist-Entrepreneur and Director for Healthcare Innovations at 1M1B (1 million for 1 billion) Foundation. Keynote address was delivered by Dr Sushma Sagar, Professor, Surgeon, and AIIMS Delhi. The co-mentors at the workshop included Prof. PV Madhusudan Rao – Professor & Head (Design), IIT-Delhi and Prabhat Gusain, Investment specialist @investIndia (Startup India).