Atal tinkering labs to foster curiosity and creativity of students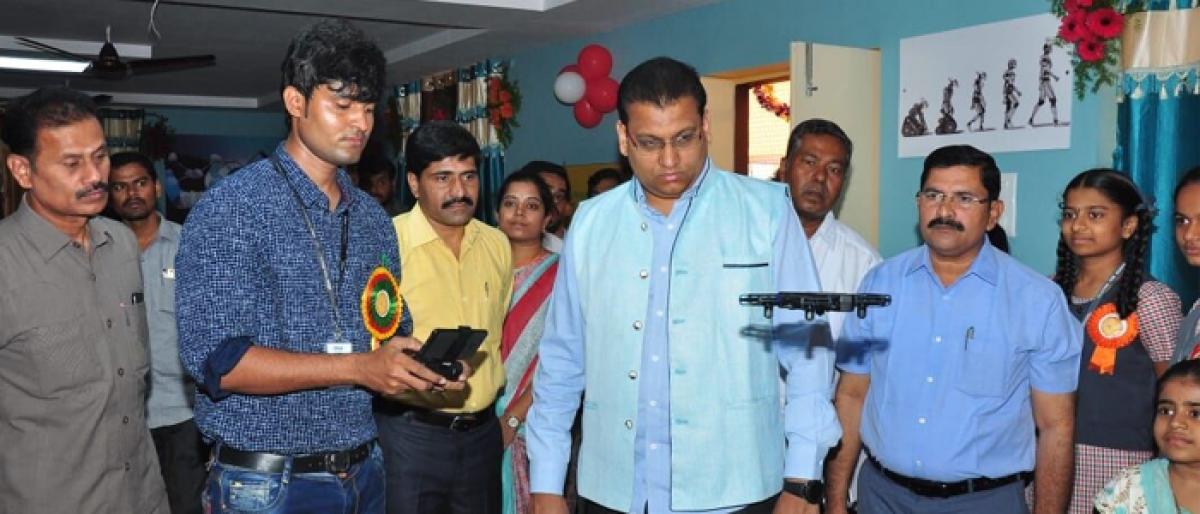 Highlights
In an interesting development 24 schools in Chittoor district are set to tinker the innovative minds of students thereby fostering curiosity, creativity and imagination in them which can be made possible with a new initiative of the central government Atal Tinkering Laboratories ATLs The prime objective of the scheme was to cultivate one million children of the country as neoteric innovators
​Tirupati: In an interesting development 24 schools in Chittoor district are set to tinker the innovative minds of students thereby fostering curiosity, creativity and imagination in them which can be made possible with a new initiative of the central government 'Atal Tinkering Laboratories' (ATLs). The prime objective of the scheme was to cultivate one million children of the country as neoteric innovators.
For this, Niti Aayog (National Institution for Transforming India) initiated Atal Innovation Mission (AIM) under which state of the art ATLs will be established across the country. It may be noted that 2441 schools across the country were already selected to establish ATLs and by this year end 5000 schools are expected to be operational with ATLs which will become hubs of innovation and accelerate students' ideas to solve unique local problems. Of these, AP gets about 200 schools whereas Chittoor district was sanctioned 24 schools. It was planned to have every school have access to at least one or more Atal Tinkering Labs in each district of the country.
ATL is a workspace where young minds can give shape to their ideas through hands-on do-it-yourself mode and learn innovation skills, said the District Educational Officer Dr K Panduranga Swamy. Speaking to The Hans India, ATLs inculcate skills in young minds like computational thinking, adaptive learning, physical computing etc., They need to work with tools and equipment to understand what, how and why aspects of STEM (Science, Technology, Engineering and Maths). These labs teach students essential 21st century skills which will help them in developing their professional and personal skills.
ATLs are to be established in high schools under any management – government, local body or private managements whereas minimum 25 percent of the labs would be set up in schools managed by Government. The applicant schools will be provided financial support in the form of grant in aid for a maximum period of five years. A one- time establishment charge of Rs.10 lakh will be provided to each ATL in the first year which has to be used for instruments, equipment like do-it-yourself kits, 3D printer etc. Another Rs.10 lakhs will be given in five years with five equal instalments for maintenance, purchase of consumables and organising various lecturers and other activities. After interested schools applied for ATL, selected schools will be required to enter into a MoU and Bond with AIM Directorate.
"As Innovation has been gaining importance, in order to further improve the skills of young minds a platform is needed and ATL will fill this requirement. The schools for the purpose are selected from different geographical areas and different managements. This will also help in capacity building of school teachers and their hands will be strengthened, who in turn help the students to sharpen their creative minds", DEO maintained.
All the 24 selected schools should establish ATLs before January 2019 while two ATLs were already inaugurated. In Tirupati, SV University managed SV Campus High School will have one ATL whereas two ATLs at Government Model School at Yarravaripalem and Vijayam Degree College in Chittoor runs by private management were already inaugurated. Two more schools were ready with these labs and to be inaugurated soon.
It was planned to ensure that each ATL should cover at least 30 government or private schools in its purview and those students also can make use of the ATL. The DEO added that, corporate people will adopt each lab and act as mentor for that and science teachers should make use of these labs in giving a shape to the creativity of students.