ICFAI Law School conducts national symposium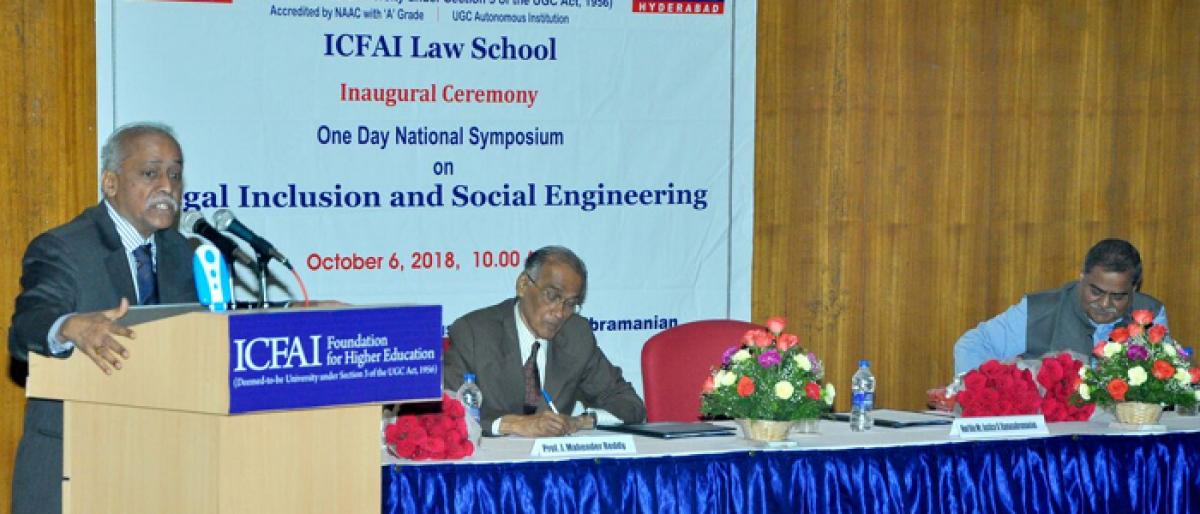 Highlights
The ICFAI Law School, a constituent of ICFAI Foundation for Higher Education IFHE a deemedtobe University us 3 of the UGC Act, 1956 Hyderabad organised a oneday national symposium on Legal Inclusion and Social Engineering on Saturday at ICFAI Campus on Sankarpally Road, Hyderabad
The ICFAI Law School, a constituent of ICFAI Foundation for Higher Education (IFHE) a deemed-to-be University u/s 3 of the UGC Act, 1956 Hyderabad organised a one-day national symposium on "Legal Inclusion and Social Engineering" on Saturday at ICFAI Campus on Sankarpally Road, Hyderabad.
The symposium was conducted in three panel sessions covering topics like Socio-legal Measures and Proactive Measures, Social Change and Legal Instrument and finally Access to Justice and Public Policy. The Panel discussion were chaired and co-chaired by several legal luminaries' judges of high courts, Vice –Chancellor, Directors and Registrar of National Law Schools, Head of Sociological experts, Solicitors, Professors, advocates, activists, NGO, etc.
Prof. (Dr) J Mahender Reddy, Vice Chancellor of IFHE presided over the inaugural event.
The Chief Guest Justice
V Subramanian, Judge High Court of Judicature at Hyderabad emphasised on the social engineering from individual perspective to societal perspective. He insisted the students to relate the concept of social engineering with the heterogeneous society like India. He inculcated in the students the need for passion about the crux of law and its social relevance. He also enlightened the concept of social engineering which existed in pre – Independence period and the relevance of western laws to Indian society.
Justice V Subramanian further quoted various views on social engineering like Winston Churchill, Dawn Taylor, and Roscoe pound. He mentioned the relevance of social change on certain sections of Indian Penal code and their changes. He also suggested to replace the three pillars of Social Engineering and felt that it might not have any relevance to heterogeneous society like India.