Confluence 2018 focuses on technology for future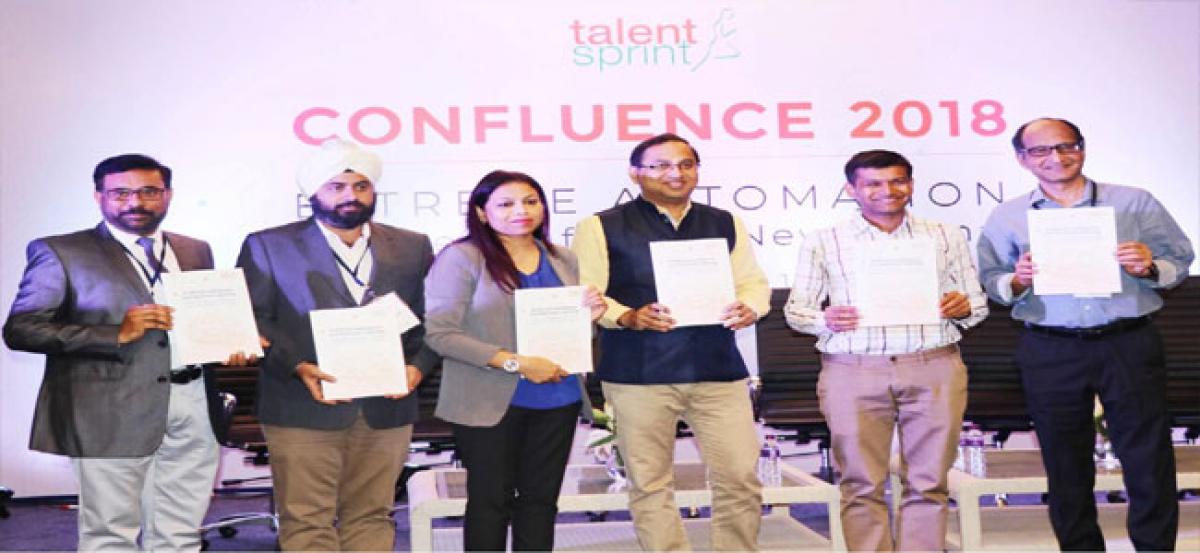 Highlights
The third edition of Confluence, an initiative by TalentSprint bringing Academia and Industry to collaborate and get ready for the future was held in Hyderabad on Saturday
Hyderabad: The third edition of Confluence, an initiative by TalentSprint bringing Academia and Industry to collaborate and get ready for the future was held in Hyderabad on Saturday. Themed "Extreme Automation: Get Ready for the New Normal", the event was attended by senior management representatives of colleges from across the country and covered various aspects of deep technologies driving automation and steps colleges can take to stay ahead of the curve and align themselves with future requirements of the Industry.
Industry experts from Pegasystems, BigBasket, Automation Anywhere, Virtusa, HCL and TCS and representatives of colleges shared their thoughts and discussed on the way forward for colleges to get their students ready for the jobs of the future. TalentSprint launched its new programme, AIML Programme for colleges, on the occasion.
TalentSprint announced the launch of a programme on Artificial Intelligence (AI) and Machine Learning (ML) Programme for college students. Aimed at enabling engineering college students to be able to develop applications using AI/ML and equip them start their career in this deep-tech area, this programme will be an delivered in a hybrid format at college campuses. This is the third such deep-tech programme by TalentSprint for colleges after Women in Software Engineering (WISE) and Pega University Academic Programme (Pega UAP).
On the occasion Dr Santanu Paul, MD and CEO, TalentSprint said "In an era of extreme automation, expertise premium is increasing and experience premium is coming down. Fresh graduates with expertise are competing with experienced tech professionals and are commanding premium salaries. We enable young professionals build such expertise through our deep-tech programs and get ready for the jobs of the future. He said 51 institutions from different parts of the country are taking part in this seminar."
Hari T N, Head HR, BigBasket, delivering the keynote address said, India is two India's, India one is privileged India, well off, having enough to make two ends meet and has access to English medium education, the second India referred to as Bharath is underprivileged, struggling, where children are the source of getting money for the family rather than enjoying childhood, these two India never seem to meet, the first India never knows what are the problems of the second India, are. We always thought those problems will somehow go away, the Government will solve them, but we will have nothing to do with them because they don't impact us.
India's education system needs to be completely transformed, which is not easy. Education is most relevant if it is imparted just before you need it, that's when you begin to apply. Are you able to adapt to new technology, are you able to adapt to new ways of working, new management practices, those are the things that are becoming important. So those who learn new things, pick up new things are the ones who will succeed.
Today the rate of change or scale is amazing. Technological developments could be classified into two, all those things you couldn't do earlier could use technology and do, like some medical procedures done with technology, we couldn't do earlier due to being inaccessible are risky, this kind of technology will never kill jobs, they will create new jobs. Second kind is all about bots, automation for repeatable tasks, will to some extent take away jobs.