VIT- AP varsity's VITopia-2019 witnesses variety fare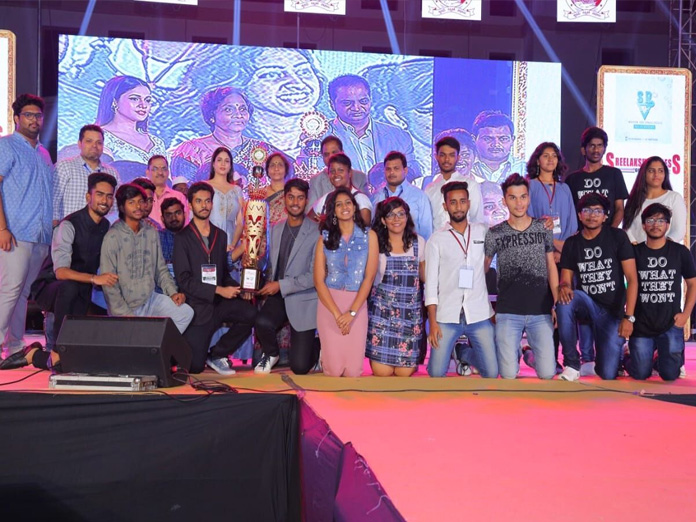 Highlights
The twoday session of VITopia2019 concluded at VITAP university campus, Amaravati In her address to the gathering during valedictory session the chief guest Justice T Rajani of Andhra Pradesh High Court said that she is happy to attend the sports and cultural fest rather than an academic annual function
​Hyderabad: The two-day session of VITopia-2019 concluded at VIT-AP university campus, Amaravati. In her address to the gathering during valedictory session the chief guest Justice T Rajani of Andhra Pradesh High Court said that she is happy to attend the sports and cultural fest rather than an academic annual function. As VIT-AP University has academic excellence, with this kind of excellent sports and cultural activities physical excellence will be added to the strength of students. Sports and cultural competitions just not build the character but reveals characters. She also crowned the overall cultural activities trophy to VIT-AP University and overall sports trophy to KL University.
During VITopia-2019, more than 50 colleges participated in various sports & cultural events, international sports and cultural fiesta. On the day-1 the show started with a concert of music director S S Thaman, with a crew of versatile singers namely Srikrishna Vishnubhotla, Saketh Komanduri, Ch V D Hanuman, Aditya Karamchedu, Geetha Madhuri Sonti, Manisha Eerabathini, Ramya Behara, Hari Teja, Sruthi Vadali sung various numbers in Telugu, Tamil, Malayalam and Hindi in tune with VITopia-2019 students who are from across 28 states.
On the second day of the event with the magical presence of actress and heroine Lavanya Tripathi students and audience were excited and enjoyed themselves. She also presented mementoes to the winners of Singing, Dancing and Corporate fashion walk. Show stopper event, a fashion walk by Spandana Palli, Femina Miss Chhattisgarh was an attraction of the evening.
Sankar Viswanathan, Vice President, VIT-AP University said that VIT-AP is celebrating its second sports and cultural festival and congratulated all the student participants and performing guests as they took this event to great heights. Convener VITopia, Prof Khadheer Pasha expressed his thanks to all participants, guests, performing artists and other stake holder who made this event successful. Vice Chancellor D Subhakar and Registrar CLV Sivakumar were also present during these celebrations.