Flood situation in East Godavari grim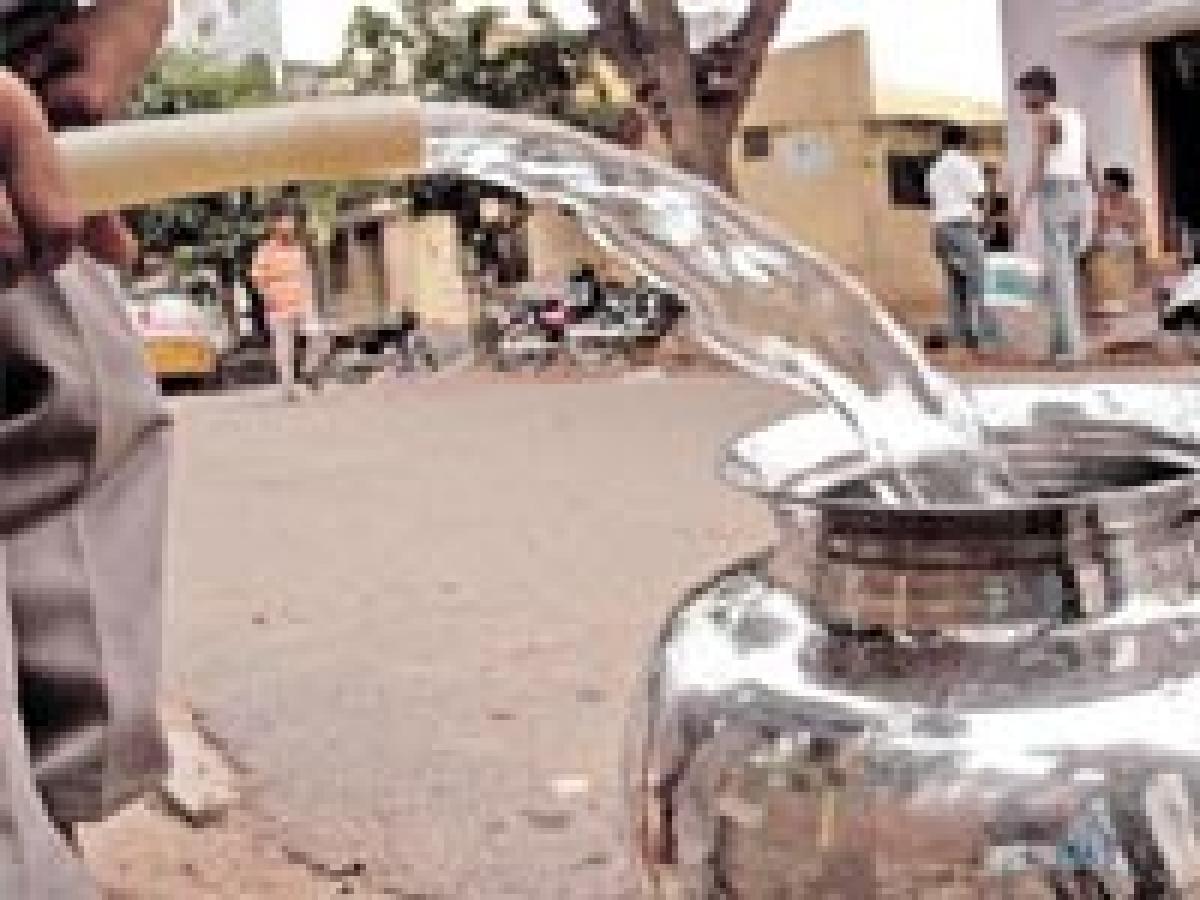 Highlights
* 20 lakh cusecs of water discharged into sea from Dowlaiswaram * Collector says no need to put off panchayat poll Rajahmundry: The flood situation...
* 20 lakh cusecs of water discharged into sea from Dowlaiswaram * Collector says no need to put off panchayat poll
Rajahmundry: The flood situation in the East Godavari district continued to be grim as water level increased in river Godavari on Saturday. Third warning was issued at Sir Arthur Cotton barrage at Dowlaiswaram on Saturday night when the water level reached 17.45 feet. Though the water started to recede slightly in Bhadrachalam, the water discharge level was likely to reach 20 lakh cusecs by Sunday morning. It was expected to start receding from Sunday afternoon. However, the River received one to two lakh cusecs of water from its tributary, Sabari.
The Central Water Commission has warned of very heavy rains in the states of Odisha and Chhattisgarh in coming to days. People from Lanka villages in Konaseema, Rajahmundry and Rampachodavaram divisions were evacuated and the revenue officials are facing stiff resistance from the villagers. The district machinery was taking all the steps strengthen Godavari bunds at vulnerable points as National Disaster Management Responsive Force teams pressed into services.
Speaking to The Hans India, Superintending Engineer, Dowlaiswaram irrigation circle, D Kasi Visweswara Rao informed that water level at Sir Arthur Cotton barrage might reach up to the discharge level of 20 lakh cusecs by small hours of Sunday. He said the water level might start receding slowly from 10 am on Sunday. The East Godavari Collector Neetu Prasad felt that there was no need to postpone panchayat polls in the district. Speaking to state election commissioner, Ramakanth Reddy in a video conference she made it clear that only five villages in Konaseema and three villages in Rampachodavaram were affected by floods. However, she said that she would submit report after examining the situation further.
She has visited flood prone villages of Konaseema and monitored the situation. She has directed the irrigation and revenue officials to take steps to strengthen Godavari bunds at vulnerable points. Rampachodavaram sub-collector, Gandham Chandrudu informed that two relief camps were set up in Rampachodavaram division and shifted 80 people to relief camps. Amalapuram RDO, Sampath Kumar said that 1,300 persons have been shifted to relief centers and nine out of 35 Lanka villages in Amalapuram division were affected.
1200 people moved to safety
Eluru: About 1200 people in Kanakaiahpalem, Doddipatla, Lakshmipalem, Pedalanka in Yalamanchili mandal were shifted to safer place. As the social welfare hostels in several places in the banks of Godavari facing danger of floods, 257 students from Thutigunta hostel, 115 students from Pydakula Mamidi, Kondrukota and Munagalagudem social welfare hostels were shifted to Polavaram.
flood water level falling
Khammam: The flood level in the Godavari, which assured alarming proportion during the last two days, is falling. Although the third flood warning has been issued the level during the last eight hours fell by a foot to 56 after the inflows from the upstream areas declined. Officials had estimated that the level would touch 60 ft. Collector Srinivas Srinaresh after reviewing the flood situation asked officials to expedite the flood relief measures. In Bhadrachalam division, officials have expedited relief measures by opening 22 rehabilitation centres at Bhadrachalam and ten in palvanchas. They have initiated action to move on a war-footing the affected people from the low-lying areas.
With the flood level at 57 feet at Bhadrachalam on Saturday, movement of people and vehicles to 30 villages in eight mandals of Bhadrachalam and three mandals in Palvancha was affected. Vehicular and other links with about 60 villages have been affected. Water entered many residential colonies in Bhadrachalam. Villages in Vajedu mandal are resembling islands amid huge water bodies. Following breaking of electric poles power supply in Kunavaram, Chintoor, V R Puram mandals was totally disrupted. With the Shabari river in spate, all communications with six panchayats in Chintoor mandals were snapped. Ten villages are under water. Residents of ten low-lying villages in Charla mandal were moved to the rehabilitation centres.
The flood water leaked from the sluice and entered Rajaveedhi in Bhadrachalam. Water also entered the Rama temple's 'annadanam satram' up to three feet. Several shops were closed after getting water-logged. With water reaching close to the temple's east entrance residents are scared.
Following the floods in the river, streams are overflowing inundating crops in adjoining fields. Cotton, maize, mirchi and paddy crops in 30,000 acres abutting the river have been submerged. Cotton crop withered after remaining under water for over 20 hours. Farmers are expressing anguish over the loss of their investment. They are demanding compensation. Flood-affected people criticized officials for concentrating only rehabilitation centres without going round the flood-hit areas. They expressed displeasure that no officer has been sited to bother about their plight.
Koulas Nala Project faces imminent danger
* Ten villages likely to submerge * Body found in Mathadi Cheruvu
Nizamabad: One person died and the Koulas Nala project in Jukkal mandal faced imminent danger as its right side 50 meter long and two meters deep earthen bund eroded on Saturday due to incessant rains in the last one week in Nizamabad district. The Bodhan Revenue Divisional Officer Mohan Reddy rushed there to inspect the project.
The body of Endriyala Lakshman (24) of Devunipalli village in Kamareddy mandal was found in Mathadi Chervu. He reportedly went there for a swim. He recently completed his B. Ed and in search of a job. Sub-Inspector of Police Saidaiah said a case was registered and investigation was in progress. The Revenue officials warned that if the Koulas Nala project caves in, ten villages including Tavargam, Lingapalli, Koulas, Pedda Devara, Chinna Thakkadapalli and Peda Thakkadapalli.
The water level reached 456 ft while the full tank level of the project was 458 ft. While the inflow and out flow of water from the project was 15 thousand cusecs. The officials said no repair work was undertaken on the bund since 1998.
choppers distribute food packets
* 30 villages in Manthani division inaccessible * Special officer Sultania assures all assistance
Karimnagar: Three IAF helicopters to airdrop food and water in the flood-affected areas and shift people to safer places reached here on Saturday. Staff filled drinking water bottles and food packets in them and moved to Manthani division. Official estimates say 30 villages in the division are inaccessible on account of floods. Officials are expressing confidence that they would be able to reach residents in the villages and render all assistance to them.
District Collector Veerabrahmayya said 'pulihora' and biscuit packets and water bottles were being provided to the flood-affected people. He said despite all steps being taken to render assistance to all, there was difficulty in taking up relief work for the benefit of 1,500 families in Modedu, Pankena and Parimala villages. They were being supplied 10,000 pulihora packets, bread, biscuits, ORS packets and emergency medicines.
Talking to reporters at the helipad here, he disclosed that relief measures were being expedited. There was a strong impact of floods on 30 villages in Manthani division, with all links lost. R & B roads were totally damaged at 20 places after rivers and streams overflowed. Twenty-five tanks suffered breaches and paddy, maize and cotton crops in 10,000 hectares were lost. Six persons were killed in flood-related mishaps. He said the helicopters would also supply food packets to people in Maha Mutharam and Mahadevpur mandals.
Veerabrahmayya said the joint collector was staying at the spot supervising the relief and rescue operations. Forty NDRF members had reached Mahadevpur to shift the flood-affected people to safer places. In view of the heavy rain forecast during the next 48 hours, the administration had kept its officials alert to face any situation. K Krishna Reddy, DRO, and Chandrasekhar, DSO, accompanied the collector.
Meanwhile, senior IAS officer Sandeep Kumar Sultania, appointed by the government to oversee the relief work, arrived here in the morning. He told press persons that the government would provide every assistance to all affected persons. Already, the joint collector was overseeing the relief working being taken up in the affected villages. The administration would concentrate on 30 severely flood-hit villages. Later, he left for a tour.
Meanwhile, Tummala tank, in Saidapur mandal, developed a breach on Saturday morning, affecting vehicular traffic to 20 villages. Following floods, Bokkulavadu bridge in Manthani was damaged, impacting traffic to several villages. About 50 villages in Mahadevpur and Mutharam in Manthani division have been affected by the floods.
Many villages, crops in thousands of acres submerged
Adilabad: With continuous heavy rain for the last four days, many villages in the district are under water as also crops in thousands of acres. The Penganga and the Pranahita are flowing near danger levels, following heavy rains in the upstream Maharashtra. Villages through which the two river pass have been marooned. With the Penganga on the Andhra-Maharashatra border rising alarmingly, cotton, soya and pulses crops in many village through which it passes have been damaged.
In Jainath mandal of Adilabad revenue division, Pendalwada, Kamayi, Newsvangi, Oldsvangi, Kapri, Umri and Karanji villages have been inundated. As the Pranahita has been overflowing in Jainath, Bela, Tamsi and Kagaznagar constituencies, crops in many villages have been submerged causing severe hardship to farmers. The river water entered Talai, Tikkepalli, Bheemaram and Patha Somini villages totally disrupting all links. People are living in fear, following the heavy inflows into the Pranahita and its backwater mandals and villages, inundating crops.
As a result, all communications between Koutala, Bejjur, Hudkili, Jakkapur, Navegam, Bhupalapatnam, Kesavapatnam villages and those on border with Maharashtra have been snapped. Water is flowing over the Hudkili bridge, Tatichettu Orre and the new bridge built over the Penganga, affecting movement of traffic. With heavy inflows into the Kadem, Komaram Bheem, Swarna, Satnala, Mathidivagu, Yellampalli and other projects in the district, the crest gates of these projects have been fully lifted.
Coal production of 18,000 tonnes in Srirampur, Gorli and Khariguda open-cast mines has been stopped after flood water entered the mines, resulting in a loss of Rs.3.2 crore.
Godavari at Ramannagudem still at second warning level
* Many agency villages remain under water
Warangal: The water level at Ramannagudem Pushkarghat on the Godavari remained at the second warning level of ten meters on Saturday. It was slowly receding with the intensity of rain coming down. The second warning level was 9.90 meters. However, a majority of villages in the agency mandals of Mulug and Eturunagarm, in Bhupalpalli and Parkal mandals, were still under water. Ten villages in Eturnunagaram remained cut following floods.
Municipal Administration commissioner B Janardhan Reddy, who was appointed as special officer to monitor the flood situation in the district, reviewed the relief measures in Eturunagaram mandal. He toured Odagudem, Bestawada, Kondai and other agency villages along with the ITDA project officer Sarfaraz Ahmed. Janardhan Reddy directed the Revenue, Medical and other department officials to be alert, as heavy rain has been forecast in next 48 hours, and to focus on sanitation to prevent spread of diseases.
Meanwhile, the district received an average rainfall of 12.7 mm which was much lower than Friday's 93.8 mm. Only 46 mandals received rain on Saturday and the highest of 37.6 mm was recorded in Bhupalapalli mandal followed by Parkal (34) and Tadvai (33).
Although Chief Minister N Kiran Kumar Reddy wanted the district ministers to visit their respective constituencies to assess the flood damage none of his Cabinet colleagues---Baswaraju Saraiah, Ponnala Lakshmaiah, P Balram Naik and the district in-charge R Venkata Reddy--- obliged.