No truck with anti-T parties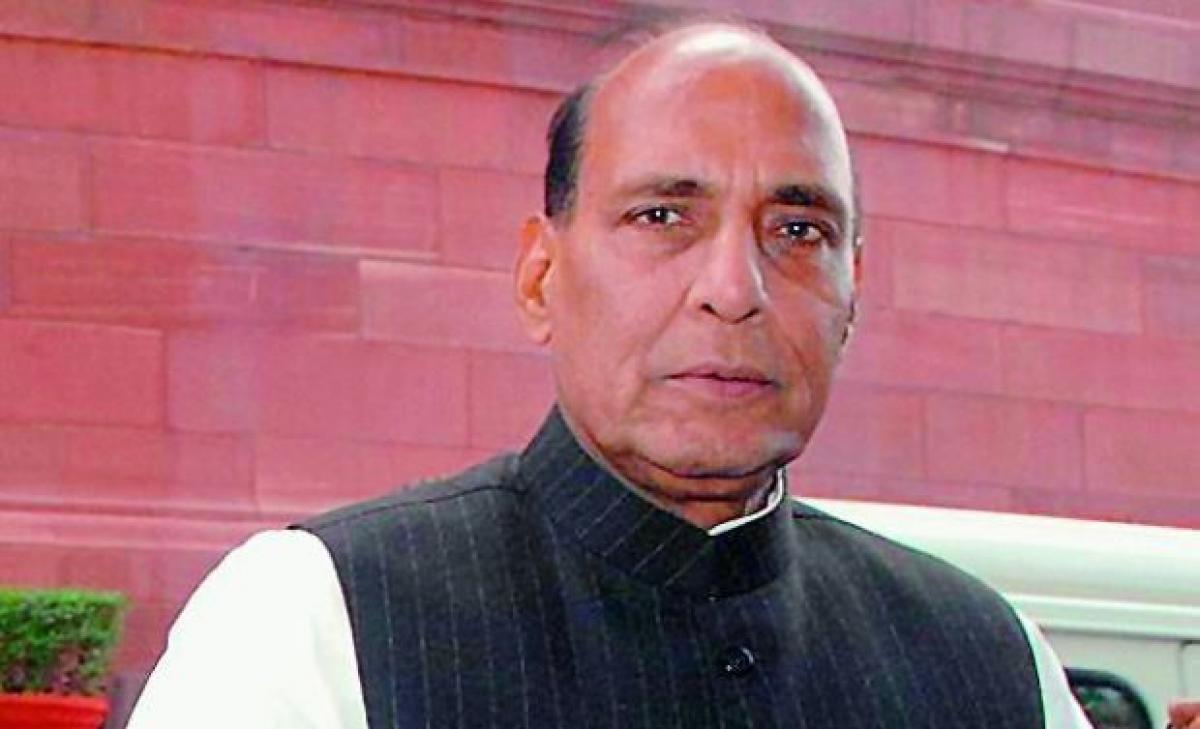 Highlights
Nagam, Pushpaleela & others join BJP Rajnath assures separate state is one of the party's two aims Pooh-poohs TRS claims without naming the...
Nagam, Pushpaleela & others join BJP
Rajnath assures separate state is one of the party's two aims
Pooh-poohs TRS claims without naming the party
'Congress is a party that makes promises and breaks them'
Trying to clear any lingering doubts in the minds of Telangana people about its post-poll intentions, the Bharatiya Janata Party on Monday categorically stated that it will not have any alliance with political parties which are against a separate state`, in the eventuality of its falling short of absolute majority during the 2014 General Elections.
Announcing this at the public meeting 'Telangana Atma Gauravam' where the Telangana Nagara Samiti led by Nagam Janardhan Reddy merged with BJP, the party national president Rajnath Singh said many parties have been saying that BJP was promising Telangana state only for votes and if it fails to get absolute majority it will have to buckle under pressure of alliance partners and put T issue on backburner. He said, the BJP has decided that it will not have any alliance at the national level with any political party which will not support bifurcation of the state.
Rajnath Singh clearly indicated that the party would go to polls with two point agenda- one to weed out corruption from the body polity of the country and second to pass a bill to form separate Telangana.A He called upon the people not to get carried away by the attempts of other parties which were trying to convert sentiment into votes. Without naming TRS, he said some parties in the state were claiming that they will be in a position to play a major role at the Centre if they can send 17 MPs from the region and have good number of MLAs here.
Their argument is that a coalition government at Centre is inevitable and hence they will be able to claim their pound of flesh in the form of separate state. Those parties profess that a third front would come to power at Centre and they will have a crucial role to play. Third front is a myth and presuming that it comes to power people should understand who will be in it. It will have all those parties which are opposed to separate Telangana both at central level and in the state as well.
Hence, Rajnath said, people should understand their game plan and support BJP which had first announced separate state for Telangana from this very venue, Nizam College grounds. "I as the then national president not only announced that BJP will bifurcate the state but also got a resolution passed by the national executive." He said, if the Congress can see the reality and the writing on the wall, it should introduce a bill in Parliament and the BJP takes the responsibility to get it passed. "Even if the government can understand the aspirations of the people, it should convene a special session and introduce T bill and I promise to get it passed. It requires 273 votes to pass the bill and we will take responsibility for it," he said.
But he said that will not happen since Congress was a party that makes promises and breaks them. This has been the history of Congress. "How to make promises and how to break them one should learn from Congress," he quipped. BJP's decision to grant Telangana is based on conviction," he assured.
Holding the Congress party responsible for the large number of suicides in the state for the cause of Telangana, Rajnath said the Congress party should take responsibility for it. He appealed to the people of the region not to lose hope and asked them not to sacrifice their lives. Instead convert the aspiration into votes for BJP and realize your dream. People of the region have seen how Congress has cheated them in last nine years, he said.
The former party president, Venkaiah Naidu said TRS wants people to follow circuitous route. A Don't get into such trap, vote us and straightaway get T state. If Congress party does not bring in a bill in parliament before General Elections it will be consigned to ashes in the state. It is for Congress to decide whether it wants to bring the bill or get a pink slip from people, he said.
Narrating a story Janardhan Reddy compared AICC president Sonia Gandhi to a crow and said, "Sonia Jhuti hai." He said he will go to people with this slogan and see that Congress was defeated, He said he had joined TDP on April 11, 1982 at Nizam college grounds meeting in the presence of NTR since he wanted to defeat congress. A Now again with same goal, he said he was joining BJP at the same venue and he was sure that Congress will be out of power and BJP will form government at the Centre.
BJP state president G Kishan Reddy said if Congress does not introduce bill in monsoon session, even if it comes to power in 2014 it will not give T so it's time to throw that party out of power.
New entrants to BJP
Hyderabad: Hanuman Jayanti proved to be auspicious for the state BJP which saw about 20 leaders representing the Congress, TDP and Telangana Nagara Samiti joining the saffron party.
Those who joined the party on the occasion are: Nagam Janardhan Reddy (Telangana Nagara Samithi) and his two sons Nagam Dinaker Reddy and Nagam Shashidhar Reddy; former Minister Kondru Pushpaleela (Congress); former MLA Prem Singh Rathod (Telugu Desam); Ale Jitendra (Congress Corporator in GHMC and son of A Narendra; Nanchari Sailaja (TDP); Bandari Radhika (Congress); K Manohar (TRS); Jayanna (YSRCP); Vishnuvardhan Reddy (Lok Satta); K Jayapal, Dr Vasanth Reddy, Vedire Yogeshwar Reddy Satyanarayana Goud, Talla Anjaiah (TNS), NRI D Guruva Reddy (Telangana Development Forum), Jajula Gauri (writer) and Chaya Devi ( educationist).
Rajnath takes UPA head on
Says BJP's role is that of a watchdog at the Centre
Promises T will be a reality in one year of BJP coming to power
Blames Manmohan Singh government for the current crisis
Hyderabad: Bharatiya Janata Party (BJP) national president Rajnath Singh on Monday denied the allegations made by Congress that the saffron party did not co operate in ensuring smooth functioning of both the houses of Parliament. He criticised the UPA government for holding celebrations on the occasion of completing nine years at the Centre.
Rajnath Singh, who flew down to Hyderabad for a day's visit, addressed a press conference at the BJP state office in Nampally on Monday. He pointed out that the role of the BJP was that of a 'watch dog' which would continuously keep an eye on the functioning of the Union government.
"BJP's allegations are backed by strong facts. It was proven in the case of our demand for resignations of former railway minister Pawan Kumar Bansal and former law minister Ashwani Kumar. The UPA government did not remove them when there was big uproar in Parliament on the issue. However, both were shown the exit door afterwards, which goes to show that our party's stand was justified," he felt.
On Narendra Modi being potrayed as BJP's prime minister candidate, Rajnath Singh said that the Gujarat Chief Minister is the most popular leader throughout the country, however, the BJP national working committee will decide who will be the prime ministerial candidate from the party. A Meanwhile, the BJP chief demanded the Centre to advance the monsoon session by a few days to hold discussions on the Food Security and Land Acquisition Bills at length. He informed that the saffron party wanted both bills passed but with a few amendments.
Rajnath Singh slammed the UPA government for celebrating nine years of rule at the Centre. According to him, the Manmohan Singh government failed on all fronts including economic, internal security and diplomatic relations. He added that scams, corruption, farmer suicides, unemployment, increase of prices of essential commodities have become the order of the day.
Target 15 MP, 40 MLA seats: BJP Chief
Hyderabad: BJP national president Rajnath Singh exhorted the party functionaries to target 15 MP and 40 MLA seats from the State in the next general elections. A Rajnath Singh held a short meeting with State office bearers at a city hotel on Monday. According to BJP sources, the BJP national president advised the state unit to go all out in their campaign for next general elections.
He agreed with the observations made by the State leaders that Telangana sentiment was very strong and NDA was gaining strength by the day. However, the BJP supremo called upon the leaders not to limit themselves to just statements but undertake extensive campaigning in the State before 2014 elections. Rajnath laid emphasis on reaching out to the public in villages and even told the State party unit to set-up booth level committees at the earliest.
V Ramu Sarma