Restaurant Review: Nabanno Hyderabad for Bengali food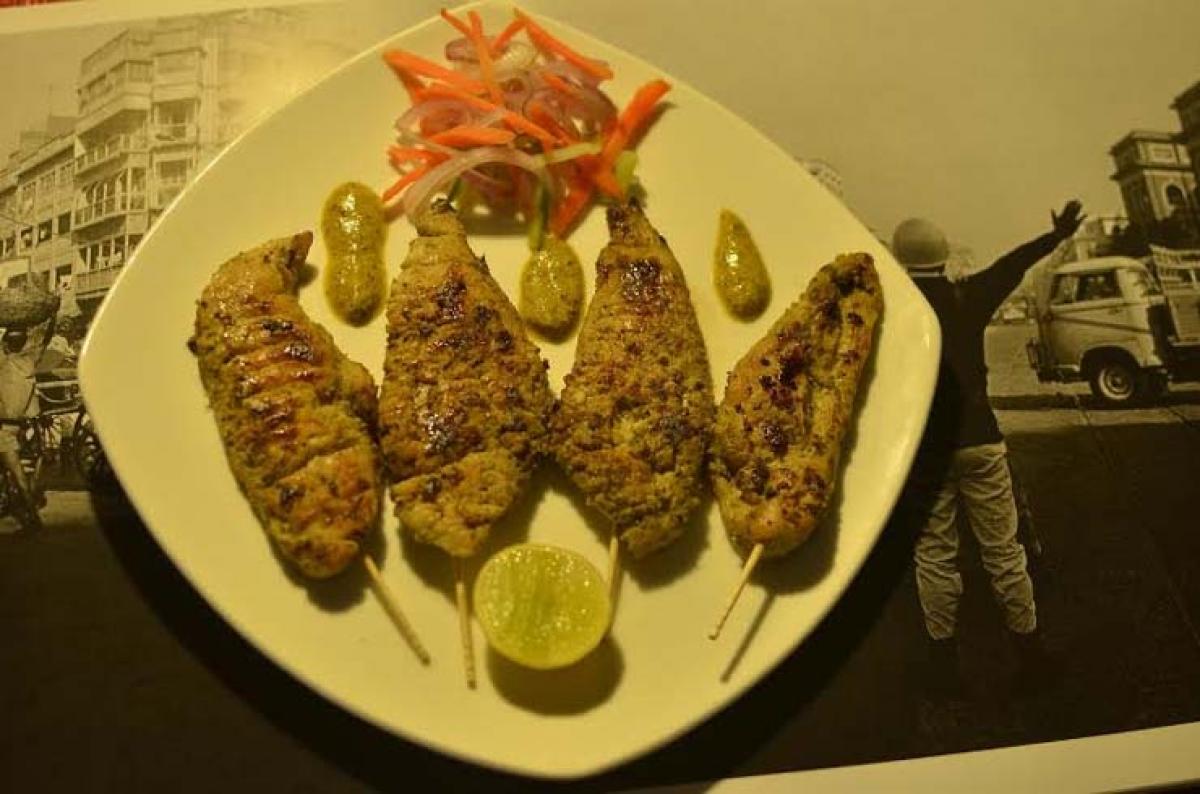 Highlights
Books, pictures and paintings on walls, a gramophone , a bed, a chair and a study table. No, this is not a drawing room of a house but the welcoming lounge of a restaurant.
Books, pictures and paintings on walls, a gramophone , a bed, a chair and a study table. No, this is not a drawing room of a house but the welcoming lounge of a restaurant.
On entering the dining hall, paintings and poetry in the wall, an exhibition space showcasing work of budding artists and the soft Bengali music playing in the background welcome the guests.
Nabanno offers not just the lip-smacking Bengali cuisine but creates an ambience of a traditional Bengali house, enriching your experience.
Located at Nizampet crossroads in Kukatpally, the restaurant, named after a folk-cultural festival of Bengal, is promoting both Bengali food and culture.
"Our focus is giving a complete experience of food and culture in a setup in which people feel more at home," Nabanno co-founder Subhasish Karmakar told IANS.
It was in 2013 that Subhasish, his wife Paramita Ganguly and his friend Abhijit Mukherjee set out to fulfil their dream to take Bengali food and culture to the rest of India.
"When we were growing up as kids, food was not just about having food. It was total experience of music playing in the background and there was discussion about films and theatre," he recalled.
Food is an extension of culture that is what Bengal is all about. Bengal is about creativity music, food and rich heritage of cultures. Food is an integral part of the whole thing.
Coming from a completely different background of software development, Karmakar and his friend had no experience of food industry but they decided to give it a shot for their personal satisfaction.
"Though living outside Bengal for many years, we always got Bengali food but missed that total experience and that was the whole idea of getting back to the nostalgia," Karmakar said.
There are many restaurants offering Bengali food in different parts of India but he believes everyone has its own space. Thus, they started a small prototype in their space and at their pace.
The impression people usually have about Bengali food is that it is all about fish and rasgulla. "We deliberately wanted to break this idea. Bengali cuisine is so rich. This is not just fish, mishti doi and rasgullas," he said, pointing out that first recipe in India was written in Bengali.
He did not want to restrict it to Bengalis. Non-Bengalis are also connecting to the restaurant and today, 45 percent of Nabanna's customers are non-Bengalis.
"What they experienced is totally new. Bengali food is more about flavours than spices which is very different from Hyderabadi cuisine where spices are high. It took some time for our gests to understand nuances of Bengali food but they really liked it," Karmakar said.
Though Nabanno offers entire range of Bengali food, Karmakar admitted that it is tilted towards the erstwhile East Bengal (now Bangladesh), the region from where their families come.
"All our recipes are home-grown. We provide things which are unexpected in a restaurant. For example we offer panta bhat, a humble food which farmers of Bengal eat. This is something close to our roots and so we wanted to serve it. Our range varies from panta to dishes like dab chingri (prawns cooked inside a tender coconut)."
Nabanno takes additional care of non-Bengalis by educating them about Bengali food. Bengali food is all about combination. You can't have certain curries with rice and there are some you must have with rice.
From beguni cochar chop, rashun bhapa machh and radhuni (starters) to Banglar mishti polao, mochar ghonto narkol, mocha chingrir ghonto dab chingri and murgir mangshao (main course) to khire bhejano patishapta and chanar jilipi (dessert), the eatery offers several popular dishes.
As every region of Bengal has its unique cuisine, Nabanno organises food festivals on weekends offering dishes of a particular region. It recently held a fish festival - a buffet with 21 dishes. On the cards is a Bangladeshi food festival.
Karmakar claims they have not spent any money on marketing - it was all through word of mouth and the social media. "We have 5,000 Facebook friends. We have done nothing more than making good food and giving the experience."
They now plan to have one more restaurant in Hyderabad and a couple more in Bengaluru.
"We also want to spread it to two or three metro cities. Chennai is on our mind and of course Kolkata. We want to take it back and see how it does there."
As a product manager, nothing gives Karmakar more satisfaction than giving delightful experience to customers using the products. Making a humble beginning, the food business has given him huge personal satisfaction as he succeeded in giving customers a complete experience.