Punjab Express Food festival at Radisson Blu Paschim Vihar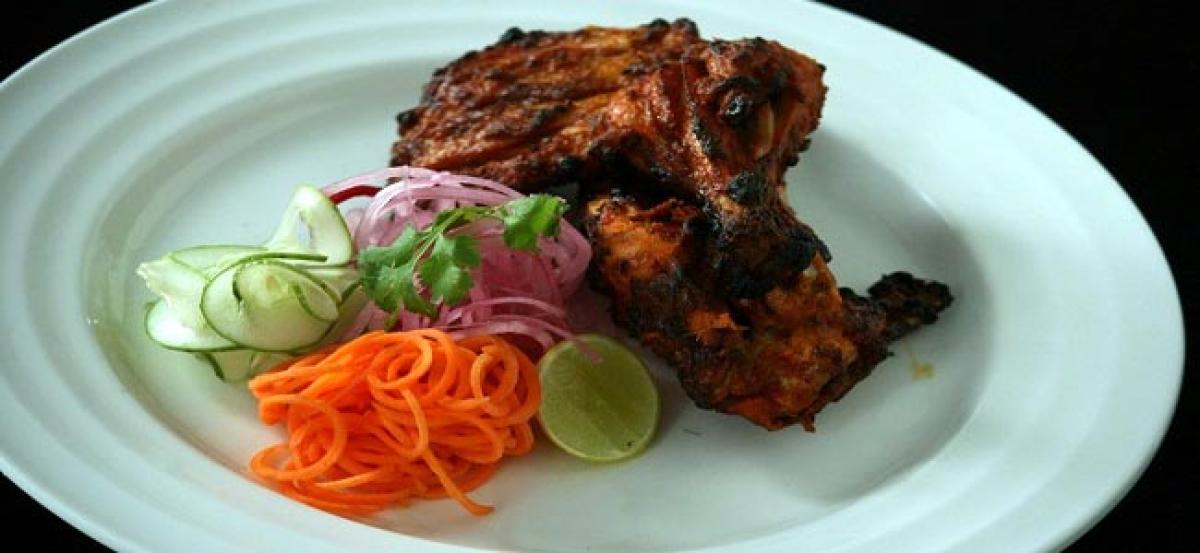 Highlights
Juicy, spicy, tender pieces of meat in tangy Indian masala curry with grated ginger and coriander garnish tickling your taste buds -- sounds tempting?
New Delhi: Juicy, spicy, tender pieces of meat in tangy Indian masala curry with grated ginger and coriander garnish tickling your taste buds -- sounds tempting?
If you have been looking for indulging in authentic flavours from the land of five rivers then head towards the ongoing Punjab Express food festival at the Indyaki restaurant of Radisson Blu in Paschim Vihar.
With multiple props like sugarcane stalks and truck miniatures, the restaurant reflected Punjab's rustic touch. Large glasses of lassi and chaach (skimmed buttermilk) were offered as welcome drinks. The ambiance was further enhanced with live music performance.
"Last time we got a huge response from people. So we decided to take ahead the festival this time as well. Till now, people have appreciated our food," Executive Sous Chef Manoj Kumar Semwal told IANS.
"Our effort is to bring the rustic and rural flavours of Punjab to a five-star restaurant. Unlike last year, this year we have introduced a la carte menu instead of buffet. Also not just tandoor, but we have brought in grilled items as well," Semwal added.
It was time to savour the myriad range of starters that were being served straight from tawas, giving a twist to the presentation. First came the Amritsari machhi -- grilled first and then fried, making it crispy, followed by dahi aur khade masala ka murg -- tender grilled pieces of chicken marinated in yoghurt with whole spices, coated with Indyaki kitchen-made butter.
Before one could get over the lip-smacking taste of the starters, bhatti di chaap -- lamb chops marinated in special bhatti masala cooked over acharcoal grill -- was served and had a strong presence of elaichi (cardamom). Next, it was the turn of lehsooni jheenga -- tiger prawns marinated in exotic Indian spices and cooked in a clay oven, enhancing the flavour of garlic with every bite, served along with raw mango chutney.
It was now the turn of the vegetable starters that began with achari pyaz bhare khumb. As the name suggests, onions were stuffed inside soft mushrooms and given a spicy taste. Sabz paneer ki shami -- patties of cottage cheese and vegetables which were shallow fried -- was another starter to relish.
The smoked salad was an added bonus.
For the main course, one went with the chef's choice. Starting with vegan, it was time for pind de chole that carried the authentic rural flavour, followed by matar makhane korma which was like a home-cooked dish in gravy.
The non-vegetarian dishes were yet to come. Murg Patiala shahi -- soft pieces of chicken served in a thick white cashew gravy, garnished with grated ginger; lehsooni fish curry covered with tomato gravy with a dash of coriander; meat Bhatinde wale -- a very traditional dish full of spices -- were all tasty. But the winner was dahi dhaniya gosht -- a perfectly blended combination of yoghurt and coriander with tender mutton pieces.
Accompanying the main dishes were lal mirch paratha, churchur naan and chicken pulao - finely cooked rice in desi ghee and mint leaves.
There was no more space for any desserts but badam ka halwa -- heavily garnished with dry fruits -- was too tempting.
FAQs:
The Punjab Express food festival will continue till July 3, 2016.
Cost for two : Rs. 2,500 (including tax and excluding alcohol)
Timing : 7 p.m - 11 p.m
Location: Radisson Blu, Paschim Vihar