Which engineering course to choose?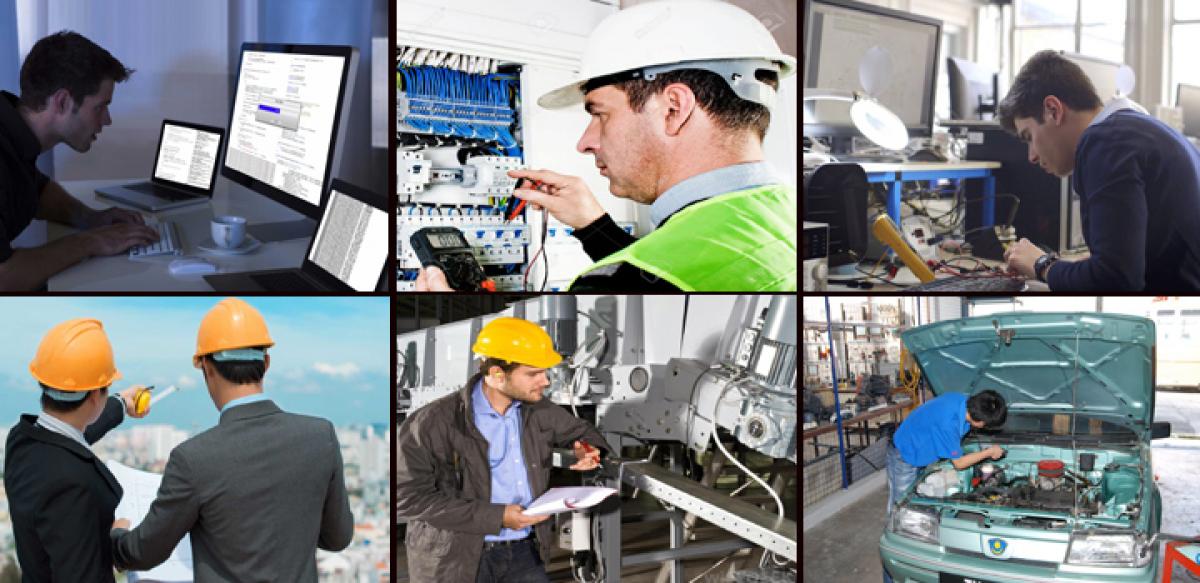 Highlights
Many students face lot of problems to choose the best engineering college and engineering course for their bright feature.  Engineering education is growing very rapidly in the world due to the changing economic and industrial scenario. 
Many students face lot of problems to choose the best engineering college and engineering course for their bright feature. Engineering education is growing very rapidly in the world due to the changing economic and industrial scenario.
There are many engineering colleges in our state and they offer the engineering courses like CSE,ECE,EEE, Mechanical, Civil, Automobile, Aeronautical, Petroleum etc., In fact there is a wide demand for all the engineering professionals in the global market.
The below listed points will help the student and parent s to think broad while choosing the college or course.
Engineering education plays very vital role for overall growth of the nation and hence there is a big demand for skilled engineers:
In India, the demand has grown exponentially, fueled largely by the boom in knowledge-based industries like the IT sector Hence every branch of engineering is equally good.
---
Every branch will have its own significance and importance in the corporate field. A student should have zeal to study the subject with dedication and interest.
---
For example a Computer Engineer will think to design a product using programming tools. A civil engineer is ready to prepare blue prints of the buildings, dams etc., Student should make a brief research on the following points to choose the good engineering college and the course:
(a)Qualified and experienced faculty available in a college. The data may be available in the college web sites. ( M Tech and PhD are the basic qualifications required for an engineering professor and MSc,PhD for a humanities professor)
(b)Infrastructure available in the laboratories: engineering is a practical oriented profession. So everyone needs lot of hands on experience . A student should visit college or the websites to know about the state of the art laboratories available in colleges. For example the systems and their configuration available in a computer lab, electrical machines available in electrical labs. Student should also know about the skilled manpower available in the college laboratories.
(c)Academic Calendar: Every engineering college will follow the schedule of academic calendar issued by the affiliated university. It tells about the total number of instruction days, schedule of internal and external examinations, assignments etc.,
(d)Results: Student and the parent should also make enquiry about the student pass percentage in the university examinations.
(e)Placements: Verify the number of students placed ( branch wise) in different companies and the annual salary offered to the student. Student should also verify the training procedure implemented for placements.
(f)Research and Development Activities: In engineering, a student is trained to understand the tools, techniques, and concepts to solve a specicific problem with analysis and research activities. During this process a student will come out with good innovative ideas which leads to design and develop good technical projects.
(g)Certificate courses and Internships: Many engineering colleges offer in house training programs of different certification courses like Oracle, Big Data, CAD/CAM, MySQL etc., Few organizations will also offer internships ( with stipends) to eligible students
(h)GATE/GRE/TOEFL/IES: Many circuit branch engineering students (CSE,IT,ECE,EEE) will prefer to do MS after their 4years of engineering education. Few colleges will give in house training on these courses.
---
Also Read: MBA in Supply Chain and Logistics provides lucrative jobs.
---
Computer Science and Engineering
A Computer Science Engineer will work on both software and hardware. They can work for the areas like banking, multimedia, healthcare, Telecommunications, neurobotics, scientific applications, network applications, graphic applications, bioinformatics.
Agriculture, GIS, Customer Relationship Management, forensic applications etc., The academic curriculum specified by many universities is more adoptable for a CSE student to learn all core subjects like C, C++, Java, MySQL, Web technology, UML, Oracle, Operating Systems, CN,AI, Image Processing, Mobile Applications, Cloud Computing, Computer Architecture, Robotics, Software Testing etc.
Almost all medium and large scale companies recruit Computer engineers as Programmers/System Analysts/Graphic Designers/Web Developers/Cyber Security applications.
"The Indian IT-BPM sector continues to be one of the largest employers in the country directly employing nearly 3.5 million professionals, adding over 2,30,000 employees" - R Chandrasekaran, Chairman, NASSCOM
Electrical and Electronics Engineering (EEE)
Electrical and electronics engineers are involved in a variety of technology specified fields ranging from huge global positioning systems which can pinpoint the location of a moving vehicle to gigantic electrical power generators.
Electrical engineers are responsible for designing, developing, testing as well supervising the production of electrical and electronic equipment and machinery.
Electronics & Communication Engineering (ECE)
Electronics field plays very key role in all electronic equipment. An Electronic Engineer will be capable to work with IC manufacturing companies, VLSI applications, Embedded systems, assembling of electronic components etc., All electronic devices need software interface to run and come with one other or other device controlling programs architected and developed by electronics and communication engineering.
Civil Engineering
Civil engineers play very important role in design, build, supervise, operate, and maintain construction projects and systems in the public and private sector, including roads, buildings, airports, tunnels, dams, bridges, and systems for water supply and sewage treatment. Many civil engineers work in design, construction, research, and education.
Mechanical Engineering
Mechanical engineering is a broad area of engineering. Mechanical engineers can work in design, development and research of machinery and mechanical systems and equipment. They may create power-producing and power-using machinery, including gas turbines, industrial equipment for manufacturing and electric generators.
Automobile Engineering
Automobile industry is a very fast growing industry in India which includes two-wheelers, trucks, cars, buses and three-wheelers. India has emerged as Asia's fourth largest exporter of automobiles, behind Japan, South Korea and Thailand. So there will be ample number of job opportunities for automobile engineers.
By: V S Giridhar Akula
(The writer is Principal of Methodist College of Engineering and Technology, Abids, Hyderabad)