The enchanting curse of Harry Potter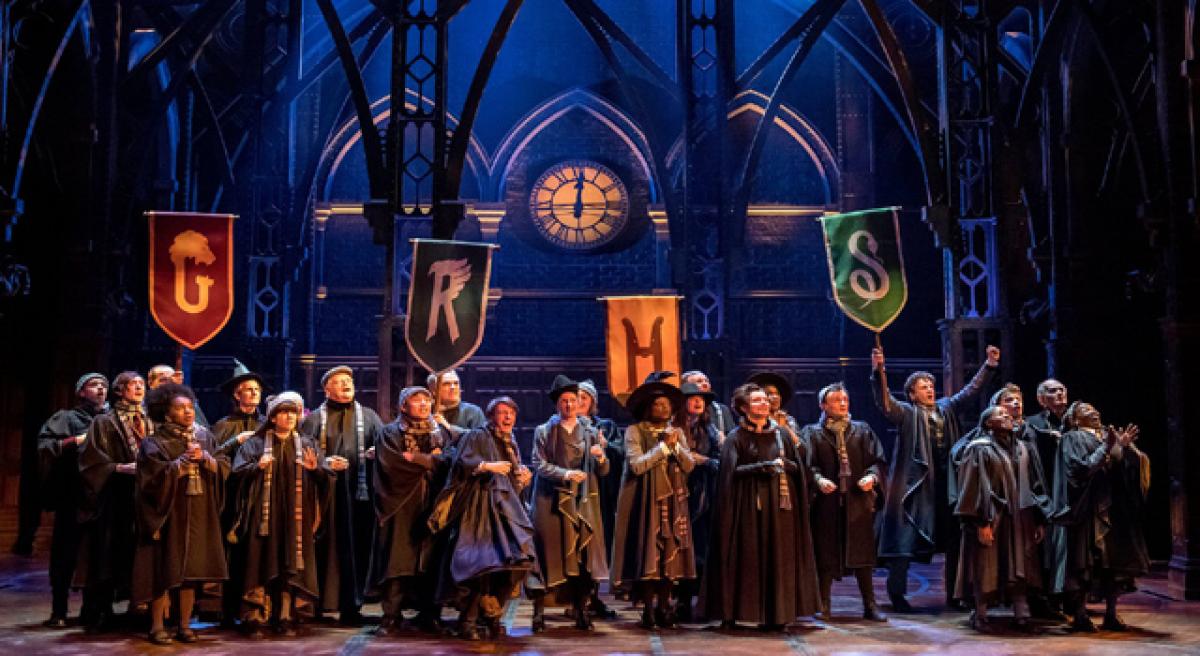 Highlights
No story lives unless someone wants to listen… Thank you for queuing for the books all those years. Thank you for camping out in a wet Trafalgar Square. And finally, as everyone has said and I need to say it most of all… The stories we love best do live in us forever. 
"No story lives unless someone wants to listen… Thank you for queuing for the books all those years. Thank you for camping out in a wet Trafalgar Square. And finally, as everyone has said and I need to say it most of all… The stories we love best do live in us forever.
So whether you come back by page or by the big screen, Hogwarts will always be there to welcome you home," said an emotional JK Rowling at the premiere of the last movie in the series, 'Harry Potter and the Deathly Hallows Part 2' in 2011.
A few tears later she added in jest, "You know what… Maybe I'll just write another one."Witches and wizards have long been waiting for a new story to come out of Rowling's magical universe.
The enchantment that started with 'Harry Potter and the Philosopher's Stone' nearly two decades ago is abuzz with excitement and will reach its crescendo on July 31, which is Harry's 37th birthday.
Nine years after the seventh book, 'Harry Potter and the Deathly Hallows' was released; the eighth installment of the series came as a play titled, 'Harry Potter and the Curse Child' based on a story by JK Rowling, Jack Thorne and John Tiffany, which was staged at West End in London on Saturday.
The 'Special Rehearsal Edition' script of the same will be released in a book format on Sunday. Ahead of its release, 'Cursed Child' became the top pre-ordered book for both Amazon and Barnes & Nobles in USA, a spot that was last held by
'Deathly Hallows' back in 2007.
In India, too, we have confirmed reports that it became the most pre-ordered hardback ever. Midnight release parties are back at more than 5,000 bookstores and libraries across US (wish they'd happen in India) featuring wand-bearing wizards and witches in costumes, magic shows and butterbeer.
So, dear muggles, in the face of the genuine excitement all around, wipe off that cynicism towards the format – the script's release is definitely going to be the largest publishing event of the year.
Publishers seized by Potter magic
In India, the primary criterion that a publisher considers while selecting a manuscript is its potential to sell in high volumes; especially because, impulse purchases are very rare here.
According to 'The India Book Market Report', released in October 2015 by the global market research firm Nielsen, books comprise less than one per cent of the total retail market in India and print-runs for non-academic books rarely exceed 2,000 copies in the first instance.
For the upcoming Potter book, Landmark Bookstores across the country has pre-ordered upto 7,500 copies! And, these are numbers from only one chain of bookstores. Scholastic, the US publisher of 'Cursed Child' has printed 4.5 million copies in USA.
In an exclusive interaction with The Hans India, Hachette India, publishers of 'Cursed Child' share their expert opinion on Potter "charm" and the publishing world.
Thomas Abraham, Managing Director of Hachette India, opines, "Publishing is an uncertain business… more so lately with many store closures and tough markets in consequence.
So, it's not just publishers but the industry at large that looks for bestsellers that can recapitalise the market and get people excited about reading again."
Across the globe, industry-wide, book sales were down 13.7 per cent in January compared to 2014, with eBook revenue plummeting 25 per cent in the same period in USA, according to the Association of American Publishers.
The magic of the Potter world has waved its wand, cast a 'growth charm' over book sales, and made it booming again.
"Harry Potter was a phenomenon unlike any other and a direct continuation of the story from where 'Deathly Hallows' left off is bound to reunite Potter fans again.
Globally this is already the most pre-ordered book of recent times, and is bound to be a million copy seller," analysis Abraham.
And, what about when it comes to sales in India? "It is without doubt the mega lead for India too," says Abraham.
"It is the largest ever pre-ordered hardback ever in Indian publishing history," he informs. An avid Potterhead, Avanija Sundaramurti, Head of Marketing and Customer Insights, Hachette India concurs and adds, "Harry Potter is unquestionably the biggest brand publishing has ever seen.
We are hearing from our associates in trade that this is the largest ever consumer pre-order for any hardback ever in India."
"The rave reactions from fans, post the London previews clearly indicate that this is another classic Harry Potter. This is going to be a publishing sensation once again," estimates Abraham.
Book vs Script
For many nostalgic readers, this one is different. Unlike the previous seven books, it is not written by Rowling per se; she's only conceptualised it and of course okay-ed the story.
In addition, a script is not your typical pleasure reading format. However, the 'Harry Potter' tag seems to have changed that – yes, magically.
There are both pros and cons here. Says Abraham, "The sales expectations in all markets worldwide are pegged lower than 'Deathly Hallows' because of the possibility that a newbie or casual reader may or may not be immediately drawn to the play format.
However, in some ways the format with dialogues and lesser narrative descriptions actually may make for easier reading; and provide for opportunities for dramatic readings. So those who want to read it as a storybook can do so, and those with a feel for theatre will have some added enjoyment."
"The world of Harry Potter is a magical one at multiple levels and so far has had everybody enthralled with its sheer creativity, detailing and unforgettable characters.
Look around! All of that is returning. To a die-hard Potter fan, I think the difference won't matter and the huge surge of orders reflects this," he says.
Although, the Potter tag is self-selling, publishers are enchanting readers with special offers including an utterly unique chance to win a signed copy.
"We're presenting Potterheads in India with a once-in-a-lifetime opportunity: a chance to own a copy signed by the exceptional talents behind the play: Jack Thorne, John Tiffany and the legendary JK Rowling herself! This is a signed copy with her hologram of authenticity," informs Avanija.
"Two lucky fans stand a chance to be the proud owners of an absolutely genuine and spectacular slice of Harry Potter history. The link to the contest is on the Hachette India website and Facebook page. Contest is open till August 5," she adds.
Accio Cursed Child!
The 'Cursed Child' unveiled 42 characters -- old and new. The synopsis reads: "While Harry grapples with a past that refuses to stay where it belongs, his youngest son Albus must struggle with the weight of a family legacy he never wanted.
As past and present fuse ominously in the new book, both father and son learn the uncomfortable truth: sometimes darkness comes from unexpected places."
Fans will recall the epilogue for 'Deathly Hallows' in which Harry married to Ginny and the father of three was at King's Cross Station. Son Albus was nervously leaving for his first year at 'Hogwarts'.
Ron married to Hermione and old arch-enemy, Draco Malfoy were present there, seeing their children off. This is where it begins.
Beyond that, not many plot details have leaked during two months of previews of the two-part play that stretches up to five hours. Audience members were given buttons urging them to #KeepTheSecret and most have complied.
'The Independent' awarded the play five stars, writing: "It's quite apparent this isn't written to be either a book or a tie-in film; it's a spectacle for the theatre, one that is filled to the brim with fan service and magical imagery that will amaze."
According to 'The Guardian' the play focuses on post-Freudian guilt: much of the story revolves around the adult Harry's angst at his past actions and Albus's need to overcome his father's.
While we do know who will be sorted into which house and who might die among other spoilers, we will #KeepTheSecret – after all, it's only a few hours until you get your hands on the book.
For 'The Boy Who Lived'
Much has been written about the heart-felt significance of 'Harry Potter' to its readers over the past 20 years, especially to the ones who literally grew up with him. So, what if it is a script?
The 'Cursed Child' has set a stage for thousands of fans to relive memories of a long-forgotten childhood – of binge-reading and magical spells; of Hogwarts, 'Sorting' and 'House Points' and above all of Harry, Ron and Hermione, literature's favourite trio.
Yes, they've grown up, but so have we and maybe that's why it matters even more; nine years passed for us but for Harry, it's 19 years later in 'Cursed Child'.
Harry is not merely 'the boy who lived' anymore. He's 'the boy with whom we all lived and grew up'. So, at midnight across the world and at 11.30 am in India, no one will be simply lining up to buy a script, just as no one will be at West End to see a play.
The world missed Harry and now he's here. The question 'should you read a play' is self-answered.