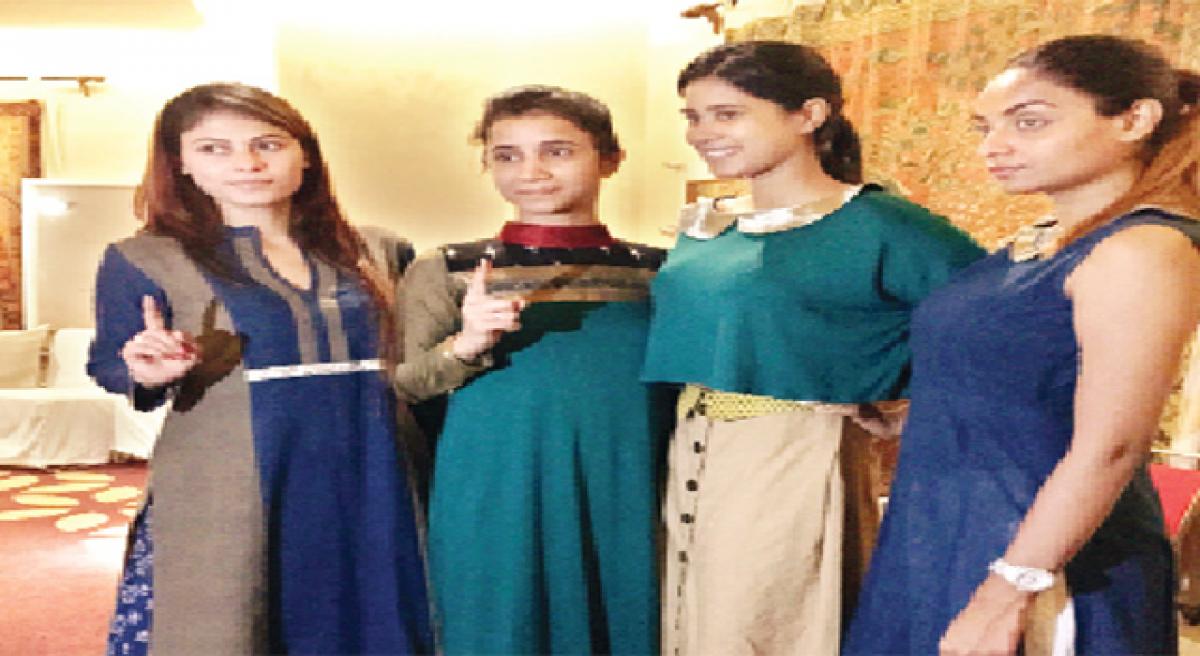 Highlights
Indigo the predominant colour of the rainbow holds out promise with the lovely hues of blue standing for both earthy confidence, as well as the triumph of the sky. Blue is associated with royalty, moods and music. 
"Walk on a rainbow trail; walk on a trail of song, and all about you will be beauty. There is a way out of every dark mist, over a rainbow trail."- Robert Motherwell
Indigo the predominant colour of the rainbow holds out promise with the lovely hues of blue standing for both earthy confidence, as well as the triumph of the sky. Blue is associated with royalty, moods and music.
Mutiny is associated with history and tradition quite unlike any colour particularly in reference to handlooms. As we celebrate handlooms the colour indigo deserves special mention as it is intrinsically linked to this sector more than any colour through history and tradition.
Indigo refers to the blue pigment used as a dye derived from indigo plants of the genus Indigofera. Traced to the time of the Indus Valley Civilisation, excavations at the town of Rojdi (2500-1700 BC) now in Gujarat revealed seeds from four different species of the genus Indigofera.
Cloth dyed blue was also recovered from Larkana in Sind. The Egyptians are said to have added indigo blue border stripes to make the "Mummy cloth" more attractive. The association of India with indigo is reflected in the Greek word for dye, indikon (which means from India).
Indigo remains a coveted dye in countries across the world including Africa. Block printed and resist-dyed textiles from Gujarat and Deccan adorned Europeans and their homes between the 12th and the 19th centuries.
Indigo also became the focal point of the freedom movement when peasants from Indigo plantations at Champaran in Bihar revolted against British exploitation. This ancient dye with an antiquated history has retained its charm over the years with both traditional weavers and fashion designers using it in myriad ways.
"There is a demand for natural products and colours with increasing awareness about environmental friendly fabric. Indigo blends beautifully with white, beige and mustard and I have used it extensively in my previous collection where the Peter pan collars and Indigo tunics were a great hit," says Ishita Singh, a popular Hyderabad-based designer, who has showcased her work in several prestigious fashion shows in the country including the Lakme Fashion Week.
The richness of the colour lends itself well to both Indian and European tastes and we have elegant Indigo sarees, kurtis and dupattas as well as flared skirts and crop tops in cotton appealing to the bohemian European tastes, she points out.
There are several top designers in the country who use Indigo extensively and Anita Dogre's Indigo blue collection "grass roots" finds favour with the fashion loving elite who want to sport a different look. Bina Rao of Creative Bee and Mamata Reddy from the city have used Indigo with a magical effect churning out exquisite and exclusive sarees with aesthetic appeal.
Creations in Indigo and white are a rage the world over making a style statement that never goes out of vogue. Enhancing the beauty of cotton yarn and hand spun cloth Indigo or the Sanskrit 'nili' is used extensively by weavers across India in Gujarat, Rajasthan, Bihar, Tamil Nadu, Orissa, Telangana and Andhra Pradesh. Using just indigo and a resist technique such as batik or shibori, designers have created countless blue and white patterns with timeless appeal.
Widespread demand for Indigo resulted in a German Chemist Adolf Von Baeyer discovering synthetic Indigo that began to be extensively used being cheaper than the plant dye. Indigo has been called the "magic dye" because of changing colours from green to yellow before coming into contact with air and turning deep blue on oxidation.
For different shades and deeper hues, the fabric is dipped in the dye multiple times. Combined with other dyes Indigo also gives greens, purples and non-corrosive blacks. However, the cost of indigo is a deterrent to many. "Indigo is a beautiful colour, which is not very bright or dull.
It has a lustrous quality and a subtle shade that makes it a fabric for a section of buyers who want to wear something out of the ordinary," says Aqeel Siddique of ABC Textiles, an exclusive printing and dyeing place in Banjara Hills, Hyderabad.