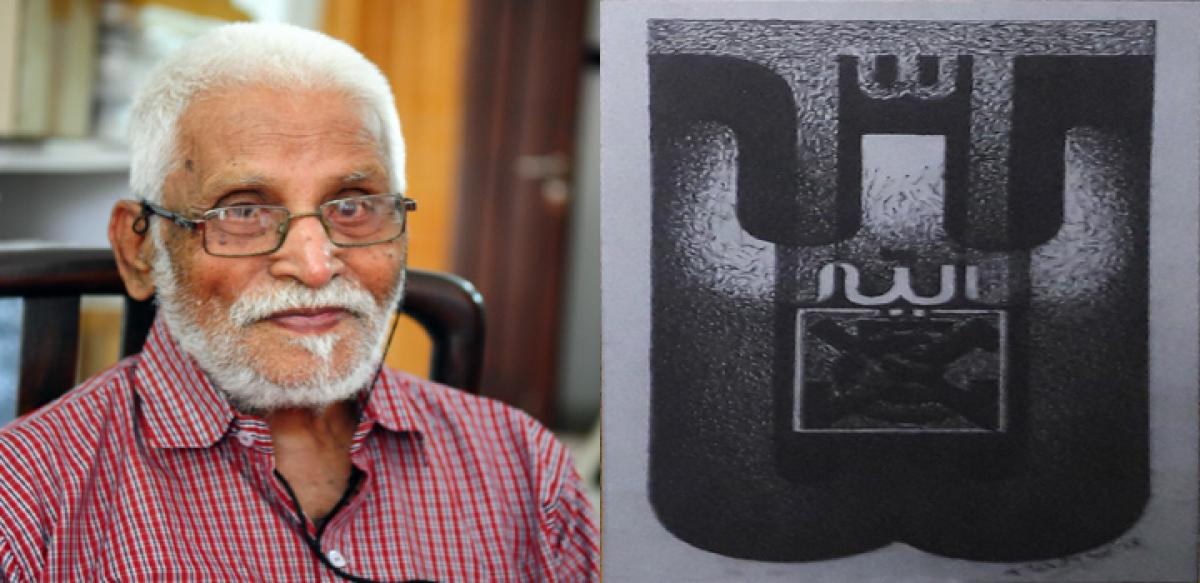 Highlights
There is much more to Mohammed Yasin\'s work than perfection of printmaking techniques. Be it the lithograph, aquatint, sugar lifting, calligraphy, drypoint, engraving on copper and zinc plates and the precise geometric symbolisms of his compositions – his works portray a je ne sais quoi of flawlessness. Born in Mogalgidda village, Mahbubnagar District; the 88-year-old is an artiste who never worke
There is much more to Mohammed Yasin's work than perfection of printmaking techniques. Be it the lithograph, aquatint, sugar lifting, calligraphy, drypoint, engraving on copper and zinc plates and the precise geometric symbolisms of his compositions – his works portray a je ne sais quoi of flawlessness. Born in Mogalgidda village, Mahbubnagar District; the 88-year-old is an artiste who never worked for name or fame.
"When I was a child and used to draw on walls my teacher encouraged me and asked me to pursue the field. I obtained an advance diploma in painting. I studied art at the East-West Center, University of Hawaii and at the Pratt Graphics Art Center in New York," shares Yasin, whose works will be exhibited by the Ailamma Art Gallery, Lingampally.
Sharing details about his exhibitions, he says, "I participated in about 37 solo shows including in Paris (1990/91), Portugal (2005) and Jamia Millia Islamia University (1984). My works are in permanent collections of galleries, art museums and art institutions in India and abroad as well as in private collections."
Yasin maintains that he is not a well-known artist but, he has many awards in his pocket. "When I was a student, I received the Gold Plaque and Lalit Kala Akademi Award in the fifth National Art Exhibition, 1959. I also received awards from Honolulu Academy of Arts and the Lifetime Achievement Award by AIFACS (All India Fine Arts and Crafts Society) 2013," he shares.
He has a perfect recall of incidents from his life, struggle and success. "I paint every day. It's funny but, earlier when I used to paint my wife used to ask me: how long will you paint? But, now she is the one to remind me to paint daily," says the artist on a candid note.
A craving for 'Daily life'
Yasin's concept is 'Daily Life' and his works are mostly in water colours, oil and graphics. His symbol of 'OM' and 'ALLAH' show the closeness of the two words. His lithe and delicate drawings culminate in a Sufi-sequel rhythm to call out Allah and Aum (OM) in one note.
His love for nature is evident in his landscapes and he paints human subjects in their social settings. Yasin's mastery over pointillistic pen and ink work in developing tonal gradation; in enjoying the play with black and white, in attributing clarity and volume to the forms, is a feast for the connoisseur's eyes.
"Art is part of life. It shows a beautiful prospective of life, a continuous struggle towards making it beautiful. It connects hearts and it will never die," says Yasin on a closing note. A few of his pen and ink drawings and paintings will be part of the display at the Gallery from August 28 to September 18 from 12pm to 7pm daily.