10 start-up ideas for Indian MBAs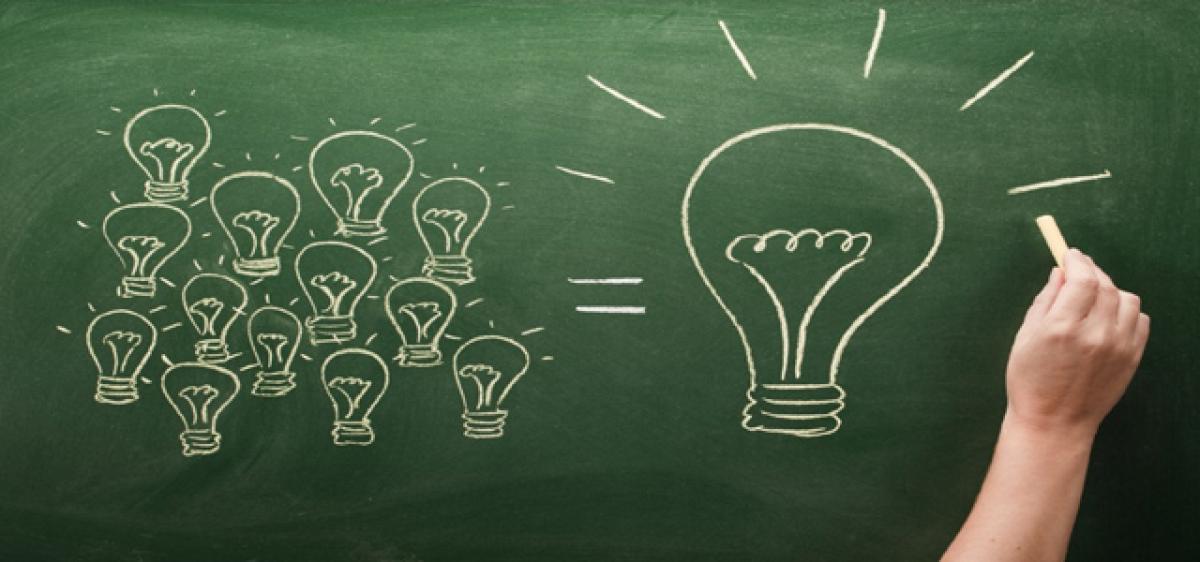 Highlights
The core purpose of any MBA programme is to imbibe in the student an ability to identify significant pain-points that can be solved by exercising bold, ambitious measures, by using the framework taught.
The core purpose of any MBA programme is to imbibe in the student an ability to identify significant pain-points that can be solved by exercising bold, ambitious measures, by using the framework taught.
The National Association of Software and Services Companies (NASSCOM) predicts that the pace of start-up launches in India will increase from 3 to 4 per day in 2015 to 6 to 7 per day by 2020.
India has moved up to third position to emerge as the fastest growing base of start-ups worldwide making it a 'start-up nation'.
Let's take a close look at emerging business ideas and social trends that could be interesting business opportunities.
FinTech
Fintech or financial technology became a buzzword in 2015 with start-ups raising large sums of money, new entrants competing with existing players, and creating new paradigms like Bitcoin, M-Pesa, and Paytm.
The year 2015 also saw Insurtech emerge as the new frontier in Fintech.
Fintech start-ups that create better user experience in Peer-to-Peer lending and social trading solutions are going to become popular.
With initiatives in Big Data Analytics, social, mobile, digital, cloud and security developing at an amazing speed, the sector is going to be a hotbed of activities, distinguishing banking and insurance as potential start-up sectors for 2016-17.
Fast food chains
Fast Food chains also known as QSR (Quick Service Restaurants) grew at 30 per cent CAGR by 2015 as compared to 10 per cent growth for food service sector in India. Eating out is no more occasion driven; it's more of a habit for all those below 30 years.
Indians are foodies but the fact remains that India hasn't yet produced a national food chain (leave alone international). Regional local chains have always thrived in India but it is about time that India saw a truly national brand emerge that can go global.
The unquestionably delicious Indian traditional fast-foods like samosa, vada pav, gol gappa, dabeli, chaat, paav bhaji that don't have glorified outlets are opportunities for start-ups by MBA students in the field of QSR.
One needs to have their unit economies set-up with a strong business model to seek funding and scale the business from there on.
Digital Media
Digital Media start-ups born in India are taking a far better hold than their foreign competitors.
The opening for budding digital ventures to get on the potential next billion internet users in India is widening, as access to the internet and smartphone use takes off.
Home advantage is substantial assets for digital media start-ups in India, as these companies grow and are able to connect and engage with Indian audience at an emotional level.
Travel start-ups
Travel start-ups like Stayzilla, Pick Your Trail, We Are Holidays etc have turned out to be a hit across the country as a handful of niche firms for India's middle class that boasts of a population of around 300-500 million.
This segment of consumers with their growing prosperity have deeper pockets and are willing to spend on lifestyle.
Since the beginning of 2016, travel and hospitality start-ups have received $0.36 billion in funding as compared to e-commerce marketplaces which received $0.35 billion.
EduTech
EduTech start-ups in India are trying to tackle various opportunities by leveraging technology by making education more accessible and approachable on one hand, and on the other by bringing world-class experts and state-of-the-art knowledge to help learners achieve what would take a lot more effort otherwise.
EduTech companies started by MBAs need to master technologies to disrupt the way tuition and coaching are delivered to students.
Healthcare
The Indian Healthcare sector has registered 88 funding deals amounting to $397.41 million so far in 2016, with healthcare start-ups cornering 73 funding deals amounting to $ 113.45 million.
Huge opportunity in the demand and supply gap that exists in the Indian healthcare sector needs to be explored both as a social cause and business case.
While start-ups with consumer-centric business models and digital modes of service delivery such as facilitating doctor appointments, efficient information management system and online pharmacies have been attracting investor interest, trends suggest that we will see money backing those start-ups focusing on corporate tie-ups, medtech, virtual diagnostics and preventive care.
Affordable homes
The market for affordable homes start-ups is staggering.
With very few hurdles for start-ups in this space, selling the concept or passion, the struggle here is to focus on their first phase of development as a company.
Innovations and start-ups in affordable housing can go a long way as one has seen the launch of Pradhan Mantri Awas Yojna, Smart Cities and Atal Mission For Rejuvenation And Urban Transformation (AMRUT).
As the government has set the ball rolling, the core purpose of affordable housing start-up should be helping families become home owners by offering automated, smart home systems in rural as well as urban areas.
Renewable start-ups
Renewable and clean energy start-ups typically have founders with passion and drive to rise above challenges to bring about positive social change.
The powerful economies rely on limited, environmentally-unfriendly resources, and are struggling to keep up with economic growth.
This might start to change; venture capitalists working in renewable and clean energy aren't interested in hardware, such as solar panels or windmills.
MBAs working in energy space should concentrate on educating Indians on who is the renewable energy for and how, when, where and it is to be used. These start-ups would definitely get support from socially responsible investors, green investors, and popular crowd funding platforms.
Organic food
With organic foods becoming a healthy choice for farmers, manufacturers, retailers, and consumers it's the time for start-ups in organic food space to start ruling the roost.
Organically grown vegetables, fruits, oils and pulses have begun to enter into the kitchens of an expanding consumer base leading to growth in organic farming and increase in variety of products.
The environmentally conscious consumers are now looking forward to groceries that not only include staples, but fish and poultry, spices, tea and coffee, and have begun to buy herbal medicines, eco-friendly clothes and furnishing, cleaning supplies, personal care and lifestyle products as well.
The growth is further fuelled by the entry of ready-to-eat healthy snacks, cereals and granola bars, fresh juices, smoothies and other interesting breakfast options demanded by the discerning consumers who are willing to pay more for these products and have begun to order theses online, turning themselves into regular buyers.
As this niche food sector is becoming a hot investment opportunity, MBAs should take the advantage of becoming an entrepreneur in this burgeoning market.
Artificial intelligence
With a number of start-ups in artificial intelligence technologies acquired by corporate giants like Google, IBM, Yahoo, Intel, Apple and others, the race for AI start-ups heats up making it one of the most diverse start-up categories as they will be required to manage almost every aspect of human life in the times to come.
It is predicted that by 2025 in healthcare sector alone, AI systems could be involved in managing everything from population health aspect, to digital avatars answering specific patient queries.
AI is still to take centre-stage in India, as we are still a bit far from creating intelligent systems, it's the right time for those dynamic MBAs with techno-creative minds to jump into this field and accelerate its growth.
Source: rediff.com
The author Prof Manmeet Barve is assistant professor-business design at WeSchool, Mumbai.