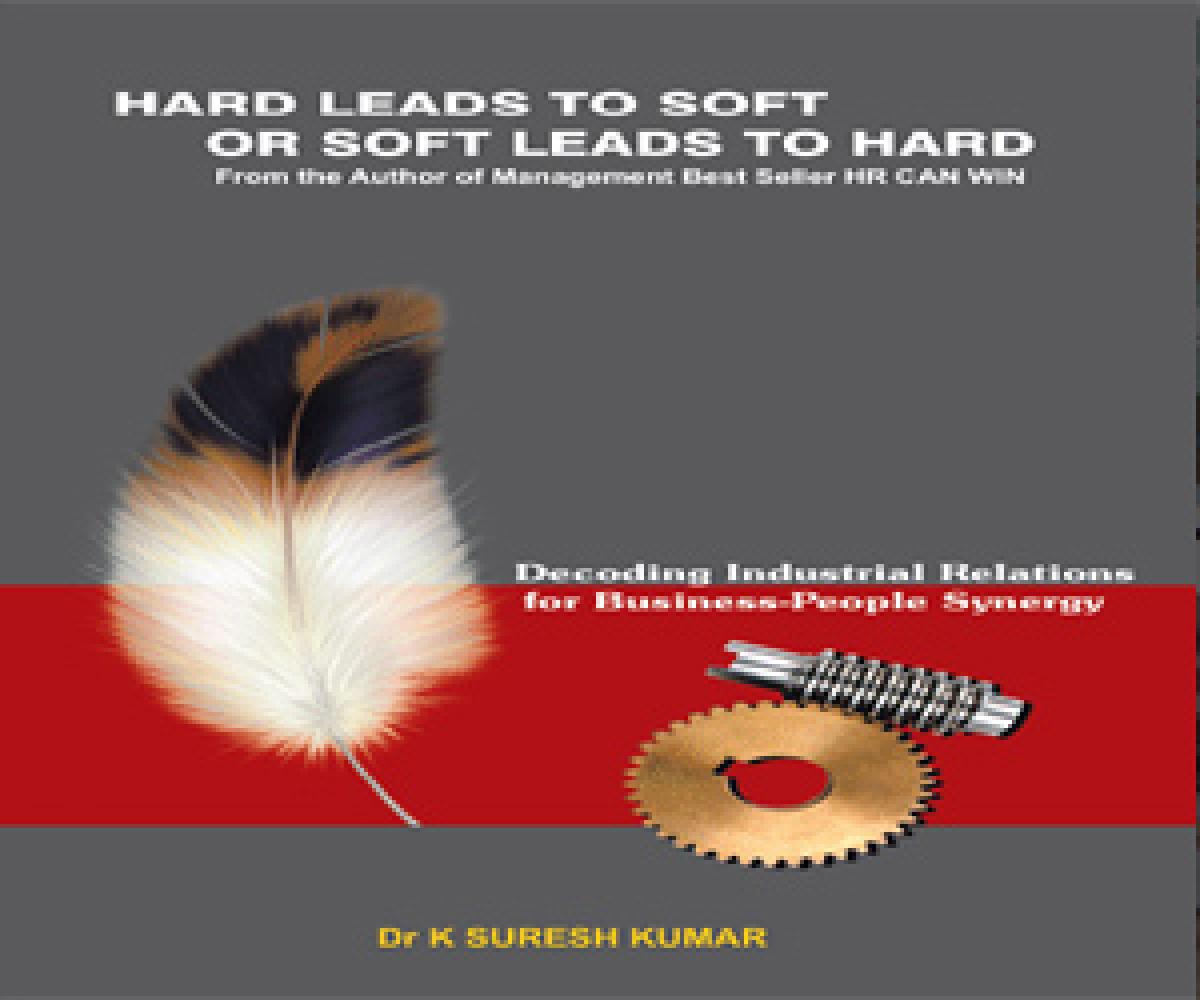 Highlights
Dr K Suresh Kumar has all the credentials and is well-endowed to venture into a book of this magnitude. Enjoying the rare privilege of having a Doctorate in human resources and a practical experience as a thoroughbred professional that is over two decades, he is ideally placed to pen his thoughts and recreate his journey in his field of specialisation, where he has proved himself as a passionate p
Dr K Suresh Kumar has all the credentials and is well-endowed to venture into a book of this magnitude. Enjoying the rare privilege of having a Doctorate in human resources and a practical experience as a thoroughbred professional that is over two decades, he is ideally placed to pen his thoughts and recreate his journey in his field of specialisation, where he has proved himself as a passionate practicing HR manager.
Taken on that count, 'Hard Leads to Soft or Soft Leads to Hard' (Partridge Publishing Company) that was released this week comes across as an invaluable read for any budding HR professional for the simple reason that he has substantiated his arguments drawn from his own experiences over the years and those inspired by other live case studies.
'Hard Leads to Soft or Soft Leads to Hard: Decoding Industrial Relations for Business-People Synergy' gives an insight into the hugely competitive zone that gets more challenging by the day. The author has done well by putting forth his opinions while dwelling deep into all corresponding issues pertaining to HR management, including human relations, legal, administrative, social, political and economical aspects.
Author of the best-selling 'HR Can Win' (Excel Books, New Delhi) and currently Vice-President (HR) at Aurobindo Pharma Ltd in Hyderabad, Dr Kumar's book is good index, particularly into the practicalities, for both rookies and seasoned campaigners in human resource, industrial relations and management.
Adding value and credence to the latest publication is that its resourcefulness has been acknowledged by globally pre-eminent US-based HR mentors like Dave Ulrich from Michigan University and Prof. Brock Bank of Ross School of Business.
That it has a foreword by Dr TV Rao, IIM (A) Professor and Head of HRD, adds to its worthiness, particularly when it comes to establishing a business-people synergy and bridging the inherent industry-academia gaps by zestfully going about addressing them for a win-win solution.
However, the Hyderabad-based Malayalee would have rendered a more complete job had he given more examples with regard to management-union stand-offs and solutions. To a beginner, this could have come as a more refined material and help him when confronted with similar situations, particularly because a HR personnel, is, after all, the go-to man between the management and the employees.
For all purposes, and contrary to claims by management experts, there is no denying that HR professionals (like scientists, accountants and mathematicians) have to brave several critical situations, which can be resolved with one's presence of mind and not by going through theoretical examples.
However, one cannot discount the importance of 'Hard Leads to Soft or Soft Leads to Hard: Decoding Industrial Relations for Business-People Synergy' that makes for an ideal vehicle to HR professionals, particularly the aspirants and newcomers, given the subject-richness and the expertise the author brings about.