A sparkling edutainment for English language lovers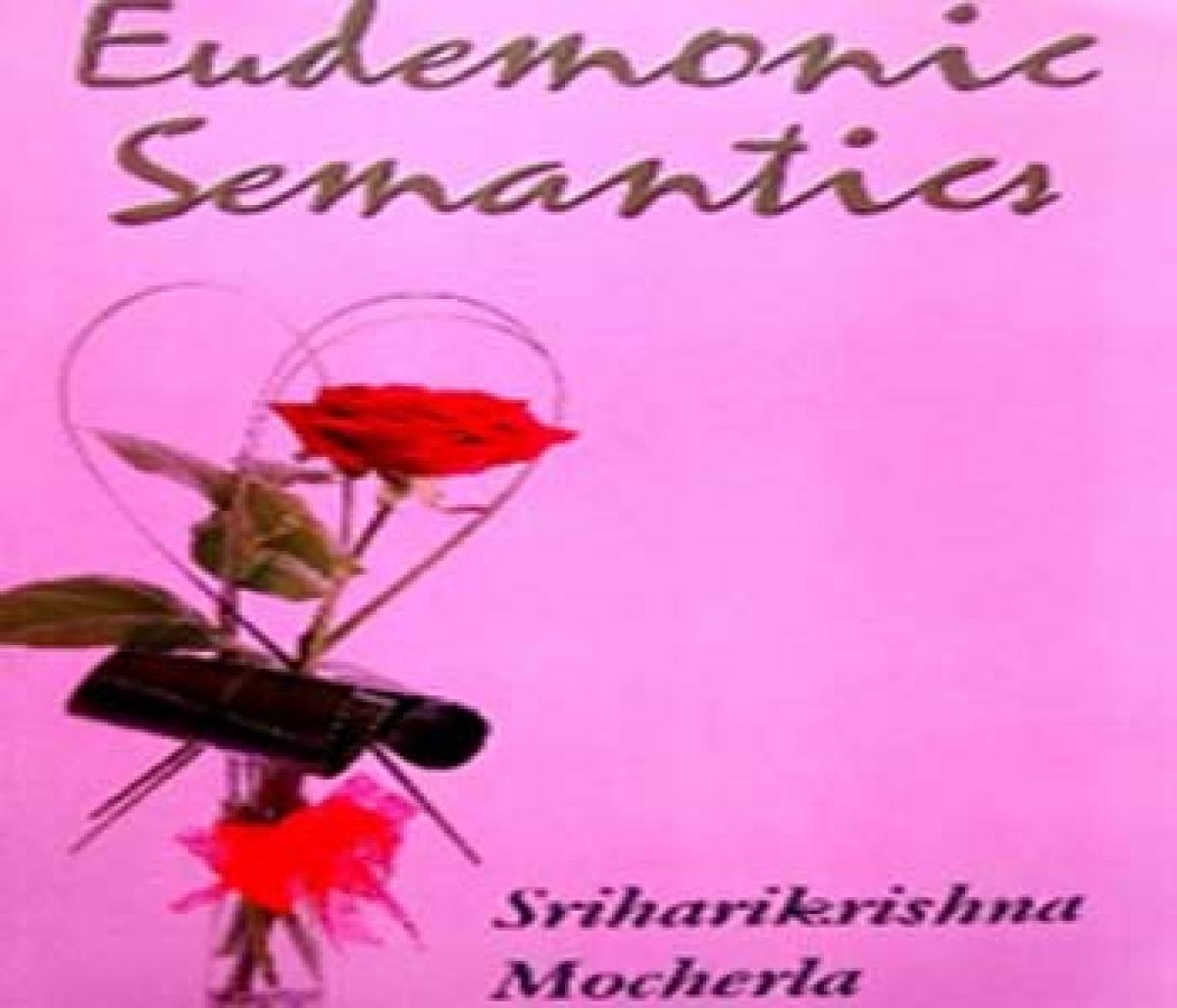 Highlights
If you are a lover of English language and like to hone your expressive skills, 'Eudemonic Semantics' is a pepping up and whetting tool, offering reams of edutainment in 75 chapters andxxvi+232 pages. The book is a result of years of keen study and observation by Mocherla Sriharikrishna, an ex-banker but more of an irrepressible language enthusiast who had earlier authored two books – 'Time to Hol
If you are a lover of English language and like to hone your expressive skills, 'Eudemonic Semantics' is a pepping up and whetting tool, offering reams of edutainment in 75 chapters andxxvi+232 pages. The book is a result of years of keen study and observation by Mocherla Sriharikrishna, an ex-banker but more of an irrepressible language enthusiast who had earlier authored two books – 'Time to Hold Your Tongue and Mould the Language' and 'Vivid Dreams and Waking Visions'.
His lingual avidness is a genetic flow from his father Mocherla Janaki Ramiah, an MA (Litt) from Nagpur University in 1940, a charismatic lecturer and a co-compiler of 'Bala Saraswati Pictorial Gem Dictionary – English to English to Telugu' along with Mallampalli Somasekhara Sarma, a renowned historian.
The book under review is not a drab or scaring tome of grammar but a friendly tête-à-tête that captivates you with its levity, wit and humour. While every chapter is interesting, here are a few more interesting ones: Tongue Twisters, Esoteric Explanations, Anagrams, Palindromic Persiflage, Portmanteau, Fun in Language, Acronyms, An Interesting Voyage into Words, Communication Skills, Spoonerisms, Are You an Internet Addict?, Newspaper English, Magic in Letters, and Pleonasms.
Talking of English as a "crazy" language, Hari regales us with his observations and remarks: "There is no egg in eggplant, nor ham in hamburger; neither apple nor pine in pineapple."
The chapter 'Oxymoron' tickles us with expressions like "small crowd" and "alone together."In the same vein, the prefix 'ex-' sends him into an assonantal gush: "This is an exclusive and exciting experiment to expedite the exact extent of excellent words, expanding their extant usage culminating in exquisite execution, without any exaggeration."
And you are treated to "deft" – in fact, rather daft or facetious – definitions of persons, places and things. A city bus is "a vehicle that runs faster when you are after it and very slowly when you are in it," and a school is "a place where the son plays and his father pays."
Acronyms have become a smart part of English and they are sometimes a tribute to the genius of their creators. If we say "Maths" stands for "Mentally Affected Teacher Harassing Students," almost every student jumps into a peal of nodding chortles.
Considering that lawyers have to be liars by default, here is what their LLB degree stands for: "Licensed to Lie Blatantly." And see how a wag has turned even the Acronym itself into an acronym: "Abbreviated, Coded Rendition Of Name Yielding to Meaning."
Coming to communication skills, the author smirks at the heebie-jeebies that most of the would-be public speakers go through: "A good speech is like a baby – easy to conceive, but difficult to deliver."
The amusing spoonerisms include "Why did you hiss my mystery class yesterday?" (for "Why did you miss my history class yesterday?" and "Go and shake a tower" (for "Go and take a shower"). The chapter 'Esoteric Explanations' improvises funny meanings.
'Artery' becomes a 'study of fine paintings'; 'bacteria,' a 'back door of a cafeteria'; and 'ultra sound,' a 'sound made by radicals.' The chapter 'Palindromic Persiflage' presents many a palindrome, and one ofthe most meaningful ones is: "Doc Note: I Dissent A Fast Never Prevents Fatness. I Diet On Cod."
Among the portmanteaus – "Chillax" (Chill + relax) and "Cyberzine" (Cyberspace + magazine) – sound more interesting. The author has given the multi-functionality of the word "age," but hasn't mentioned its usage as a verb. He also talks of its suffixing role, but erroneously lists"wage" "rage" and "stage" as derivatives.
The tongue twisters have omitted the (possibly) toughest one: "Sixth sick sheikh's sixth sheep sick." In 'Zed Category' the writer goes gaga over the verbs with their past and past participle forms ending in –'zed'… "Salt is iodized, rubber is vulcanized, steel is galvanized, union leaders are lionized, innocent people are victimized," but "communal riots are sensitized" (instead of "sensationalized").
In the long list of manias, "dacnomania" is defined as "obsession with killing," whereas actually it is "a compulsive urge to bite people."
The book glares with various types of glitches like above, which should have been taken care of at every stage of its production, for otherwise "Eudemonic Semantics" could be taken as pregnant with "Demonic Antics."
However, the bloopers don't take away the importance of the book, which offers you loads of edutainment with oodles of oomph.
Subscribed Failed...
Subscribed Successfully...