GMRVF students selected for the US govt's CCIP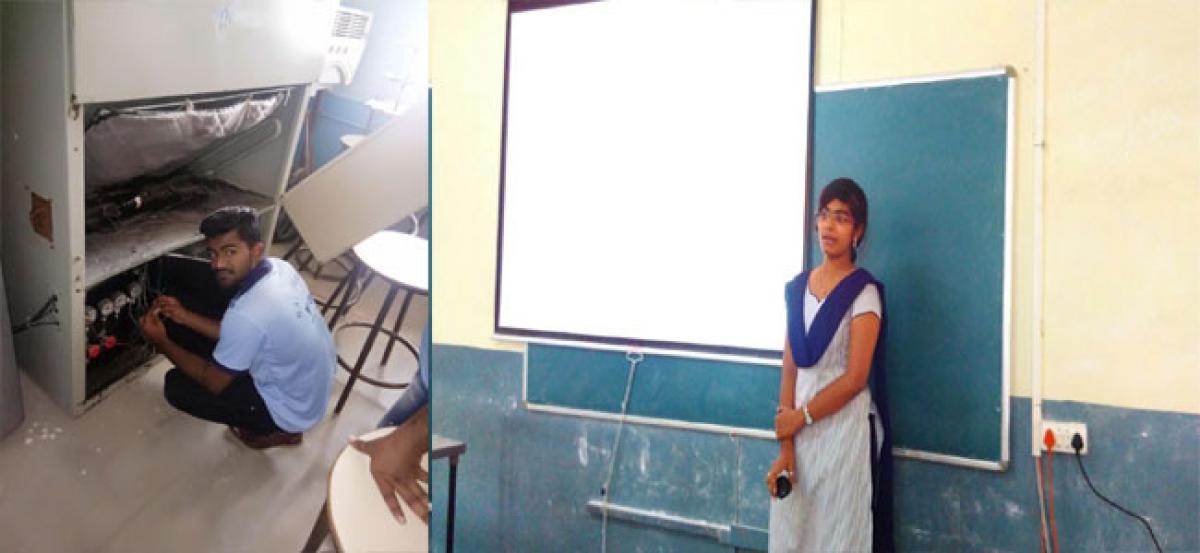 Highlights
Two students from GMR Varalakshmi Foundation GMRVF run institutes made exemplary achievements by bagging opportunities to pursue the courses of their choice under the Community College Initiative Programme CCIP sponsored by the Department of State, United States of America
Hyderabad: Two students from GMR Varalakshmi Foundation (GMRVF) run institutes made exemplary achievements by bagging opportunities to pursue the courses of their choice under the Community College Initiative Programme (CCIP) sponsored by the Department of State, United States of America.
Md Mukram Ali, a trainee in Refrigeration and Air-conditioning course at GMR Varalakshmi Centre for Empowerment and Livelihoods (GMRVCEL), Hyderabad and Vankayala Sai Krishna Sruthi, a 2nd year graduation student in SGCSR College, Rajam have been selected by the US Consulate General Hyderabad to participate in the CCIP this year. Both the institutes are run by GMRVF, the Corporate Social Responsibility arm of GMR Group.
Under the aegis of the US Department of State, the CCIP supports deserving candidates from other countries to study at an American community college for one year. The admission process for this programme focuses the selection of a deserving candidate from the underprivileged community. Students can nominate themselves for this progamme based on the eligibility criteria. A telephonic round of interview by representative from the US Embassy is conducted to select the students followed by the Test of English for International Communication, which is very critical in the whole admission process.
Once candidates clear the test, they undergo a medical test followed by a Pre-departure orientation session conducted for the candidate and their family members. GMRVF provides all training and guidance to its students applying for courses under this programme. The entire expense of the selected candidates - course related expenses, airfare, boarding and lodging expenses, books and medical aid - are borne by the US government. Further, the candidates are paid a monthly stipend to meet other incidental expenses.
Md Mukram Ali is from Shamshabad village, near GMR Hyderabad International Airport, Hyderabad, Telangana. Mukram's family went through severe financial crisis, when his father Md Khader Ali stopped working due to health issues. However, his elder sister, working in a private school and a brother employed in a milk products shop, kept the family running, while two more siblings are still going to school. In this scenario, Mukram managed to pass Std. XII.
Instead of pursuing education any further, he decided to go for skill based education and hence joined a 3-month Refrigeration and Air-conditioning course at GMRV Center for Empowerment and Livelihoods-Hyderabad in September'17. Trainers at GMRVF identified a spark in him and suggested him to apply for the study in the US under CCIP. GMRVF groomed him for the next steps and now Mukram is going to take one year Certificate course in "Heating, Ventilation and Air-conditioning" at Northampton Community College, Bethlehem city, Pennsylvania State, USA.
Vankayala Sai Krishna Sruthi hails from a middle class family of Vizianagaram in Andhra Pradesh. Her Father is a Medical Representative and her Mother a Clerk in a private school. A bright girl, Sruthi has recently completed 2nd year of her graduation (B.Sc. with Maths, Electronics and Computer Science) at SGCSR College, Rajam. Having learnt about the prospect and success of her predecessors, Shruthi was keen to attempt for the selection process of CCIP.
She actively participated in CCIP admission process and showed lot of interest right from the beginning. She worked very hard and followed the guidance and suggestions given by GMRVF team in overcoming all the hurdles at different levels of screening. With her perseverance and focus, Shruti has been inducted for 'Computer Information Systems (CIS)/Computer Science (CS)' course at Bunker Hill Community College in Massachusetts, USA.
Subscribed Failed...
Subscribed Successfully...