Sultan ul Uloom College of Pharmacy celebrates Graduation Day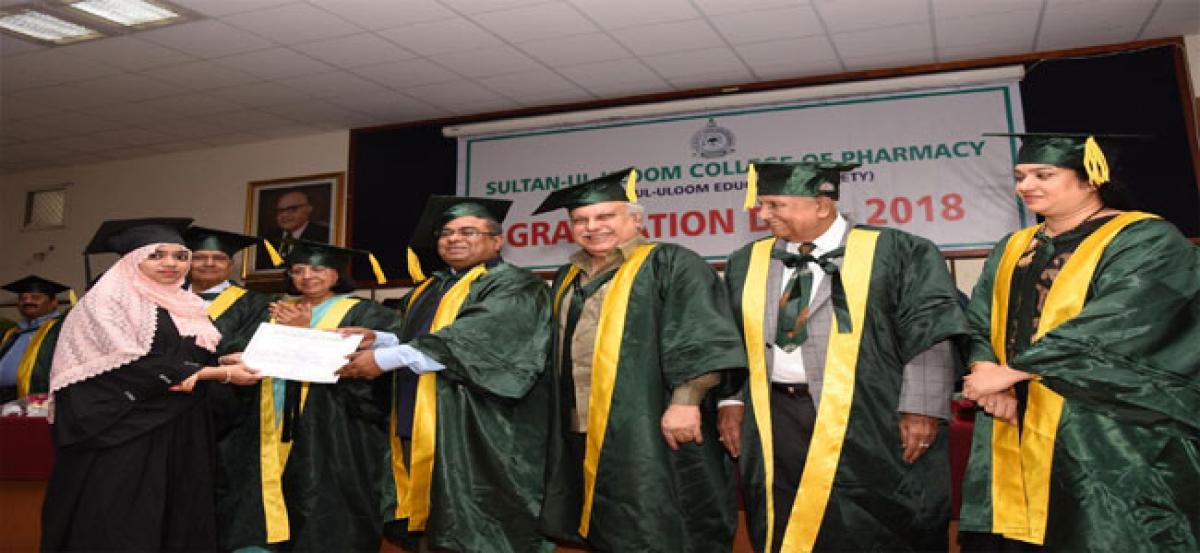 Highlights
New technologies like AI artificial intelligence and machine learning can revolutionise healthcare system in India Embrace new technologies like...
Hyderabad: New technologies like AI (artificial intelligence) and machine learning can revolutionise healthcare system in India. "Embrace new technologies like machine learning, data analytics and artificial intelligence to blend with the modern day technological advancements", said Director Minority Welfare Shahnawaz Qasim IPS.
Addressing young students of Sultan ul Uloom College of Pharmacy on their Graduation Day on Saturday at college campus in Hyderabad, Shahnawaz Qasim advised students to be perennially open to change, and never resist embrace of new technologies, methodologies and other aspects, terming it the way forward to developments – scientific, social and national. "Take up research, explore new avenues in health care and make use of the large amount of research data available in the industry," he said while advising students to "invent utility for people".
"A solution that cannot serve as utility for the general public would not be plausible", he added. Shahnawaz Qasim exhorted "knowledge without utilitarian applications is half-baked." "One may be too knowledgeable but if the knowledge is not transformed into a utility for society's benefit, it fades away." Infusing human values, he said "sympathy, kindness and compassion are important yet lacking in the society. These are the traits that young pharmacists can deliver to the society during their professional career."
Advising both graduating students and newbies at joint ceremony of the graduation day of two consecutive batches 2016-17 and 2017-18 and the Orientation day for 2018-19 batch students, the 2003-batch officer urged students "the right application of this data can help revolutionise the healthcare system in the country." The 2003-batch IPS officer also averred that "this century belongs to women." "Men to a certain extent have done their duties, the new chapter of humanities will be written by women."
Addressing the student lot dominated by girls at the graduation day ceremony of two consecutive batches 2016-17 and 2017-18 and the orientation day for 2018-19 freshers, the TS Minority Welfare Director said "men have written history and have done wonders, but women are fast taking over in many areas of life." Delivering her keynote address, Director National Institute of Pharmaceutical Education and Research (NIPER) Hyderabad Shashi Bala Singh stressed that the "the nation's development depends on the three important aspects including Education, Occupation and Health care. In a country like India, one has to be educated and healthy to be able to contribute to society. "
"Pharmacy students can play a very important role in transforming India from a developing country to the developed country. After doctors, pharmacists play the most important role, and form a link between the patient and his treatment." She advised students to "take up research on developing new medicines, and more importantly organising the health care system so that drugs are delivered at the right time to the right person in the right dose".
Besides research work, "data vigilance, data analytics and marketing can be promising career options for Pharma professionals", she said. "Challenges are opportunities, accept challenges and opportunities will follow", she added while calling upon students to be "purposeful, passionate, performing and playful in life". Earlier, Principal of Sultan ul Uloom College of Pharmacy (SUCP) Anupama Koneru briefed about the college activities while adding the college has the largest number of doctorates among all pharmacy colleges in the State of Telangana.
SUES Secretary Zafar Javeed advised girl students to "continue their higher education. He congratulated passing out students and welcomed new students to the campus." Sultan ul Uloom Education Society (SUES) Chairman Khan Lateef Khan, Vice Chairman Mohammed Waliullah, Secretary Zafar Javeed, Treasurer Mir Akbar Ali Khan, Prof. S A Wahab, Amir Javeed and others were also present on this occasion. Chairman of SUCP Governing Council Mir Akbar Ali Khan declared the graduation day open.
Journal of the Sultan ul Uloom College of Pharmacy was also released on this occasion.
Subscribed Failed...
Subscribed Successfully...