Varsities in Telangana, Andhra Pradesh less keen on University Grants Commission advisory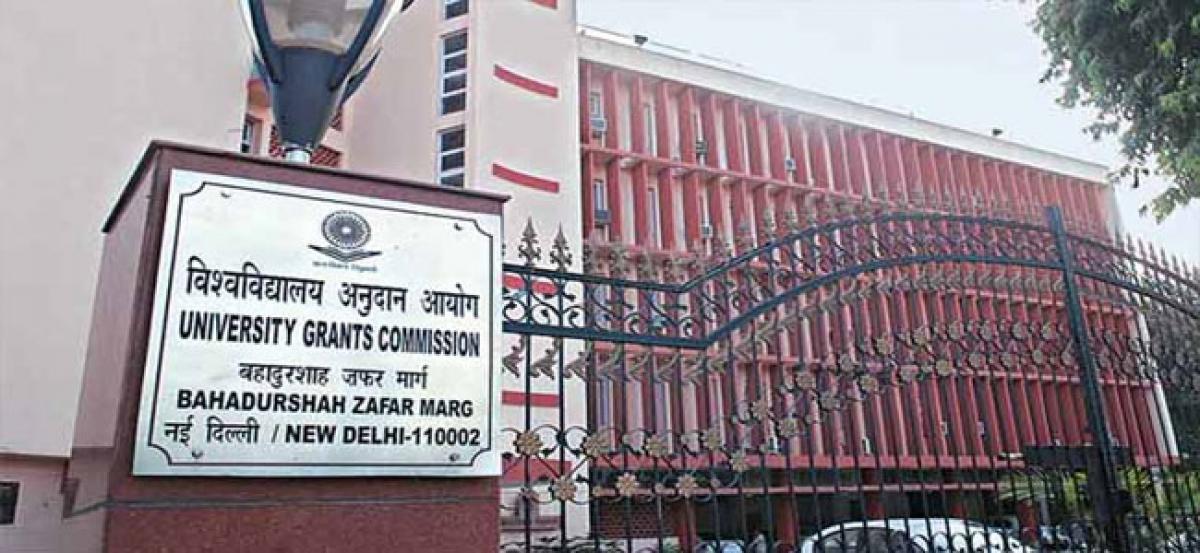 Highlights
A University Grants Commission UGC advisory on optimisation of resources, offering integrated and commoncourses, and credit transfers from one...
Hyderabad: A University Grants Commission (UGC) advisory on optimisation of resources, offering integrated and common-courses, and credit transfers from one university to another by entering into Memorandum of Understanding (MoU) find no takers in Telangana and Andhra Pradesh.
According to sources in the Telangana and Andhra Pradesh State Council's of Higher Education (TSCHE and APSCHE) no efforts were being made in this direction, either entering into MoUs among the State universities within TS and AP or with any other State University located in both the states. Instead, the State universities showing more interest looking beyond the borders to enter into MoU with the Higher Educational Institutions (HEIs) in other countries like Singapore, Canada, Thailand, Malaysia, Australia and other countries.
Speaking to The Hans India, Prof Khaja Althaf Hussain, Vice-Chancellor of Mahatma Gandhi University, Nalgonda said, "We are not intending to enter into an MoU with any foreign university, as we don't have sources to roll out such programmes," adding, "However, for the same of board of studies, evaluation and such issues we take help from the Kakatiya University (KU) and Osmania University (OU)," he said.
KU Vice-Chancellor Prof R Sayanna said, that so far the focus was on entering such MoUs are limited to the engineering courses. Though, each university has expertise in some streams and sharing it would be beneficial to the students. Particularly, in the case of conventional courses, "We have not given a thought on this, which needs to be taken up seriously in future," he said.
A senior official from the OU said both the State and Central universities in TS and AP could benefit from such MoUs. But, who should bell the cat remained an issue. However, since, the State universities in both the States have the same Chancellor, Governor E S L Narasimhan, an initiative from Chancellor in this direction might benefit, he said.
International Institute of Information Technology, Hyderabad (IIIT-H) making serious efforts in the fields like robotics, artificial intelligence and allied fields could share its expertise and experience with others. But, the initiative should come from the State universities to think over such proposals said, IIIT-H Director Prof P J Narayana. Because, there are different aspects involved to figure out the bandwidth of the institute's resources and the fields in which such collaborations are possible and it definitely needs attention for discussion, he said. Taking a similar view, Prof Faizan Mustafa, Vice-Chancellor of NALSAR University of Law was of the opinion if any proposal comes from the State University comes then we can go into it.
Because, the NALSAR has to see the course content for offering such programmes, evaluation pattern, examination and the like. Once this is decided then it would be sent to the executive council and academic council for taking final decision to take necessary steps. Also, we have explored the pattern of some foreign universities offering courses to our students under MoUs. In such cases, the foreign university doesn't charge them. That's how those MoUs stand on a different footing, he said. Though the universities feel giving effect to the advisory of the UGC is useful, who should and from where it should be taken forward remained a million dollar question that needs an answer.
BY V R C Phaniharan
Subscribed Failed...
Subscribed Successfully...