Maulana Azad National Urdu University offers health journalism course in Urdu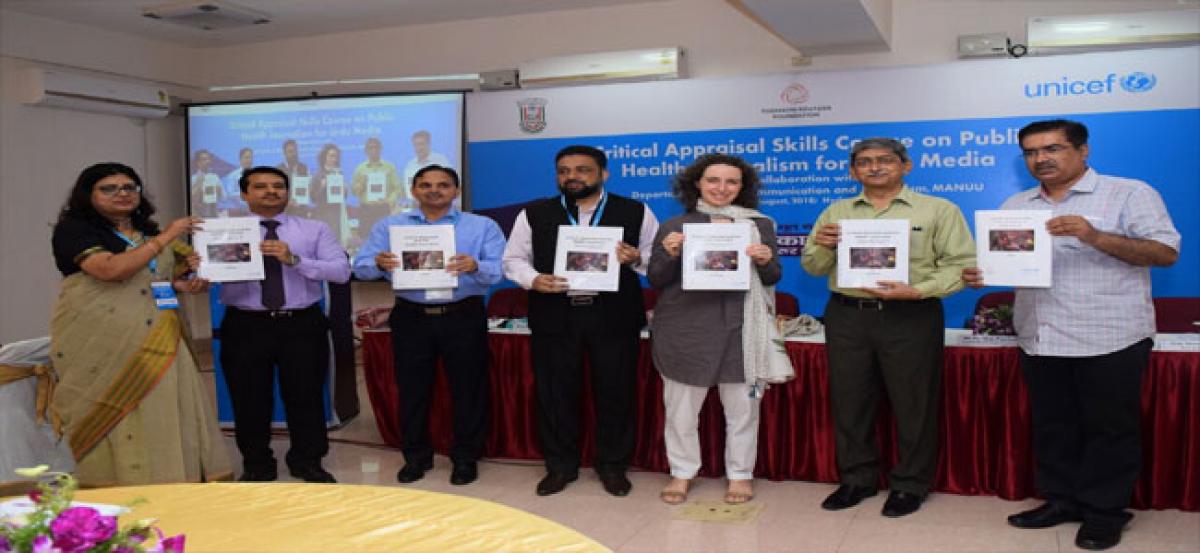 Highlights
UNICEF India and Maulana Azad National Urdu University MANUU announced the introduction of Critical Appraisal Skills, a health reporting course, for students pursuing journalism at the University on Friday The course is designed by UNICEF in collaboration with Thomson Reuters Foundation, Oxford University, UK, and Indian Institute of Mass Communication, Delhi
Hyderabad: UNICEF India and Maulana Azad National Urdu University (MANUU) announced the introduction of Critical Appraisal Skills, a health reporting course, for students pursuing journalism at the University on Friday. The course is designed by UNICEF in collaboration with Thomson Reuters Foundation, Oxford University, UK, and Indian Institute of Mass Communication, Delhi.
Speaking at the launch, MeitalRusdia, Chief of UNICEF Hyderabad office, said, "Media is a key partner in sustaining the rights of children worldwide. This programme will be an opportunity for media students pursuing journalism in this reputed University to add the critical dimension of evidence-based reporting while writing on health issues with special focus on the importance of immunisation that saves the lives of millions of children."
Dr M Aslam Pervaiz, Vice-Chancellor, Maulana Azad National Urdu University said, "The role of parents, teachers and media is critical in shaping society. This course will enable better health reporting by budding journalists to contribute to nation building. I sincerely thank UNICEF for giving our students an opportunity to pursue this important programme, and hope we can build further on this in future." The Critical Appraisal Skill programme provides a specialised set of skills to working journalists and students, equipping them to research and analyse health-related information for credibility and relevance, thereby improving accuracy in reporting.
It also exposes them to the importance of evidence-based approach, highlighting principles of accuracy and impartiality, while reporting on critical public health programmes like immunisation, child and maternal health. Pankaj Pachauri, Founder and Editor-in-Chief, Go News, New Delhi who is among the core group of trainers for the course said, "Maulana Abdul National Urdu University and UNICEF should be congratulated for introducing this critical appraisal skills program for students of mass communication. This will initiate a new generation of media professionals who would be sensitive to health reporting and follow a strict regimen in generating debates around health issues."

Subscribed Failed...
Subscribed Successfully...