Ammuguda hillock, a serene picnic spot in concrete jungle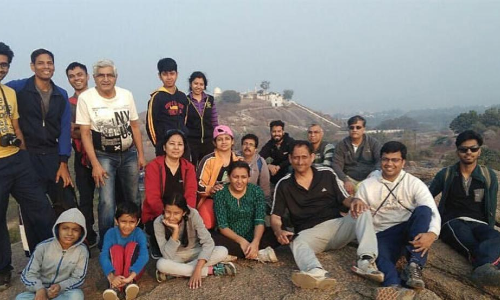 Highlights
The Ammuguda hillock is drawing huge crowds and has turned a favourite spot for short trekking. Close to the Ammuguda Railway Station and a stone's throw from four populated areas - Lothkunta, RK Puram, Neredmet and Yapral -the hill is easily accessible. Mehran, a student says, "The Ammuguda hillock is so near, yet so far and that is the beauty of the place. It is less than 8 km from Jubilee Bus
Ammuguda: The Ammuguda hillock is drawing huge crowds and has turned a favourite spot for short trekking. Close to the Ammuguda Railway Station and a stone's throw from four populated areas - Lothkunta, RK Puram, Neredmet and Yapral -the hill is easily accessible. Mehran, a student says, "The Ammuguda hillock is so near, yet so far and that is the beauty of the place. It is less than 8 km from Jubilee Bus Station and is secluded enough not to grab public attention."
• Drawing huge crowds from nearby colonies
• A favourite hanging spot for college students
• Nature lovers come for short trekking away from city hustle bustle
• Easily accessible from Neredmet, Lothkunta, Yapral and RK Puram
Secluded though it is, of late, many trekkers and students from nearby colleges and schools such as Bhavans, Army Public School, KVs, Valerian Grammar School and several others are heading to the hill. Madhavi Gehlot, a student said, "My father is in the Army and it is just two years since I am here in Secunderabad. I always used to wonder looking at the hill whenever we passed by and last week, I had an opportunity to visit it. It was ethereal to say the least. We enjoyed ourselves."
There is also a dargah, Khoe Imam Zamin atop the hill and has a pond on one side of the hillock at the footsteps leading to the dargah. Another small path leads to another hill, walking through the path is just like walking in a forest. One can see a variety of colourful birds perched on small bushes. The hill has many large rocks and bushes. From this hill one can see Ammuguda Railway Station and up to Moula Hill.

Praveen Ghatade, an avid trekker says, "There are 250 steps before one reaches the top and the view is too good as one can see as far as Trimulgherry." On the other side of the hillock is a huge temple dedicated to snake god. There is a steady inflow of devotees to the temple every day. And during festivals there is a huge rush at the temple.
The Ammuguda area falls under the Cantonment Board area and as part of the Army's dispensation towards communal harmony there is a temple, a dargah and a Gurudwara on this road. The hillock is suitable for newcomers and beginners.