Panther self-inflicts the recovering limb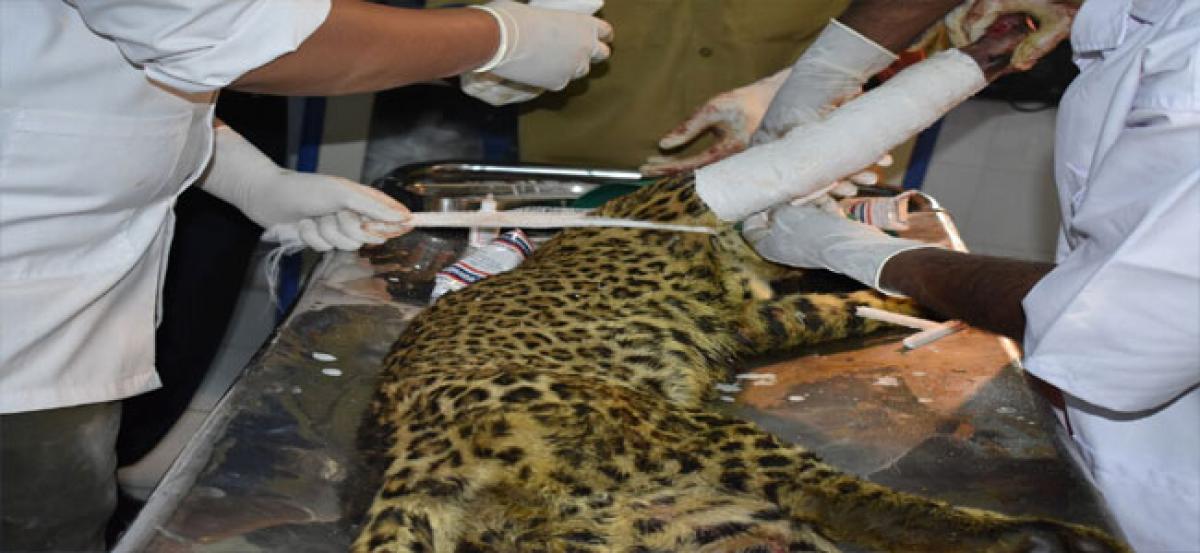 Highlights
The female panther, which was recently rescued from Banswada Reserve Forest in Kamareddy district, on which surgery was performed by veterinary doctors at Nehru Zoological Park has bitten the bandage off its forelimb and inflicted injury
ADVERTISEMENT
Bahadurpura: The female panther, which was recently rescued from Banswada Reserve Forest in Kamareddy district, on which surgery was performed by veterinary doctors at Nehru Zoological Park has bitten the bandage off its forelimb and inflicted injury.
According to zoo authorities, following her rescue on July 16, the doctors had performed about four days of surgery on its forelimb which was injured while being trapped. However, following surgery, it self-inflicted the forelimb and bit the bandage and the veterinary doctors had to perform minor surgery once again. "Presently health condition of the panther is fair and is feeding on chicken and milk well," informed the officials.
It may be mentioned here that on July 16, a team from Nehru Zoological Park rescued a female panther, which was trapped in a snare in Banswada forests. After receiving information, the zoo rescue team led by Dr M A Hakeem, Assistant Director (Veterinary) of Nehru Zoological Park rescued the female panther safely by way of 'chemical immobilization'. The leopard suffered injuries in the right forelimb.
On July 19, the experts of Animal Husbandry had performed surgery on the injured leg of the panther. The rescued panther survived injuries in its right forelimb and is under treatment in the zoo hospital since then. The four day surgery was performed on the injured right forelimb of the panther by the Animal Husbandry Experts GShambulingam, Assistant Director (AH) and Dr M Navin Kumar, Deputy Director (Retired) and Zoo Consultant and Veterinarians of Nehru Zoological Park.